Business writing development for employees is often an afterthought for most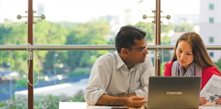 organizations. This is a mistake that can weigh down any business.
How well each person employed in your business unit performs is a reflection of the organization's work efficiency as a whole, and even something as apparently small as ambiguity in written instructions circulating within the department, or poor written communication with customers, can spiral out of control.
Written communication is often responsible for the first impression the world has of your team, and you don't want that impression to be negative because you neglected business writing training.
I am sure that you, among many other business leaders, find yourself wishing that your employees had better writing skills to articulate a message clearly or deliver an error-free business report. I have worked with many business units with similar needs and helped them enhance their work efficiency through clear and effective written communication.
Here are three ways I've observed ineffective written communication inhibit business efficiency.
1. Confusion and Delays
Far too often, I have seen unclear instructions cause confusion among employees and management, resulting in delays in business process. Whether it is a simple chat message, an email, a company-wide notice, or a report, it is important that the information delivered is precise, short, and to the point, leaving no room for assumptions among the management and staff.
Every employee has to deliver parts of critical information to the rest of the team through email. Ineffective or poor writing that fails to deliver the real message causes delays. With the current pace of work, nobody has the time to peruse every sentence in a business email – we get an email, we scan it at a glance, and we do whatever we then think needs to be done. Well-articulated, concise messages, that are clear in the first read, and contain a strong action-inducing conclusion, are essential.
2. Unfavorable Impressions
Having coached many business professionals to write better at work, I have seen that written communication creates unfavorable impressions fast. While any functional error that your employee makes can be amended and apologized, it's always best to get it right the first round. And, if an apology is required and that apology email is riddled with improper grammar and sentence structure, you're bound to face embarrassment.
This reflects on not only the employee handling outside communications, but on the business as a whole. No business leader wants their business to convey a negative impression.
3. Low Efficiency and Morale
Ineffective written communication not only wastes time until the errors have been fixed or everyone finally understands the poorly written instructions and what they really mean. It also impacts employee morale and efficiency. Teams that are confident about their written communication are able to work more efficiently than those who are not. With no constant back and forth and ambiguity, confusion and delays are minimized.
Many employees have excellent business skills, but weak writing skills. Those otherwise skilled employees who are responsible for the poorly worded emails or ambiguous reports can easily feel embarrassed or demoralized by their weak writing.
Morale suffers, especially if written communication is a large part of job requirements. These skilled employees could become so much more valuable to your team if they were offered business writing training that allows them to express their contributions and knowledge well in writing.
Too often, I have seen skilled employees lose their confidence because of poor written communication skills. However, you can change the face of your organization through business writing training. Don't allow your business to continue to suffer ambiguous and poorly written communication – this is something that CAN be resolved, provided you take the right steps. We can help you untangle your workflow communication process so that it is efficient and clear with no more syntax mistakes.
To learn the key four steps to help you improve your team's writing at work, download my Four Steps to Improve Your Teams Business Writing Skills eBook.