Business writing is both a science and an art. It requires careful planning, meticulous execution, and a critical review. When it comes to business writing, there are certain characteristics that separate a well written email or document from a poorly written one.
The science of business writing ensures that key information is extracted and presented well. The art of business writing ensures that both the information and writer are engaging.
Improving Business Writing Skills "Science" Factors:
Business writing training needs to improve your employees' ability to summarize. This means that your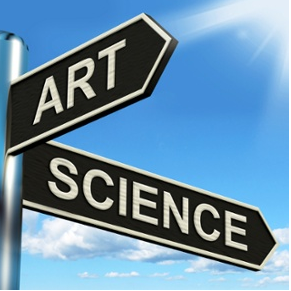 employees should be able to extract relevant information from large chunks of complex data and ideas and present them in a reader-friendly, understandable manner.
This ability to synthesize relevant information is one of the most fundamental aspects that distinguishes a good business writer from a mediocre one. Unless your employees are able to summarize relevant thoughts and ideas in a few well-structured sentences, your business document will not be effective in evoking the desired response from the reader, whether it is a sales letter, a performance appraisal, a blog post, an email, a report, or even an appointment letter.
We often rely on our ability to summarize at work. We review piles of data to present simple, short, and straightforward answers to a number of questions raised at work. This ability to assess and synthesize what is relevant is necessary to answer these typical types of questions:
Why should we fund a particular project?

Why should we choose this particular vendor for all our procurement needs?

How can we fix this problem? What can we do to prevent it from re-occurring?

Why should we hire you? What do you have to offer our organization?

How do this year's results compare with the previous year's results?

What are the various market trends we see this year?

What have we decided in this particular meeting?

How can we achieve this objective?
The ability to view the big picture and to quickly understand its significance in relation to a particular event is another important business writing skill. It helps employees convey the right message to the right audience. This skill plays a vital role in improving the accuracy and efficiency of the flow of information across your business.
When assessing your employees' business writing skills, make certain information is well extracted and synthesized, relevant to reader needs, and easy to grasp when scanning. If you're happy with these three elements, you can be generally certain the science of business writing is intact.
Improving Business Writing Skills "Art" Factors:
To assess your employees' art of business writing, consider the style and tone. These three factors are crucial:

Relatable Information:
A good business document has content that increases audience awareness because the content meets the audience needs. If your sales letters are compelling and make you want to buy your own products, it's because customers are receiving the information they need.
Is the information in the document relatable and relevant to the audience?
Appropriate Language:
The content written in all documents needs to be appropriate for the intended audience. For example, all internal reports and memos can be full of technical terms if you are a technical company and everyone on staff understands these terms. But, it would be inappropriate to use highly technical terms in a customer document because a customer wouldn't understand your internal technical terms.
Is the information written with words that match audience understanding?
Logic:
There must be cohesion and a smooth transition of ideas - a problem identified with a solution and a proper call for action in all your business documents. Additionally, the document needs to be free from all grammatical and sentence errors so the logical overall order is clear.
Is the organization and grammar of a document clear?

To learn more on how to improve business writing skills for your employees, download our guide,
"Four Steps to improve your Team's Business Writing Skills!"