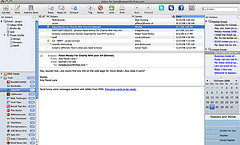 An article this month in the Wall Street Journal, "Why Email No Longer Rules..." has stirred controversy. "Business email has had a good run as king of communications. But its reign is over."
The author, Jessica Vascellaro, argues that just-in-time communication, such as Twitter, Facebook, and the upcoming Google Wave (which I am still skeptical is ready for wide application) offer a constant stream of information. Conversely, email is outdated. It reflects how we used to use the Internet. Log on, do what we need, log off.
Email use is slowing, but it is still by far the dominate communications vehicle in business. Other services are increasing dramatically, but for now, they are not the dominate channel.
Eventually, ideally, we will choose the best tool for the right task, as real-time communication is more widely adopted in business.
The challenge will be managing a 24/7 information flow.
What do you think? Does email work well for you for your business communication?
Learn More in This Email Course