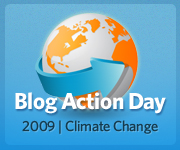 Today, October 15, 2009, bloggers from across the world join together to write about a single issue: climate change. The goal is to shift global conversations and raise awareness. What do business writing and climate change have in common? Both, at their core, are about connection and interaction.
I've been writing a lot lately about social media and business writing, because highly interconnected, disbursed business communication is increasing. Climate change affects every person living on our plant, now and in the future. Each action we take ripples over our environment, much as a networked business document streams across multiple audiences.
"The art of the concise" brings clarity of thought and expression to business writing. Conservation at work and home bring a balanced life and sustainability to our planet.
Communication and technology offer a great convergence of information. We have one issue, one day, and millions of voices: I hope this article heightens our connection and our awareness of our dependency on each other.
Watch the American Association for the Advancement of Science Discuss Climate Change:
How Can You Help Right Now?
Visit Blog Action Day.org to learn more about today's world-wide blogging event.
U.S. Citizens: Tell President Obama the World Can't Wait for Clean Energy:
This December, world leaders will gather in Copenhagen to negotiate a global response to climate change. As a world leader in greenhouse gas pollution, as well as clean energy technology, the United States needs to take bold action by implementing comprehensive clean energy policies to curb emissions. Sign the petition.