Don't friend your boss on Facebook, and then complain about him or her, or your job. Ever. The latest social media scandal is being reported by The Next Web. This gaffe is epic: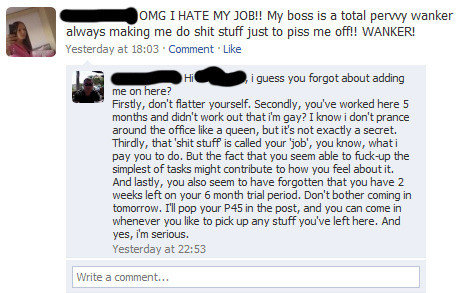 It's simple to prevent these gaffes from happening:
Don't post anything in social media (Twitter, Facebook, your blog, Friendfeed, LinkedIn) that you would not want your parent, boss or an investigating police officer to read. Ever.
I was astounded to read a new report from Proofpoint:
17% of US Companies with more than 1000 workers reported problems with employees' social media use.
8% have actually terminated employees because of their actions on social media sites.
Comparatively, only 4% reported terminating an employee for social media gaffes last year.
The data does not explain if companies are becoming more vigilant or if employees are posting more inappropriately. That's irrelevant, really.
The issue for business writers is clear: don't write inappropriately in social media. Social media, by its structure, is viral and visible and permanent.
Certainly, the only way to "control" social networks is to consistently engage in them with openness, transparency, clarity and responsiveness.