Business proofreading is different than editorial proofreading. There is a need for accuracy, of course, in business proofreading. And, there is more expectation of speed. Just last week, I received these comments from prospective clients about documents they see in their organizations:
The writing course MUST include the notion that all work, including emails, must be proofread.
Our proposals to clients need to be more professional, with correct language.
I'm seeing many typos and grammar errors in our email, from support staff to CPAs.
Proofreading errors in email most typically fall into two camps:

1. Careless and thoughtless
2. Errors caused by rushing
CARELESS AND THOUGHTLESS
Here is a painful example of an actual email received by my friend from his employee, which was obviously dashed off and not proofed at all. It was written with no focus on audience understanding or action:

From: caroline@youremailhost.com
Date: Thu, Apr 21, 2012 at 7:53 PM
Subject: Re: supplies
To: david@youremailhost.com

Hi David i did not get my supplies i am hear at work until 9pm. Did get delivered to my apartment

There are many issues with this email:
Grammar is so poor it obscures meaning.
There is poor clarity.
If we don't take the time to proof our email messages for content and clarity and correct grammar before we send them, we cause our readers to waste their valuable time trying to decipher meaning or asking for clarification. Worse yet, they may take incorrect action.

Improperly forwarded string emails also reflect this careless and thoughtless error. Forwarding a message on and on requires a new reader to plow through paragraphs, or even pages, to understand meaning.

RUSHING IN EMAIL
Most commonly, email errors result because of the natural tension between proofreading properly and the expectation of a speedy reply inherent in email.
Always, before clicking "send:"
Check the To: and Cc: lines to verify appropriate recipients.


Check the subject line to make sure it accurately reflects the content of the message.


Read through the message once slowly and make needed corrections.


Read it aloud while you read through slowly. This will naturally help you catch omitted words.


For important emails, print them and proof on paper. It's much easier to find errors on paper than on screen.
Richard Anderson, the CEO of Delta Airlines, recently stated what he looks for in potential high-level employees: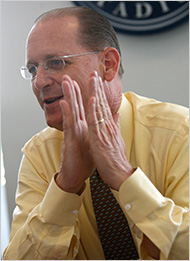 Most importantly, I want really good communication skills. More and more, the ability to speak and write well is crucial. I think this communication point is getting more and more important. Managers really have to be able to handle the written and spoken word. And, if a sentence doesn't have a subject, a verb and an object, you aren't expressing complete thoughts. Be thoughtful. Be clear. Be correct.
Learn more in Proofreading Training.