Courtesy is small act, but it packs a mighty wallop.
~Unknown
When talking about tone in business writing courses, clients have lately become very upset, sharing incidents of sarcasm, disrespect, and snarky tone in business communication. For the past month, I've asked clients to vote for their top three rude business writing practices that make them disconnect from a writer. The "winners" are: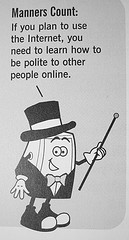 1. Correcting an error in an email to a group in a way that feels smug, which embarrasses the sender.

2. Responses that are snarky and authoritarian, with a disrespectful tone.

3. The email response, "????"

I fully expected the first two items to make the list, as they are surprisingly common. I haven't seen many occurrences of the dreaded "????" email response. When I asked for confidential examples, they all moved downward in an organization, from manager to employee. None moved laterally or upward in the organization.
BUSINESS EMAIL ETIQUETTE EXAMPLES
If time allows, notify the sender of an email that there is an error, and allow him or her to make the correction. Only if time is of the essence, or the sender refuses to make the correction, should you jump in and correct the sender publicly to the work group. Correcting an Incorrect Email explains this in more depth. Business relationships matter more than proving ourselves right.
I was a bit annoyed with the tone of a comment posted today on our blog article, Is Plural Form Blackberrys or Blackberries? The comment was simply, "Wrong," followed by a link that was not in context with the grammar question, but which did provide tangential information. If the comment had included some context, and more polite phrasing, it would have helped readers. Instead, it failed because, well, it was just so blunt and smug it was rude.
It's discourteous for a manager to reply, "???" to an email. It is very frustrating to receive an unclear email, but this response just echoes the muddled message. Worse, it adds an angry, dismissive tone.
BUSINESS EMAIL ETIQUETTE SOLUTIONS
An Incorrect Email:
Denise, at yesterday's meeting, we agreed Dana would submit the status report during team vacations, not Shahid. Please send a correction to your "Report Submission During Vacation" message sent to the team this morning.
Thanks,
Kara
A Polite Comment, Avoiding Rude Tone:
According to this site, trademark requirements require the term "Blackberry Smartphone." This means plural use must be "Blackberry Smartphones."
Responding to an Unclear Email:
Jason,
I don't understand your question. Do you need my input on the data conflicts or your resolution? Please clarify.
Michael
Note: If you receive several unclear messages from an employee, you should discuss this and clarify expectations. This requires a conversation, not an email, for best resolution.
Business relationships matter, and writing is where we all intersect. Courtesy smooths connection, ensuring information and business flows. Let's be thoughtful and kind to each other. It's just good business, in addition to being the right thing to do.
Learn More in This Email Course