Managing email volume is critical if you are going to get any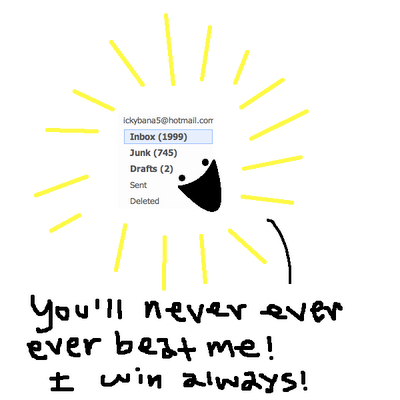 work done.
When clients begin any
business writing course
, we ask them to submit their course goals and tell us about their typical writing tasks, and how much time they spend writing. By far, managing email volume eats up more work time than any other writing task.
The Radicati group reports these statistics, as of April, 2010:
The number of emails sent per day was approximately 294 billion.
That is 2.8 million emails sent every second.
That is 90 trillion emails sent each year.
I'm not sure if this is encouraging news, or worrisome, but:
Approximately 90% of these trillions of messages are spam and viruses. (At least we don't have to read or respond to these.)
Genuine emails were sent by approximately 1.9 billion email users.
Email volume varies widely with our individual clients, but the average number of emails received each day, across all professions, is 87
.
Many of our clients report receiving over 200 emails each day.
The higher one ranks in an organization, the more emails one generally receives. Many of these emails received by senior executives are unnecessary CCs.
Think about this: every one of these emails needs to be at least scanned before you can 1) act or 2) delete it.
Radicati also reports the average office worker spends 41% of each work day managing email volume. Time allocation reported from our clients correlates with this figure. Some clients, at the start of training, spend most of their day simply managing email volume.
When 41% of each work day is devoted to one task, we must look at ways to become more efficient. There is one simple technology solution that surprisingly few employees enable: turn off automatic email delivery:
If you do not do this, email controls you. You want to control your email communication tool.
It is distracting to have messages arriving constantly.
Instead, plan the time you will devote to email, and check email as planned.
The first step in managing email volume is turning off automatic delivery, and checking email when planned. The next task is managing your inbox.
Download this article to learn how to manage messages once they hit your inbox: