As a business writing company, information flow is our business, yet we've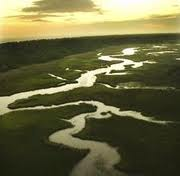 struggled in the past to streamline our own information flow. Client comments and questions and information is sent to, and shared with, multiple people in our company, from multiple sources. Clients often share important information informally while chatting with me. Our entire team needs this information in one centralized location for our instructors to review, to provide focused and relevent business writing critiques, and plan business writing courses.
How do we manage our information flow in our business, especially when it is so critical? We have a secret weapon I highly recommend: Highrise by 37Signals.
Highrise is a streamlined CRM (customer relationship management) software program, which is fully web-based. Its beauty is its simplicity and the integration of email and notes and follow up tasks. It works because information flows easily in and out, so it creates a clean repository of ongoing information for each client. Because it is web-based, we can all access it from anywhere, with no IT headaches. Information flow should naturally circulate, not require massive maintenance once a system is in place.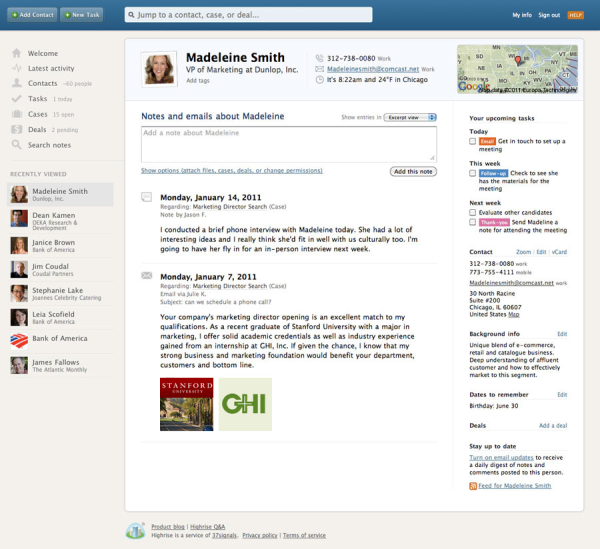 Here is how we use Highrise most frequently:
Leads and Basic Client Information:
Any CRM should allow easy setup for a new client, and Highrise does this well. When we receive an inquiry or a new client, we create a new contact. Highrise allows us to create custom fields, so we track relevant information, not what other more complicated CRM software tells us to track. Remember, information flow is about clarity and ease, so don't complicate it.
Confession: I am completely time-zone challenged. One feature that is particularly helpful to me is a map showing a client's location and current time.
Ongoing Client Communication
Here is where Highrise shines. Whenever someone at Instructional Solutions sends an email to a client, if it's something that should be recorded for everyone else to know, we simply bcc it to Highrise. The email integrates right into the client record. This is invaluable, and there is no need to summarize the interaction. It posts automatically.
Each client submits his or her training goals, typical business writing requirements, challenges, and time spent writing. This information informs all we do. We post this prominently into notes, so everyone who interacts with the client has this information, and is fully focused on the client's stated goals and needs.
Assigned Tasks
We all assign tasks for each other, to keep information flowing. I might assign a task to an instructor to include a new resource for a client for a document review, customer care might ask me to jump in if a client has a question they cannot answer. Just yesterday, I assigned a task for an instructor to be sure to include links to resources on the grammar problem of fused sentences, after hearing from a project manager that there were problems with this. We had no need to address the issue negatively. Instead, our clean information flow allowed us to provide resources seamlessly. Tasks keep everyone collaborating easily. When they're completed, I see them crossed out. Simple.
More Benefits

We also use a feature called Cases to track internal projects, and Deals to track our upcoming sales, with the same easy information flow.
In a single scan of the dashboard, I can review all information flow that has occurred in my company recently, and comment as needed. Everything is open and engaged, with privacy settings available as needed. (We don't use this privacy function much, as everyone in our company interacts with clients, but this would be useful for specific team work). In a single scan, I can be sure client care is attentive, instructors have provided relevant resources, and information is flowing. And, we can all redirect each other as needed from this same dashboard as it's a shared resource.
In the past, we tried the big CRMs, which were too big and clunky and focused too much on sales tracking, and not internal information flow. Email and Outlook alone are too small and disjointed to share all the information that drives our business. Highrise is just right. Information flows freely, with no complications, and is always clearly presented.
One of my clients asked me today, "How do you remember so much information, with so many details?" I had simply scanned client notes, instructor comments and attached documents from my iPhone, right before our meeting. Everything was organized there for me, with no added work for anyone to brief me.
If you want information to flow well in your group or small to medium business, I highly recommend Highrise.
Highrise may or may not be the specific product your organization needs, but do follow their model for planning your information flow channels. Choose a system that is easy for everyone to use, streamlined, and above all, useful.