Punctuation matters in business writing. Let's test this. Punctuate the following statement:
A woman without her man is nothing.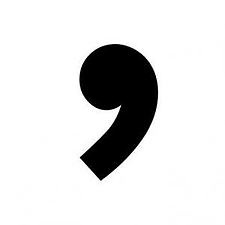 One way to punctuate is "A woman, without her man, is nothing."


Or, (my preferred) punctuation could be: "A woman: without her, man is nothing."
As you can see, punctuation can drastically alter meaning!
The Million Dollar Comma
In 2006, Canada's telecommunications regulator decided that a misplaced comma in a contract concerning telephone poles allowed a company to save an estimated $2 million (Canadian).

The case hinged on the placement of the second comma in this clause:
"This agreement shall be effective from the date it is made and shall continue in force for a period of five (5) years from the date it is made, and thereafter for successive five (5) year terms, unless and until terminated by one year prior notice in writing by either party."
The client insisted the contract was good for at least five years; the contract writer said the comma denotes that the deal can be terminated at five years — or before, as long as one year's notice is given.
The ruling commission said that the comma should have been omitted if the contract was meant to last five years in its shortest term. (Source: NPR)
Punctuation Errors Most Common in Business Reports
These types of punctuation error debacles occur most commonly in reports.
Reports often use templates, which are productive and help ensure consistency, but the fragmentation of sectional writing and multiple authors can easily introduce punctuation errors. Reports are also problematic because writers become so familiar with the text that it's very easy to miss errors.
Tips to Correct Business Punctuation
Have someone else proofread your report, or other major document, for clear punctuation.
If there is no one else to proofread for you, be sure you wait at least one day to proofread anything you've written. You need a little distance to find punctuation errors.
Worst case, if you have no one to proofread for you, or a deadline looms, here are tips for proofreading when time is tight.
Often, I see clients put focused attention on punctuation and grammar only after a serious client misunderstanding or contract problem, caused by punctuation or grammar errors or ambiguity. Let's focus on prevention.
Next month's newsletter will review the five most common business grammar errors presenting this year in client documents, and how to correct them.
Make sure to check out our extended list with over 87 business writing tips.
Receive business grammar support for your individualized questions in this webinar.