This post is part of Blog Action Day. For the fifth time, on October 15, bloggers around the world write on a common theme to focus attention from thousands of perspectives. This year's focus is the power of we. The power of we is a concept that is front and center in business writing, so I'm very pleased to support this effort.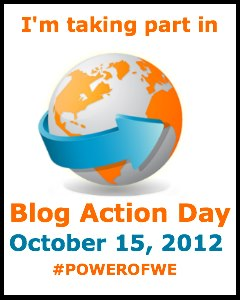 ***
Think about the next business email you will send. Pause for a moment and detach from the commonness of this every day task. Instead, pause and envision the person who will receive it.
He or she has the same personal and business fears and hopes and dreams and challenges as you and I.
How will he or she feel when they read your message? Will your interaction bring a positive connection into their day? Annoyance? Disconnect? A smile? Does it flow information well? Will it help or hurt your career?
Too often, we think of business writing as dry, functional prose just pushing business tasks around. I see it as so much more.
Business writing, at its core, is the rhetoric most about human to human connection. It is the practical and necessary channel that flows information through organizations, and outward. Every single one of these transactions is an opportunity to connect, to support kindness, and to enhance business. It all depends on how we approach the task and the language we use.
When I was in graduate school, there was a subtle, but present, tiering of perceived status for those of us who planned to teach rhetoric and composition and those who planned to teach literature. Even within my rhetoric focus and classes, business writing was often considered "less interesting" than journalism or expository writing.
I never understood this. I've always been fascinated by the writing and information flow across businesses. This is the rhetoric where the rubber meets the road. I love its blend of practicality and opportunity to have an immediate impact on both business and someone's life. It is business writing that helps businesses and careers grow, which in turn directly supports the shape and opportunities in our lives. If we want to collectively improve our careers and businesses and communities, we must be able to synthesize our value and communicate it cleanly. If we don't do this, growth is stymied.
Embracing business writing as a collective opportunity in each interaction helps everyone:
Your recipient feels your kindness and professional skills
Information flows cleanly, feeding all the positive aspects of business growth
Business growth - when articulated with vision and purpose - improves communities and families
We like our work
Here's the best part: if you're skilled and efficient at business writing you'll promote business and positivity and have more time to focus on your life outside of work.
Here are articles that will help your business writing connection skills and bring a little kindness to your workplace:
The power of we pulses through every one of your business writing and work interactions. Remember the opportunities, and echoes of kindness or negativity you can project, as you write your next email.
Since 1998, I've worked with a wide range of businesses, from Fortune 100 companies to one-person startups. Every single one of these businesses was intricately connected internally and externally. No one in business moves alone. Recognize that the power of we pulses in your workspace. Embrace this, and you'll enjoy your work more, advance your career and business, and support your wider interactions.
Alone we can do so little; together we can do so much. ~ Helen Keller