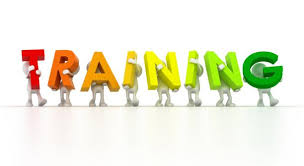 Many organizations understand that their employees need business writing training. Most employees spend more time writing at work than any other work task. Email, report writing, meeting summaries, etc., are the primary channels that stream information across and out of all organizations.
But, it's important to realize that business writing training should not be a one-off activity. It requires cultivation as well as training. Your employees need an on-going and continual support plan. And, ideally, they need continuous monitoring.
And also importantly, managers and senior executives need to model the way you want information presented in writing at your company.
Managers Need Business Writing Training, Too

As human beings, we all learn to read, write, and speak by modeling. When you read to your children from a very young age, they grow up to develop strong communication and interpersonal skills. This, later on, leads to better writing skills with minimal errors in grammar and tenses.
As adults, we can improve our writing by reading good writing. Reading good novels, articles, and short stories helps us understand clear, interesting language. It also helps us appreciate cohesion in a document.
In a similar manner, many of your employees learn to write at work through modeling. Whether we like it or not, your managers and directors set the tone for business writing across your company. Are you managers rushed and dash off careless instructions? That's a clear sign to employees that clear instruction is not valued enough that they need to focus hard on strong writing skills. The tone your managers use will often percolate down into the employee day-to day writing.
I worked with a consulting firm a few years ago that had a terrible problem with tone that was preventing them from winning proposals and clients were put off by recommendation reports. When I reviewed sample documents, I discovered abrupt emails, recommendations that were strident, and a breezy, dismissive tone in proposals. Oddly, these issues were rampant across one division, but not in others. When I met the managing director of this problematic division, I understood the root of the problem. While he was very knowledgeable about the business, his tone communicating to employees was weak. He was abrupt, careless, and short - which percolated down through his division.
When figuring out budgets and approaches to business writing training, I always tell clients to train the managers if budget restraints will only allow for a limited number of participants to be trained. The improvements will percolate down.
In business writing training sessions we lead, our instructors and I nearly always hear participants state, "My manager also needs to be in this training."
If your budget is too tight to train everyone, train your managers.
After the formal training session concludes, make sure that all the managers are modeling the writing that they want to receive.
Note: modeling is not the same as using templates.
Templates are very helpful for efficiency, but it's essential that your employees understand when to break away from a template and frame a document to best match reader needs.
Provide Clear Expectations and Rewards
Reflect on the writing requirements your employees face and provide support for this.
Requirements vary across every company, so you'll need to develop processes that are relevant for you.
One of our client groups has the daunting task of summarizing technology updates (called "Release Notes") that are emailed to 8000 employees who are dispersed globally and who have to implement these updates. Because these updates are critical to business, they:
Created a "Release Notes Review Committee" that checks the release notes before they are sent. Employees rotate in and out of this committee, but both technical and non-technical employees are always represented.
This committee makes certain that each release note clearly indicates which business line and position is affected and ensures the change is clear and easy to implement.
One employee, who is recognized as a strong writer, edits the release notes for clarity and tone before it is sent.
Because these release notes are so critical and valued to the company work, it's a career advantage to get on this committee. If your boss recommends you, everyone knows it means you're good at your work. This signals very strong that writing and communication are valued and rewarded.
During performance appraisals, those employees who are chosen for this Release Notes Review Committee receive commendation and it's also linked to bonus.
Offer Relevant, Easily-Accessed Resources
During our business writing training, we always guide participants to business writing resources that are specific and relevant to their writing requirements.
And, we provide ongoing support to clients: These resources ensure that your employees maintain and upgrade all the skills necessary for effective business writing:
We answer client business writing questions for one year after training: This ensures skills stay sharp and refinement is directly related to the writing they do at work.
Monthly Client Newsletter: Each month, we highlight one business writing topic and provide examples and corrections. Business writing evolves quickly. This ensures ongoing application of training.
Reinforcement Programs: Flexible, individualized support as needed. For example, if we discover an unexpected skill gap during training, often a quick one-hour webinar will resolve it for the entire team. Or, one person on your team may need additional coaching. Reinforcement options are fully flexible to match what needs to happen to ensure the business writing training sticks.
If you're conducting business writing training sessions on your own, there are two ways to provide continual support to your employees:
Offer Standard Grammar Resources
These are the best to bookmark:
Purdue Online Writing Lab: This free-of-cost online resource provides detailed reports on your employees' grammar and whether they need improvement or not
Grammar Girl: This web-based resource provides answers to all grammar-related issues with deep and contextual information
To learn more about effective business writing and how to improve business writing skills, please download my book "Four Steps to improve your Team's Business Writing Skills" today!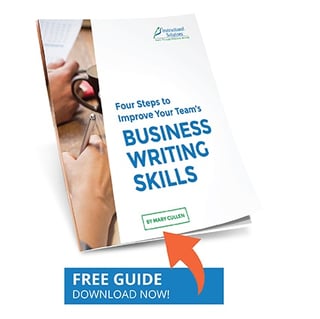 Or, schedule your complimentary business writing assessment today.