Note: this article is part of a series about current issues to consider when writing business email. Subscribe to this blog to receive the full series.
The very first step to manage business email is assessing what hits your inbox now.
When we turn our attention to managing business email, the first thing we typically look at is simple volume. How many email messages do we need to review and possibly respond to each day? However, it is also important to focus on the 'quality' of emails received – that is, categorizing the contents of a typical inbox in terms of its value to the user, from spam to business-critical emails. Why is this important?
Mimecast researched 500 IT decision makers, who have an overview understanding of inbox content. This research shows that a surprisingly small proportion of emails within our inboxes hold real, immediate value, casting a light on how much 'baggage' the average professional inbox holds.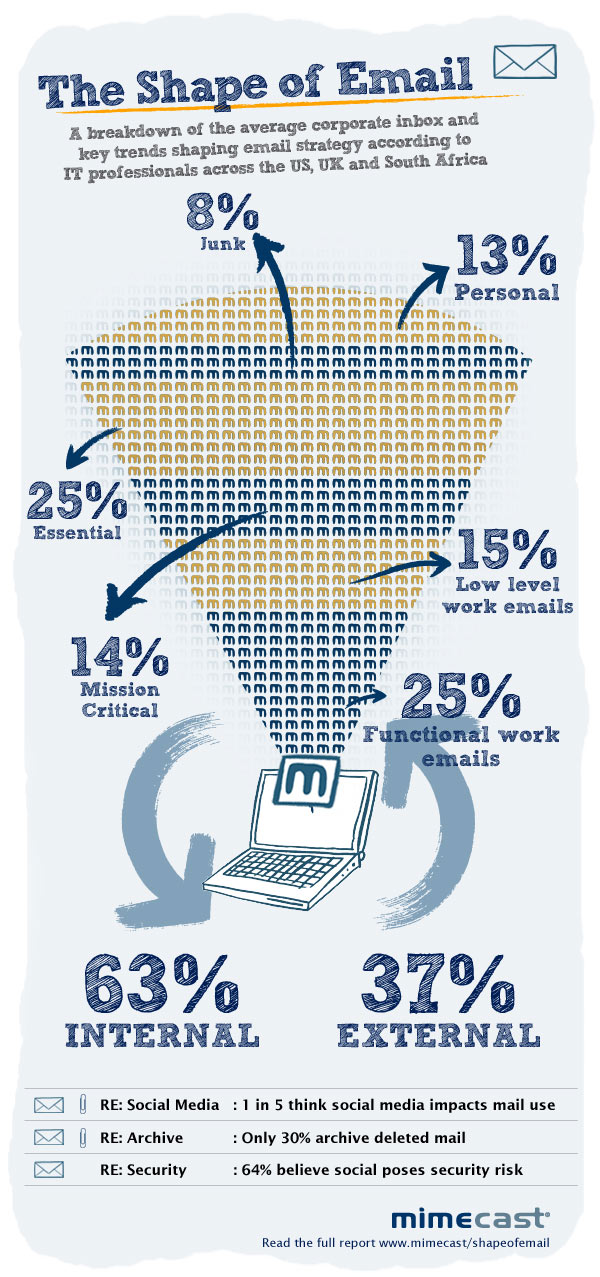 Only 25% of emails are considered essential for work purposes, with an additional 14% of critical importance
13% of work email is personal, not related to work at all
40% of work email is either functional or of low level importance
On average, 63% of email is internal, employee-to-employee communication
How to Manage Your Business Email
Do a quick survey of the quality of the email messages you have received in the last week:
Are only a small percentage of messages essential or of critical importance?
If so, look at what you can unsubscribe to, such as outdated distribution lists, irrelevant announcements, or newsletters you no longer read.
Stop any and all irrelevant message from reaching your inbox.
Decide if some of the information contained in internal email messages would be better delivered by phone or text or social network. Your readers will typically match the delivery channel you use, so you can influence this.
The first step in managing your email is knowing what currently hits your inbox, and reducing unnecessary messages.
The next step is establishing a productive time management email response strategy. Download this free resource to help you manage business email and create more time each day.
Master all aspects of business email in our
email course
.