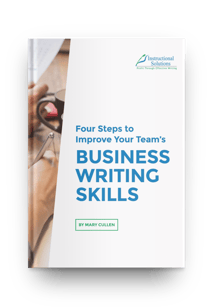 Your employees' ability to write clearly and convey complex information logically is a huge competitive advantage.

Yet, for many organizations, senior leaders receive muddled information. Email to customers is not professional. Employees spend too much time writing each document. Errors are present. Key information is not moving cross-functionally.
Let's fix this. 


This 17-page expert guide explains how to:
Accurately assess and measure employee writing skills
Determine if internal or external training is best for your team
Mentor employee writing
Link employee writing to performance
Fill out the form to the right to immediately receive this guide to improve your team's writing.