This proposal writing course teaches participants how to plan and write proposals that win more business.
It will teach you the most efficient process to plan and organize a proposal. It also explains how to hone language and tone to make your service, product, or solution more compelling to the client.
This is a practicum course. During the course, you will plan and write an actual work proposal with instructor review and guidance of incremental steps. The course also includes a final one-on-one coaching session to review your final proposal and ensure future proposals are strong. Participants continually rate this final call as one of the most beneficial parts of the course.
This course is available both onsite and online for groups and online for individuals.

This course will teach you how to:
Learn the optimal proposal writing process so you can write more effective proposals faster.

Present an understanding of the client's needs.

Craft language that cuts through information overload, so your proposal is crisp and readily understood.

Research, plan, draft, and edit proposals with confidence.

Correctly respond to RFPs.

Win more business for your company.
Important: This is not a grant writing course. It is focused strictly on business proposals.


Course Certificate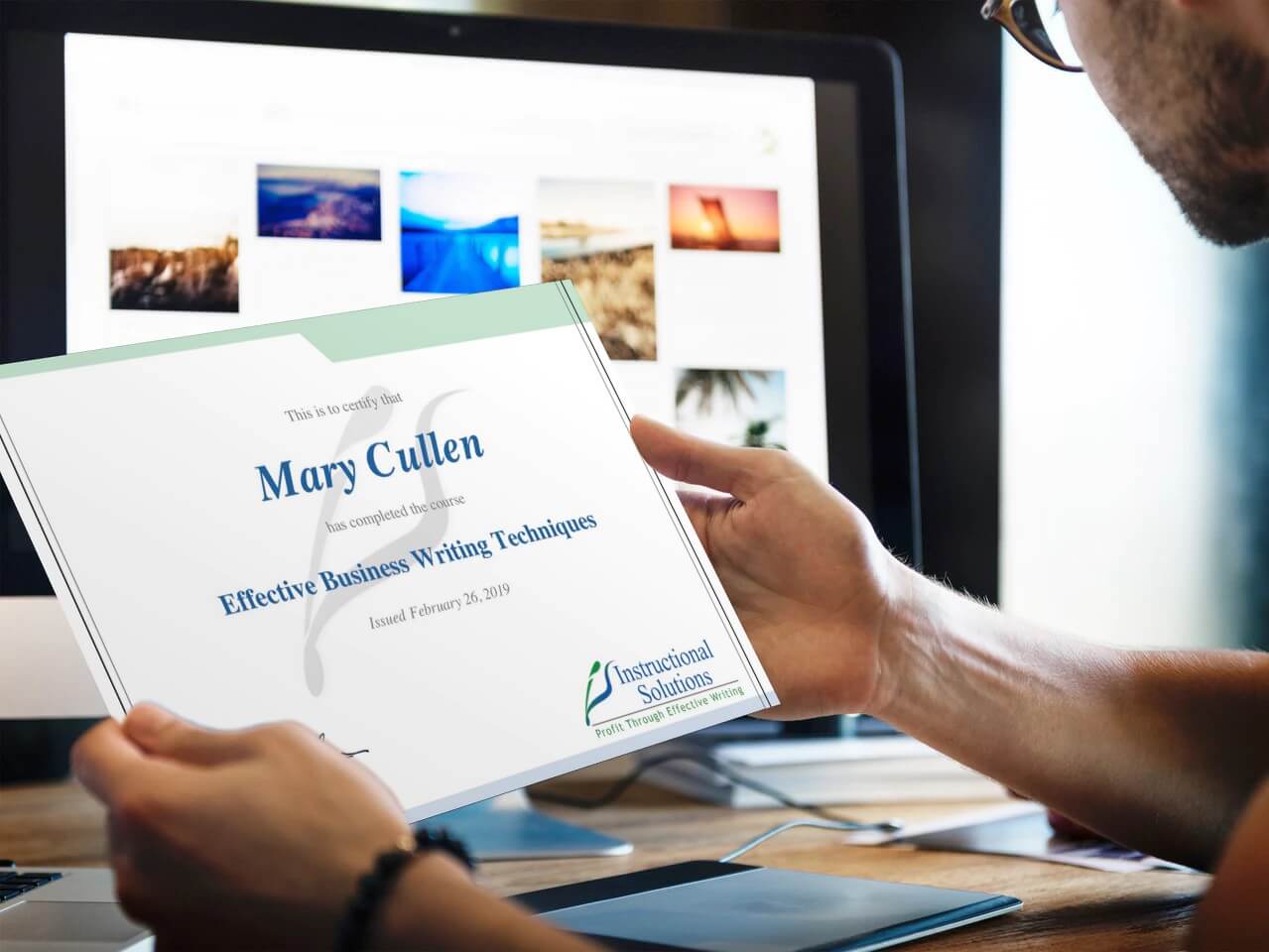 After completing the course, you will earn a personalized certificate. You can display your certificate in the certification section of your LinkedIn profile, download to print, or mention in your résumé.


This course is a great fit for you or your organization if you…
Write new business proposals or respond to RFPs.

Work on a sales or marketing team.

Are new to writing proposals.

Want to hone your proposal writing skills.

Write internal business proposals.

Review proposals before submission.


The course is comprised of four major modules divided into ten lessons. Each module focuses on improving a different facet of your professional writing skills. At the end of the four sections, you will be able to brainstorm, write, edit, and review proposals with tact and speed. To see the full course outline of all ten lessons, please download it here.
Module 1: Process
The first module focuses on teaching you the correct process of how to write a proposal. This section will teach you our proven six-step framework that will help you avoid writer's block while decreasing the time you spend writing.
One of the keys to writing a successful proposal is focusing on the needs of the potential client. We will teach you how to research, outline, and write your document so that it is focused on the decision makers reading your proposal.
The process module lays the theoretical foundation that is needed before you start writing. Once you understand the process, we move to improving the content of the proposal.
The organization and structure will help your reader understand your proposal, but the content will be what wins you more proposals. You will learn how to articulate the benefits, financials, deliverables, and terms of your proposal. You will learn what supporting documents are needed for each section of your proposal.
To see all the lessons included download the full course outline here.
Module 2: Practice
In the second module, you will work with your instructor to write an actual proposal. As a practicum course, we suggest that you use a proposal that you need to write for work. During this process, you will apply your new skills and receive instructor guidance. Applying what you learned in the first module is critical to ensure that you can apply the knowledge to future projects.
Download the full course outline here.
Module 3: Polish
This module will ensure your proposal has no errors and looks professional. We will help you hone your tone and voice to be more persuasive while bringing clarity to the document.
One of the ten lessons focuses exclusively on word choice. You will learn how to eliminate jargon while tailoring the text to match your client's language style.
You will learn proofreading tactics to avoid embarrassing grammar and spelling mistakes. These go beyond simple tips and tricks. These are proven grammar and syntax strategies that will make your writing more professional.
We will review how to format the proposal so it is easy to read and professional.
Once your proposal is finished it is time to submit. You will learn the correct way to submit your proposal. If it is by email, we will review the proper format and etiquette to be used in a submission email.
Download the full course outline here.

Module 4: Coaching

The course is concluded with a live one-on-one call with your instructor. During this time you can ask any questions and review feedback to your proposal. The live coaching call acts to solidify the information learned during the course so you can apply your new knowledge to future proposals and to provide detailed feedback on the proposal you wrote in the course.
Download our course outline to read a detailed description of all ten lessons.