Effective Remote Communication: How to Communicate with Your Team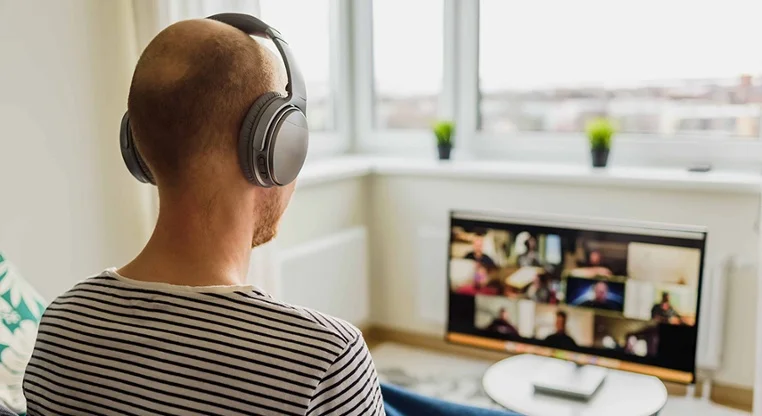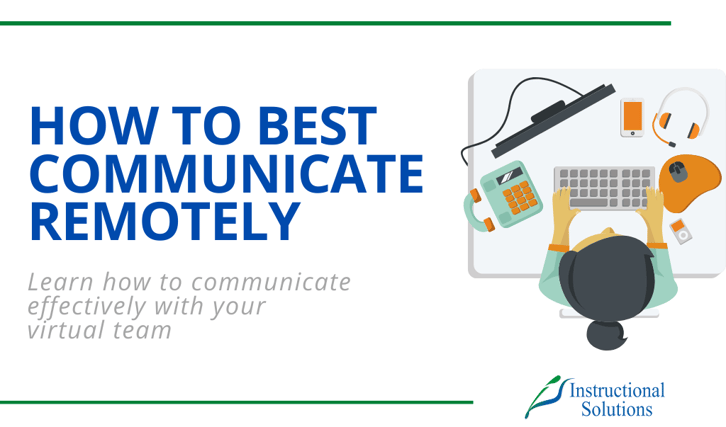 Remote work is rising in popularity, but it has suddenly become the global default due to COVID-19. Many workers in the United States and around the world are finding themselves working remotely for the first time. Working from home has many benefits (including stopping a pandemic!), with 77% of remote workers stating that they're more productive. Distributed teams come with a different set of working conditions and one very big, very important challenge: communication.
Every team strives to have excellent communication. Strong communication enables work to flow smoothly, teams to gel, and output to increase. Yet, remote communication is distinct from its office-based equivalent. What works in-person may not translate well online. Therefore, virtual teams must understand and practice effective communication.
This article will highlight why these two forms of workplace communication are fundamentally different.
Also, Instructional Solutions has been fully working remotely as a company since 1998, so we'll also share our tried-and-tested tactics to help you and your team master the transition to remote work.
Why remote communication is different
Working remotely requires a different approach because there's a third party involved: the internet. Walking through an office makes it easy to craft a casual task check-in. You can quickly tell how well a meeting is going by the look on your colleagues' faces. The ease of face-to-face communication can be lost when corresponding through a device. (However, there is also much less walk-through-an-office fragmented communication.)
The principles of communication became even more critical for distributed teams. Excellent communication is concise, clear, has a purpose, is prepared with the audience in mind, and most importantly includes relevant and correct information. Direct communication has the benefit of non-verbal cues to support verbal communication, even if your instructions aren't as obvious as they should be. Communicating as a remote worker requires communication to be thoughtful and precise.
There are both advantages and disadvantages to remote communication:
The upside? The practice of efficient communication in a remote team will enhance your all-around communication skills. Also, remote communication can be much more purposeful and less prone to random chatter.
The downside? In any electronic communication, if your words are vague and could be interpreted differently, they'll be perceived in the way that causes the most harm.
Real-time vs. delayed communication
In-person communication is instantaneous. When you speak to a colleague during a presentation or around the water cooler, their reply is in real-time.
When talking with a colleague in a remote team, their reply is not necessarily immediate. When a communication is sent without the expectation of instantaneous response, it's called asynchronous communication (vs. real-time synchronous communication). Using team communication tools, project management systems, or email allows space between the two sides of a conversation.
There are significant benefits to this including fewer workflow interruptions and more time to prepare a thoughtful response. Yet, for teams unfamiliar with this correspondence flow, it can take some adjustment to expectations but there are significant team communication advantages.
OUR TIP: We aim for primarily thoughtful asynchronous communication and use chat only as

needed for immediate, quick communication. When needed -- which is not often -- we schedule Zoom meetings.

6 Tactics for better team communication
Our team has always worked remotely but a lot has changed since we started over 20 years ago. Over that time we have come to love remote communication and have developed a very clear communication flow.
From our experience, employing the following approaches will allow your team to communicate remotely and remain -- or even be more -- productive and connected.


1. Use the right tool for your team
There are so many online tools designed to engage teams and ramp up remote productivity. We love Basecamp and have used it for years as our virtual office, Zoom for video meetings and screen share, and Loom to make quick illustrative videos when a visual demo of work is best.
Remote work tools typically fall into team communication tools, project management tools, and document management tools (or a combination thereof). These tools can be industry-specific or integrated into operating systems. Whatever the tool, it needs to be able to capture your team's communication needs.
Time Doctor provides a strong list of their recommended remote work tools.
A common mistake for new remote teams is to rely on email for regular internal communication. Hallway conversations, mini-meetings, quick office door questions should not transform into emails. Relying on email alone can be overwhelming and confusing. Therefore, a tool that can efficiently capture the permanent announcement, task, and the conversational is essential.
OUR TIPS: No matter which tools you choose, ensure that the entire team actively uses it. If the whole team isn't engaged, it will not be effective.

Do not rely on email fully for remote work.

Use as few tools as possible so everyone knows where, as well as how, to communicate.


2. Schedule blocking
Remote workers often struggle with the blended boundaries between the workday and home life. A powerful strategy to harness your time is time blocking.
Ditch the to-do list and, instead, divide your day into large chunks of time. Each block is dedicated to one activity or a related group of activities. For example, blocks could consist of: marketing, sales, email, administration, and meetings. The blocks can also consist of at-home activities, like laundry or stepping outside for some fresh air. Your entire day is portioned out, only those tasks can be tackled during those times, and they cannot spill over into other blocks.
Click here for a sample schedule-blocked calendar and more tips on schedule blocking.
Exercising this discipline while working from home sets strong boundaries. Time blocking also places communication together so that it can be done effectively (asynchronously!) without getting lost in a sea of online notifications.

3. Establish weekly check-ins
Regular check-ins build the connection between staff and maintain the workflow. Check-ins can be video calls, written reports, or individual answers to a specific question.
The Instructional Solutions team has a weekly check-in via Basecamp tool every Monday morning.
Everyone briefly replies to the automated check-in message with a) update on current progress, b) current week's goals, and c) workload noted as red - capacity, yellow - ok but workload getting heavy, green - workload open.
A robust check-in practice ensures everyone is working well, everyone understands what everyone else is doing with intersections clearly understood, and no one is overloaded with work.
| | |
| --- | --- |
| | OUR TIP: Keep team check-ins simple and automated. If you require your entire team of 20 to gather for 30 minutes for a weekly group check-in, you've given that activity 10 hours of productive work time a week and 40 hours of productive time in a month! Instead, send an automated message and review the thoughtful written responses. |

4. Build a common language
Every workplace is unique and, similarly, has its own language. Move this language online or craft new terminology to fit your workplace. For example, Zapier uses the term 'tree time' for uninterrupted work time. If an employee says they will work on a task but needs some tree time right now, the colleague understands immediately. It's simple, casual, and useful.
We talk about our quarterly "rocks." You've likely heard the business recommendation to put important "rocks" in the bucket first to ensure what matters gets done, followed by the pebbles, and then the sand. Each week, everyone asynchronously reports on their progress. This has been enormously helpful in keeping our individual remote team members aware of their contributions to the overall company and no one's workload too heavy.
Allow your team's unique language to develop to keep the online conversation smooth and fun. Just keep in mind that it should be practical and does not alienate new employees.

5. Revisit corporate communication policies
Every office has their preferred communication method. Some love small team meetings. Others rely entirely on written memos. Best practices are typically integrated into workplace policies or guiding principles so if your team has suddenly transitioned to remote work you may feel adrift at sea.
A transition to working from home may require you to revisit current practices and policies to ensure you are aligned with your company's best practices. Further, some companies may have targeted policies or advice to be successful as a member of their distributed team.
Take the time to monitor the information flow of your team in your new remote environment and simplify the tools and practices to encourage smooth information flow.

6. Don't be afraid to pick up the phone
There are certain situations when a direct conversation is the most practical mode for moving a project forward. Using electronic tools to capture team communication is vital but is only one tool in a complete virtual team communication toolkit. All virtual team communication requires a thoughtful assessment of not only the message but the medium. If appropriate, do talk live.
Pick the best medium or channel to convey your message.
Tips for transitioning to remote work
The global COVID-19 pandemic has caused many businesses and managers to rapidly transition from office to virtual. This adjustment has often been awkward and bumpy as teams navigate how to work effectively as newly remote. If you are unaccustomed to this style of work, the following guidance can be useful in these uncertain times.
Be patient
Many people are working from home for the first time in the past few days or weeks. Some people thrive while working in the privacy and comfort of their own space. Others find remote work isolating and burdensome. Your team will likely have people who fall all along this spectrum of virtual work preferences.
Be patient with your colleagues who may be struggling with the transition. If certain workflows are fragmented, or messages missed, be patient, clear, and kind to return collaboration to its pre-coronavirus performance.
Be clear
Remote work is inherently different from office work. Casual interferences or quick clarifiers are not available for a virtual team. Therefore, your communication with your colleagues needs to be precise and concise.
Unsure if your message is clear? Take advantage of that asynchronous communication and leave your text for a while. Return and re-read it for ambiguity, and revise accordingly. While always important, clarity becomes critical in a time of upheaval.
Be gentle
Efforts to flatten the curve are vital for our vulnerable populations and require collective efforts to support the greater good. The transition to working from home is imperative, but that does not make it easy.
If you're feeling anxious, unproductive, or annoyed, you're not alone. Workers across the country and likely across your company are feeling uneasy in this transition. Recognize that bumps along the way are perhaps the only normal part of this situation. Be gentle with yourself if remote work is difficult.
With good practices and effective communication, it will get easier. Over time you and your team will build remote work skills.
Be inquisitive
If your new workflow is confusing in your home office, don't hesitate to ask your boss to clarify. Similarly, ask your teammates if there are any items or deliverables that you missed.
Proactive outreach can identify gaps in team communication before they widen and cause frustration. Resolving these hitches early in the transition will allow remote to be at least as productive as onsite.
Remote work requires new approaches
Working remotely comes with unique challenges and significant benefits. Being successful with remote communication requires everyone to write thoughtfully instead of off-the-cuff discourse, but that leads to more clear information flowing across your company.
Ultimately, the most important element of your team communication is clear, vetted information flowing well when needed. Proximity is irrelevant to achieving this.