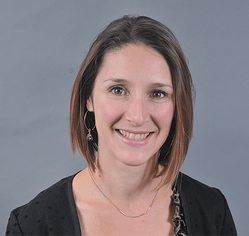 Katie is an experienced Business Writing and English as a Second Language instructor, business writing coach, and teacher trainer. She taught Business and Academic Writing at the University of Massachusetts Boston.

She is very skilled at evaluating both the substance and language of business documents. Her writing critiques, instruction, and coaching have received stellar evaluations from our clients at Chartis Consulting, DuPont, Shell, Southern Middlesex Opportunity Council, and the World Wildlife Fund.

She holds a B.A. in Journalism from the University of Rhode Island and an M.A. in Applied Linguistics from the University of Massachusetts Boston. Her areas of expertise include business writing and technical report writing, proposal writing, and syntax and non-native writing.

Katie lives in Rhode Island with her husband, toddler, and very old dog. When not teaching or creating courses, she can be found doing something (anything!) outside with her little family.