Improve Your Technical Writing Skills
This course teaches you the optimal report writing process so you can save time and write better reports.

Reports are the lifeblood of decision making and monitoring in business. Ideally, they provide relevant, vetted information that allows a reader to easily understand both context and implications and make an informed decision. However, too often, important information is buried and organization is muddled. And, writing a report can feel like a time-draining burden.

This practicum course teaches you the optimal planning and writing process to convey technical and complex information effectively. And, you will learn how to write reports more efficiently, saving you time and reducing frustration.
You can download the full course outline for report writing here.
In this course we will teach you:
The optimal report writing process so you can save time and write better reports

How to tier information logically

Learn to extract and highlight significant information and differentiate this from background information

Strategies to convey complex technical information to non-technical readers

How to write a clear and meaningful executive summary

How to optimize a report when reports are reviewed by regulatory agencies
This report writing course is a great fit if….
You're in charge of a group or division in your company and looking to improve your team's report writing skills

You're an individual looking to improve your report writing skills to get a raise, become more effective in your communication, or become more qualified for a new job.

You work in an industry that involves technical or financial analytical documents and reports

This course is probably not for someone just looking for basic grammar or language tips.

Technical Reports are Required in Technical Industries
This report writing training is essential for analytical positions that need to review and summarize information and recommendations into reports – financial analysts, business analysts, scientists, engineers, geologists, in field and senior positions.
A common question asked is what is the difference between a technical report writing course and a report writing course. Our technical report writing course covers all the material germane to business report writing but focuses on dealing with complex information that many technical industries must address. If you need to create reports in a professional or technical setting, a technical report writing course will be more beneficial than a basic report writing course.
This is a practicum course – participants plan and write their own actual work report during the course, with instructor guidance, so the training is highly pragmatic, relevant, and immediately applied to work. FedEx, Liberty Mutual, Novo Nordisk, Shell, Umpqua Bank, USAA, and the US Army have successfully honed report writing for complex and technical business situations with this course.
| | |
| --- | --- |
| • Oil & Gas | • Energy & Chemical |
| • Energy & Chemical | • Biotechnology, Health, & Pharmacy |
| • Consulting Services | • Engineering and Mining |
| • Financial Services & Insurance | • Non-Profits |
| • Government & Law | • Manufacturing |

Custom Report Writing Training with Shell
For years we have worked with Shell to train engineers, geologists, and scientists in Shell's Advanced Technical Development Program, who write mission critical reports for billion dollar projects. We worked directly with Shell to design a course that addresses the highly technical requirements of the reports these positions write regularly.
Create a Custom Program
We have worked with companies of every size to create custom seminars and workshops. We can also help create a custom online technical writing class for your organiazation. These can be tailored to your industry and delivered in person or online. If you are interested in creating a custom report writing course for your business, please contact us for a consultation call.
Practical Materials Included
The course also includes key materials that you can print and use in your daily job. Job aid documents include:
6-Step Process Diagram

Reader Focus Sheet

Editing Checklist

Planning Software
See the entire list of nine bonus course materials when you download our free course outline.
Key Course Outcomes
At the end of this course, you will be able to write business and technical reports confidently. Key results from the course include:
Employ an efficient process for planning and organizing information and ideas

Eliminate "information dumping" in reports

Understand how to tier information appropriately in reports to match wide audience needs

Eliminate jargon and bloat

Reduce the amount of time required to write reports

Write synthesized, compelling executive summaries

Receive expert coaching on an actual report you write for work
Course Certificate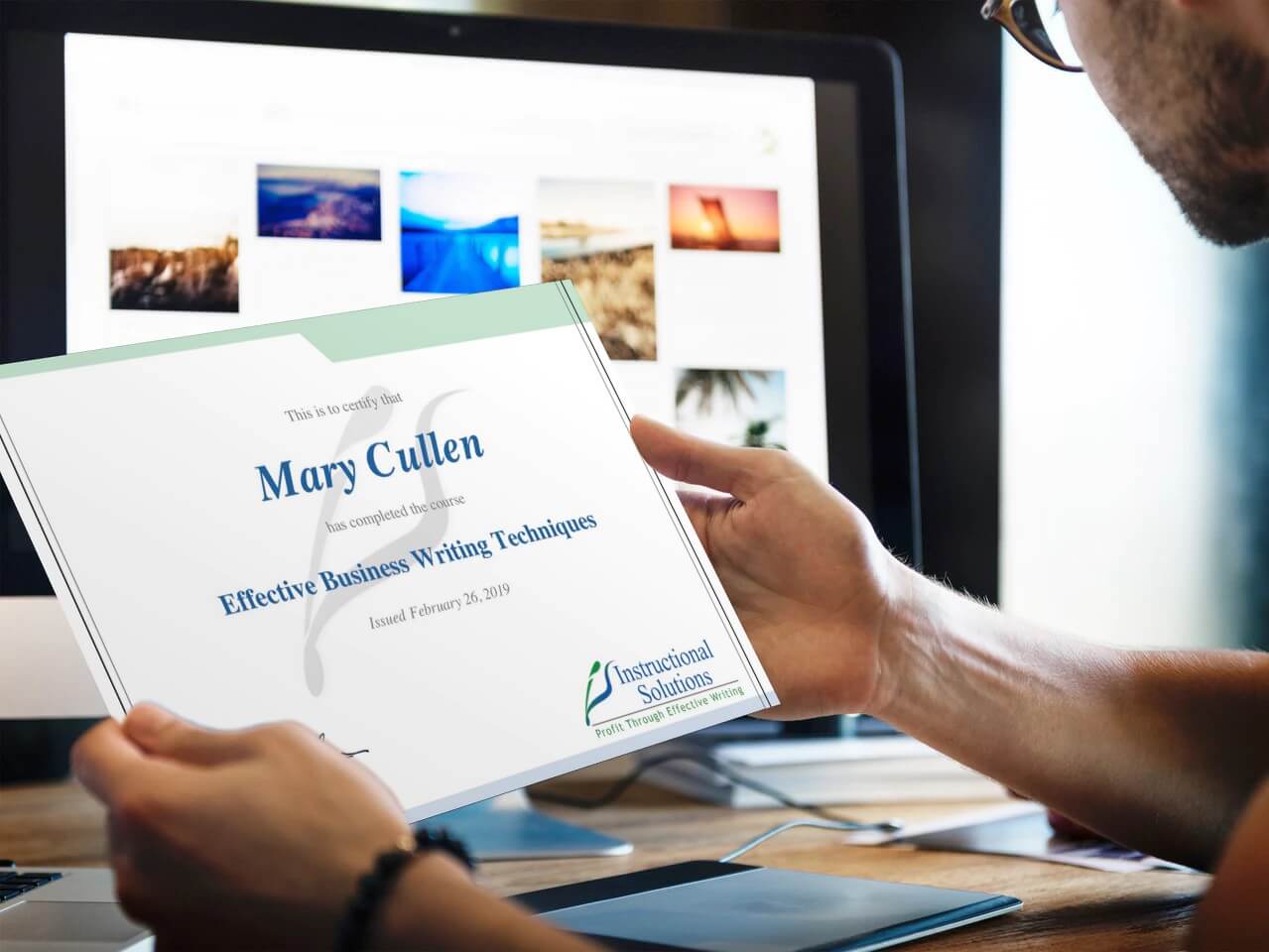 After completing the course, you will earn a personalized certificate. You can display your certificate in the certification section of your LinkedIn profile, download to print, or mention in your résumé.
Live Document Coaching
Our technical report writing course includes live document coaching. Each session is held via webinar software where we will review your final report and answer any lingering questions.
Live document coaching is just a portion of the one-on-one instructor guidance you will receive. Your assigned instructor will provide detailed feedback on incremental course exercises as you sequentially plan and write an actual work report. Your instructor is also available for any questions throughout the course by phone, email, or Skype.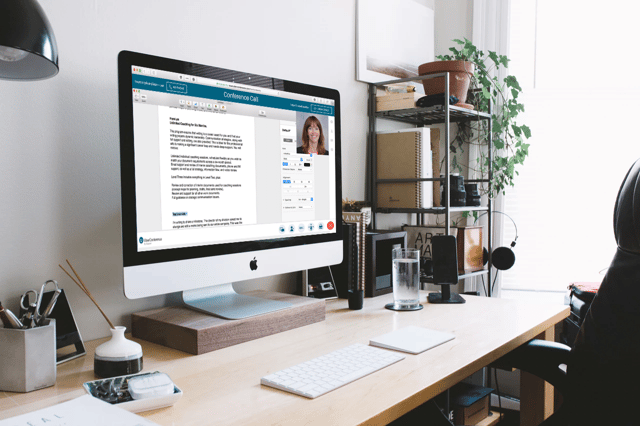 Exercises and Instructor Feedback
Each course includes exercises and instructor feedback to complement the lessons. These exercises help cement the material taught in the modules and keep you on track as you develop and write an actual work report.
You can view a list of the exercises included in the course by downloading our free course outline.


This Technical Writing Course is Divided Into Eight Modules:
Each module focuses on a different area of technical report writing. The course can be customized to your organization's unique challenges and goals.


Module 1: Introduction and Self-Assessment
The course starts by asking about your existing report writing skills, your report writing requirements, and course goals. Ths helps your instructor to customize his or her comments on your course exercises to meet your professional objectives. It ensures you receive feedback that is relevant and directly applicable. This module will also lay the foundation for business writing: content and process.

You can download the full course outline here.


Module 2: Six Steps to Effective Business Writing and Reports
In the second module, we teach you a practical framework for writing business reports. This six-step process helps you understand strategies needed to write a clear report. This process will allow you to spend 30% less time on every report you write.
Bonus: This module also includes tools that will help you quickly plan out your report structure.


Module 3: Report Planning and Structure
This module is focused on helping you organize content in a logical flow that is easy to understand. We review the tools and methods used to generate information and plan reports and the pros and cons of each. This module focuses on how to tier information appropriately.
You can download the full report writing course outline here.
Module 4: Report Examples
This module focuses on the strengths and weaknesses of example reports. We use extensive examples to ensure we cover a variety of report applications. This ensures you understand how to apply the tactics in previous modules in different types of reports. For corporate workshops, examples can be tailored to the client. This module also looks at important considerations when writing a report from a template.


Module 5: The Executive Summary
Reports get a bad rap for being long and painful to both read and write. The executive summary is the most important section that conveys the core findings and implications of your report. When written well, an executive summary allows a busy executive to absorb lots of information easily and make an informed decision.

Executives often tell us that they highly value an employee's ability to write a clear, well-extracted synthesis statement, which is the core of a good executive summary. This skill will help you write strong reports and go far in your career!

See the full outline for module five in the course outline.


Module 6: Tone and Word Choice
This module ensures that your sentences are clear, correct, and engaging. It is imperative that technical writers eliminate jargon and focus on truth and accuracy. In this module, we review how to ensure your reports are clear and easy to read.
[Download the full course outline]
Module 7: Report Grammar and Syntax
Report writing can be a daunting task if you do not have a strategy. We will provide you with an overview of the components for a report and teach you to write more clearly. You will learn how to drastically improve your report effectiveness by learning how to write a comprehensive executive summary.
Module 8: One-Hour Live Coaching Session (via webinar)
In the final module, we offer a one-on-one coaching session. This hour session is designed to bring together all the previous lessons and ensure you can implement them in your daily writing. The coaching session is delivered via webinar software.

At this meeting, your instructor will review your final report and provide recommendations. This is also a good time to ask any lingering questions you may have.


Invest in Your Team's Report Writing Skills
This course breaks down the optimal report writing process and includes award-winning instructor feedback after each incremental exercise. By the end of the course, participants gain experience writing a successful report, break through any blocks, and possess the skills to write any work report well.
Links to report planning tools, award-winning instructor coaching and feedback, and ongoing support are all included.
This pragmatic and very effective report writing course guides participants through the planning and writing of an actual work report. It teaches the most efficient process to plan a report, how to sequence information logically, and write a compelling executive summary. It concludes with using clear language to make complex ideas easy to understand.