If you use Gmail (which I do for both my business and personal accounts), a new Tasks feature will greatly help you manage email overload. I've been testing it out for a few weeks. It's fantastic for keeping a clear inbox, critical to managing email overload.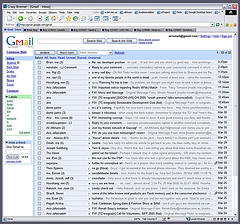 Business Email Inbox Overload
The task features are very basic, but that's what I like: it's simple and easy. You add a task. You check it off. You can also reorder tasks, and indent them to linked tasks to keep order.
When you receive an email that requires action, you add it to your task list in Gmail. Then you archive that email, instead of leaving it in your inbox (always deadly to productivity.) Result: clear inbox!
The email is available for reference when you work on your tasks, but it's not cluttering your inbox.
SET UP:
In the upper right corner of Gmail, go to Labs, and enable this function.
For Remember the Milk users (like me), there is even now a gadget to integrate this, for free.
Once you read a message, move it to where it needs to go:
Do not let messages linger in your inbox. Once you read it, either take action or move it. (Here is where Gmail Tasks is so helpful). It's both depressing and enervating to see accumulating, unanswered messages every time you log in, and the inbox clutter will will cause you to waste time.
Read more about business email productivity tips.
Gmail's new tasks function will help keep your email workflow moving. Won't it be wonderful to see your inbox looking like this?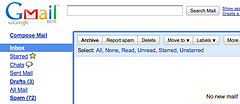 A Clear Inbox!
Learn More in This Email Course