Improve Your English Business Writing Skills

Our complete English business writing course teaches you a step-by-step process to write faster and more effectively.
The simple truth is most non-native business people struggle to present their ideas through written text effectively with confidence. This course will help you or your team to develop professional writing skills. Effective English business writing is one of the most important skills for personal and organizational success.
English has emerged as the leading language of business. Today 1.75 billion people speak English at a useful level. Being able to command the English language has become a valuable professional skill.
Albert Saiz professor of economics at MIT estimates being able to speak English as a second language can increase your income by 10 to 20 percent.
The secret to being a great English writer is the ability to refine complex ideas and express them concisely.

The good news is this is exactly what we teach you to do in this course.

This course will help smart, technical, analytical professionals whose writing is complex and whose writing matters in the information flow of the company.

Even if you are not a native speaker of English, we will teach you how to write complex and important documents like:

Reports

Business Letters

Memos
Email


You can download the full course outline for our non-native course here.

In this comprehensive writing workshop we will teach you how to:



This course is a great fit for you or your organization if...
You're a non-native speaker looking to increase your ability to communicate professionally in English.


You're in charge of a group or division in your company and looking to improve non-native members of your team's communication and professionalism.


You're an individual looking to improve your skills to get a raise, become more effective in your communication, or become more qualified for a new job.


You've recently moved to a role where you need to write more technical or analytical reports and documents.



You want to become better in English business writing, but you don't know strategies specific to your skill gaps.





You need grammar and syntax instruction on how to naturally use the English language.
This course is probably not for someone with an elementary proficiency of English who is not looking to use English in a professional setting.
The most difficult part of professional communication is effectively writing for your audience and expressing complexity in an easy-to-understand way.
Business writing is an essential skill for every working professional. It is critical that you can communicate with individuals both inside and outside of your organization. Write to minimize confusion, avoid expensive mistakes, and evade 50-thread email chains.
The point is your company (and your job) depends on clear communication.
So many business professionals continue to make the same embarrassing mistakes and feel overwhelmed when synthesizing and communicating complex information to multiple audiences.
If you are feeling overwhelmed by reports, emails, meetings, and interruptions then there is probably a breakdown in your writing process.
Our clients continually tell us that they didn't even realize the mistakes and missed opportunities they were making every day.
Imagine being able to quickly and effectively write communications. Making it easy for colleagues, auditors, compliance, executives, or potential clients to understand your message.

Remember –– the goal of this course is to teach you strategies to become a more strategic business writer. This means you will be able to present complex information clearly, regardless of the type of document and audience.
Download the full course outline for our non-native course here.
Once you finish this Effective Business Writing Techniques Course you will be able to:
Use a proven process to plan and write any document in English


Write effective internal and external business documents, email, and reports


Quickly generate and organize your ideas


Tailor your writing style dependent on the audience and goals of the document


Write clearer and more concise documents


Communicate more effectively both internally and externally from your organization


Write with correct, clear language


Course Certificate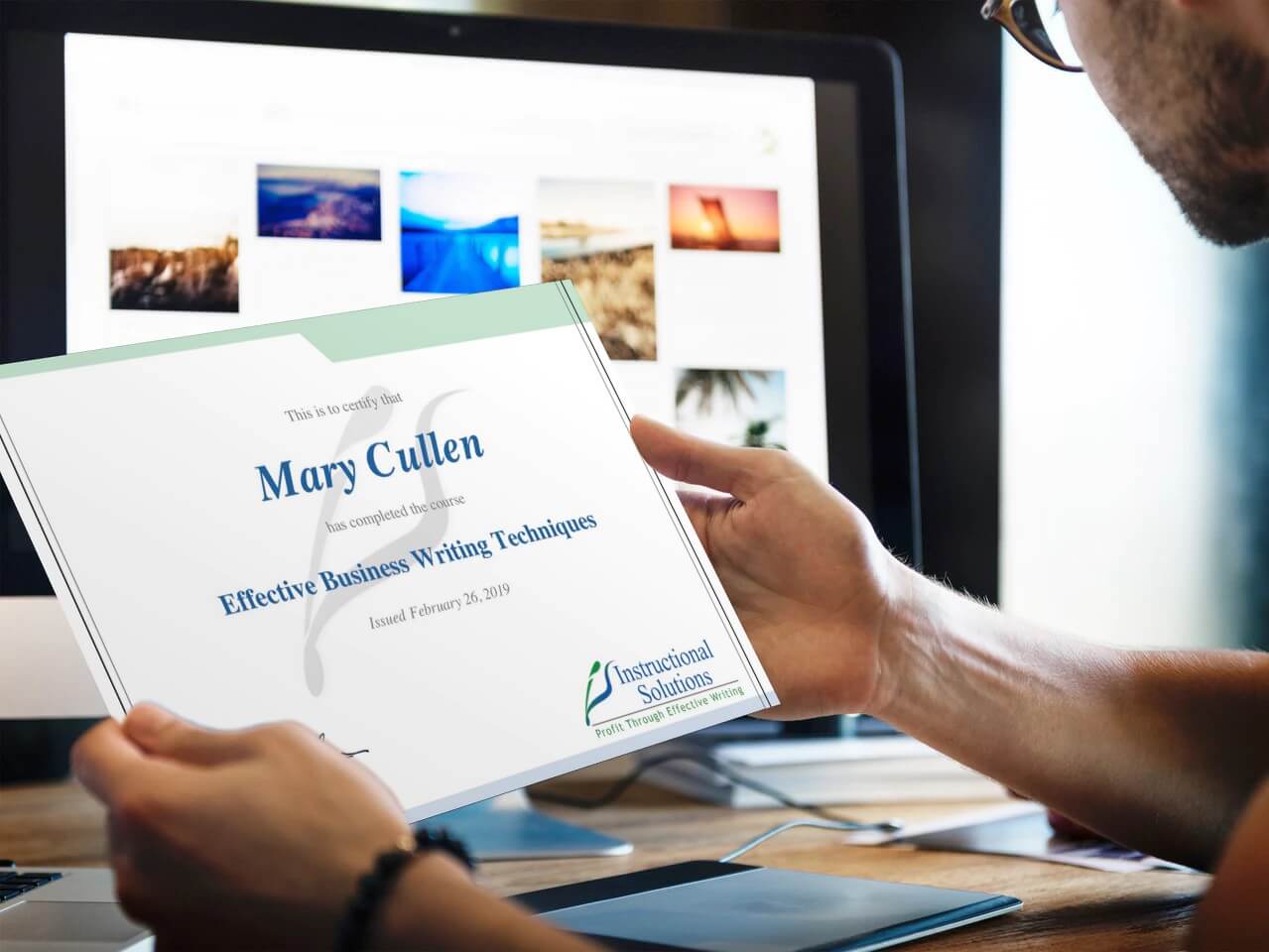 After completing the course, you will earn a personalized certificate. You can display your certificate in the certification section of your LinkedIn profile, download to print, or mention in your résumé.


Award Winning Individual Feedback For Every Student
In this business english class, you will also get individual feedback from the instructor. To actually improve your business writing skills, you need both course instruction and feedback on your actual writing.
During the course, you will apply what you are learning in mini writing tasks. These tasks are designed to reinforce what you are learning in that section of the course. Additionally, after submitting actual writing exercises, you will receive both subjective and objective feedback from your instructor.
Objective feedback:
Does the document have a clear purpose and business objective?

Is the document based fully on reader perspective?

Does the reader have all the content needed (and none that is not necessary) to achieve the business objective of the document?
Download the full course outline here.
Subjective feedback:
Is your tone too blunt or too timid?

Are your word choices clear and strong?

Can you cut any unnecessary words?

Are there any English grammar errors?
Editing feedback alone improves an individual document. Our feedback makes you a better writer.
After each course, we ask our students for their feedback. Here are just a few responses...



This business writing course is divided into ten modules:
This course is identical to our Effective Business Writing Techniques course but also includes additional grammar and syntax instruction for non-native English speakers, as well as detailed instructor guidance.

Module 1: An Introduction and Self-Assessment
This module outlines the necessary foundation for writing better content and process. We will work with you to develop specific learning goals that you want to achieve by the end of the course. This will help us to define your specific skill gaps when writing for an English business audience.
[Download the full course outline]
Module 2: The 6-Steps to Effective Business Writing
Learn our step-by-step process to write more effectively for an English business audience. After this module, you will be able to synthesize complex technical concepts clearly, and convey them through written text. You will be able to organize better and help your reader respond accurately. The ability for you to communicate complex information logically is a huge competitive advantage. We will also teach you how to avoid writer's block, write faster, and reduce errors.



Module 3: Importance of Organization
Learn how to organize your documents for clarity. Nothing is worse than getting a document that is difficult to understand due to poor organization. This module includes tips and tricks on how to organize the beginning, middle, and end of your document and make it quick to scan.
Module 4: Internal Documents
Learn how to write better internal documents. Better communication inside your organization can lead to fewer meetings, higher productivity, and less chaos. A poll by The Economist found 83% of employees report that poor business language skills have resulted in an adverse impact on their organizations. We're here to help you strengthen your internal communication skills.
[Download the Full Course Outline]


Module 5: Letters and External Documents
Learn best practices when writing to external stakeholders. A writing mistake to a team member may be overlooked, but you can be sure it will be noticed by a new customer, supplier, or regulator. It is crucial you can communicate professionally with external stakeholders.



Module 6: Email Use and Structure
Email now accounts for over 25% of our time in the workplace according to a study from McKinsey Global. In this module, we show you how to save time and better manage high email volume. Learn how to structure and write emails that get results.
[Download the full course outline]
Module 7: Structure and Strategy for Reports
Report writing can be a daunting task if you do not have a strategy. We will provide you with an overview of the components for a report and teach you to write more clearly. You will learn how to drastically improve your report effectiveness by learning how to write a comprehensive executive summary.
Module 8: Organization and Presentation
In this module, we share the best tips for organizing and presenting information. Clear writing ensures your reader understands your main points. You will also learn how to format documents depending on their purpose. A clear format will guarantee your work looks complete, professional, and engaging to your reader.
[Download the full course outline]
Module 9: Clarity and Word Choice
Do you want to learn how to choose the right words in English? Natural word combinations are an important part of writing a clear document. In this module, we focus on improving clarity through word choice. This will help you to eliminate unnecessary jargon and bloat. You will learn how to choose language that is focused on achieving the goals of your document. Your instructor will identify your errors and provide a customized correction strategy.



Module 10: Style and Tone
Style and tone may change depending on the type of document you are writing. An internal memo or email is different than an external letter or report. In this section, we will teach you how to convey confidence in a polite tone. Imagine being able to write in a natural English style and tone. Your tone is a reflection of you as a writer and affects how your reader will receive the information.
[Download the full course outline here]
This course includes award-winning instructor coaching and feedback for non-native participants and ongoing support.