Forbes Magazine conducted a Jargon Madness tournament on Twitter, asking readers to submit the business writing jargon that most annoyed them. The "winners" advanced to qualifying and final rounds. From Forbes:
The next time you feel the need to reach out, touch base, shift a paradigm, leverage a best practice or join a tiger team, by all means do it. Just don't say you're doing it. Because--and please believe us--all that meaningless business jargon makes you sound like a complete moron.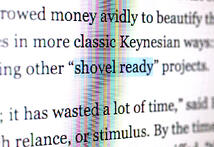 Jargon Madness Tournament "Winners"
Drinking the Kool-Aid
Leverage
It is what it is (This one particularly bothers me. Why not add, "...and I don't care what it is.")
Empower
Open the kimono
Lots of moving parts
Reach out
Give 110%
Corporate values
Bleeding Edge
Core Competency
Vertical
Full Service
Take offline
Best practices
Peel the onion
Out of pocket
Take it to the next level
Price point
Hard stop
Learnings
Boil the ocean
Robust
Solution
Buy in
Move the needle
Tiger team
Burning platform
Swim lane
Make hay
Scalable
Ecosystem
I'd like to add this word to the ban list:
Ninja (as in "ninja technology tricks" or "ninja marketer)
I fear a new exclamation word is already becoming overused: boom!
A colleague mentioned she was hearing it everywhere. I suspect this must have tuned my radar, because I've heard it every day since.
Would you enjoy recalling jargon that was popular the past few years? Some terms have mercifully fallen out of favor. Some continue their cringe-worthy status, while actually communicating nothing.
Most Annoying Jargon, from Our Client Survey
At the end of the day
30,000-foot view
Give 110%
Think outside of the box
FYI
800-pound gorilla
Throw under the bus
My bad
Right-sizing
Reaching out
Low hanging fruit
Paradigm shift
Take it offline
At this point in time
Synergy
Action item
Skin in the game
Shovel-ready
We don't have the bandwidth (referring to staff)
Circle back
_________ space (instead of naming industry. "eCommerce space"
Change agent
Value-added solution
Incentivize
360-degree thinking
Oxford University's Top Ten Irritating Business Writing Jargon List
At the end of the day
Fairly unique
I personally
At this moment in time
With all due respect
Absolutely
It's a nightmare
Shouldn't of
24/7
Reach out
Terms our clients shared that year that particularly bothered them:
"We're a truly global business in every sense of the word." (Truly global? What? As opposed to only partially global? And in every sense of what word? Global? Oh, like "spherical"?)
"Going forward." (What other direction is possible?)
"Stakeholders"
"Additionally" (What happened to "and" and "also?")
"To bite the bullet" (I hear it used all the time and it evokes these images of the War of Independence and it usually is being used by city-types who don't look like they've been outdoors recently.)
"First and foremost," and "first of all." (These are already written on the first part of the letter, there's no need to say "first...")
"It is what it is." (I suspect this masks "I don't know what it is.")
"No problem." (It should never be a problem to do your job.)
"I'm just saying."
Synthesizing new verbs simply by adding the -ize suffix, e.g. "incentivize".
"Circle Back" (As in, once you have completed this project, circle back and we'll go over it. Really? I can't just "get back to you"? You want me to literally do a circle dance first!)
"Please find enclosed..." (Am I being told it is enclosed because they assume I am blind?)
ASAP (Makes me want to scream! Please give me a real date.)
What business jargon phrases would you like to add to these lists?