How to Write a Request for Proposal (RFP) Response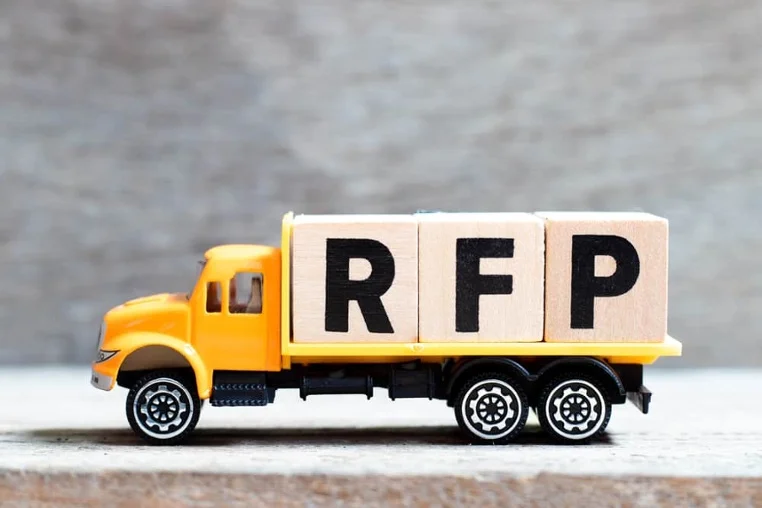 A request for proposals or RFP is a fantastic business opportunity. In the RFP process, a potential or current client outlines their business challenge, a framework for how they would like the problem solved, and a clear indicator that they will be hiring an external company. These three elements are critical in a bid, but in most business proposals, you need to do a lot of work to determine them. An RFP can be a clear business opportunity; however, writing the RFP response is not necessarily a straightforward process. It requires strategic preparation and tailored text. This article provides a structure to evaluate, prepare, and write an RFP response to ensure your bid is well-positioned to win. It introduces many concepts that we teach in our online proposal writing course.
What makes an RFP unique?
Investopedia defines a request for proposal as "a business document that announces and provides details about a project, as well as solicits bids from contractors who will help complete the project." An organization specifies what it requires by developing an RFP, allowing for a more streamlined competitive process. Any company that has a clear idea of the solution they are seeking can issue an RFP, but this process is more common for public institutions and large corporations. Organizations may make an RFP public for anyone to apply, or it may be sent to a list of preferred vendors.


Is this RFP the right fit?
The first step in writing an RFP is the go or no-go decision. You must decide whether or not this RFP is a fit for your company and worth the investment of time for preparation.
Clients are explicit in their needs and vendor requirements. Some work may appear to be an excellent fit for your services, but the client may have a specific approach or framework that your company does not use. Similarly, some clients may require certifications, designations, or years of experience for a bid to be eligible. It is critical to ensure that your company meets all the requirements listed, and ideally hits many of the preferred qualities indicated. Lacking some elements does not necessarily disqualify you (the RFP should clearly identify if it does or does not); however, it impacts your chances of winning.
The call may be unclear, or in some cases of lengthy, complex RFPs, may even have contradictory instructions. Be wary of making assumptions about the client's needs. Each RFP should have contact information, and this is the time to reach out for clarity.
Submitting an effective RFP can take days or weeks of preparation, and can involve multiple staff. This significant investment should be employed when your company has a strong position.


Preparing the RFP response
You now have a deep understanding of the RFP and have determined that your company would be a great fit. Now, it's time to write! Right? Wrong. Many business writers make the mistake of developing the sales strategy while writing the response. This approach results in a convoluted decision process that generally causes unnecessary revisions and delays. Preparation is critical for any proposal, but it is especially so due to an RFP's specific requirements.


Gathering your team
One person can complete the proposal, or it can take a whole team. Regardless of the group size, one person must be identified as the point person who will ultimately be responsible for the submission. Other members may be brought on to help with the whole proposal or individual sections where domain expertise is required. Those that write the offer are not necessarily the ones who will be doing the work, but they must be familiar enough to build a convincing case.


Understanding your audience
All proposals must be shaped on client needs and client perspectives. They have outlined their needs and wants in the document, but a winning bid requires a more in-depth understanding to best frame your solution. Ask the following questions within your team, or directly to the client (following any RFP communication protocol, of course):
What is the main problem your potential client needs to solve or opportunity?
What impact and/or benefit will solving this problem or implementing this opportunity have on the client's business?
Who is the project lead person?
What is the timeline?
What is the budget?
What steps have they already taken to address this problem or opportunity?
What is working and not working for them?
At this point, how do they envision a solution?
Most often, the client RFP contains answers to these core questions. If not, ask as many questions as you can before you begin drafting your proposal to ensure that your proposal will win their heart and knock out the competition
It is also helpful to clarify the scope at this stage. If your professional opinion indicates that the client did not consider it an essential service, ask if it should be included. For example, a local bakery posted an RFP for website development with many specifications but made no mention of site maintenance. The bakers may have missed this service, or they already had a solution. Do not assume that your client wants services that they didn't ask for –– it muddies the water, can delay decisions, and in a formal RFP, the situation can exclude you entirely from consideration because you did not match the RFP. You can always suggest a second project after winning the business the client has already identified as a priority.


Examine the evaluation criteria
Most RFPs will outline how the bids will be compared and how the winning vendor will be selected. Pay careful attention to this guidance as it will make or break your project.
Evaluation criteria range widely. Some vendors use a simple lowest-price model. Others have scoring systems with percentages awarded for each deciding factor, where price is just one category. If it is not specified, this is a critical question for the potential client.
The metrics will give you the most precise insight into proposal priorities. For example, if the bakery website development RFP spends one out of five pages discussing the staff onboarding needs, it may appear to be a critical element and worthy of a lot of focus in your response. However, if onboarding expertise is valued at 5% in their evaluation matrix, it is not a deciding factor. If the bid focused too much on onboarding, it might have missed the other 95%.
A winning submission must align its content with the priorities given in the evaluation criteria.


Know your competitors
To win, your proposal must not only meet your client's needs but show how you can do so better than your competitors. To highlight your competitive advantage, you need to have a deep understanding of the business landscape.
The RFP is unique because some procurement processes, particularly from the government, publicly list any company that requested a copy of the RFP. If the process does not make your competitor list so convenient, you will need to draw on your knowledge of the industry.
Analysis of your top competitors will vary by industry, but it should enable you to best identify your unique positioning. Assess the alternatives' strengths and weaknesses, and build a case that places you as the obvious choice.


Develop the RFP response framework
This preparation process should have brought out a wide range of ideas, concepts, and concerns that should be addressed and arranged. While the information on client requirements or competitor experience does not need to be written into the final proposal, it must be collected and considered. Mind-mapping is a valuable process to manage these diverse data points by collecting them in a non-linear graphical map where they can then be assessed and organized. There are a variety of software tools to support this process, including one of my favorites: MindMeister.
Once the mind-mapping exercise is complete, you will have a clear, thorough, and relevant proposal outline. This framework should match client needs, the RFP criteria, and position yourself as a winning choice in the field of competitors.


Matching proposal content to the RFP
With a compelling and tailored outline in hand, the writing process can begin. The RFP response writing process entails special techniques in comparison to other proposals. We have a complete guide to proposal writing, and this section will focus only on aspects specific to RFPs.
The benefit of an RFP is that the client has specifically asked for the information for which they're seeking. Match your text to the RFP content. Be obvious in your writing to make it easy for your potential customer to see that you offer a complete package. Avoid fluffy or extraneous phrasing that forces the client to sift to find the answer to their RFP questions. Crosscheck your text with the evaluation criteria to ensure that your words meet their priority areas.
The proposal should answer all of the questions that your client could potentially have. Continuing with the bakery website example, you can explain how the bakery's needs will be met, identify your timeline, and propose a budget for the project. Take this opportunity to explain how a new and improved website can boost sales and explain your company's process of developing a website. Show with real numbers what the cost will be (and since you know the budget, you could even propose a slightly lower fee to sweeten the deal). By answering your client's questions directly, you can establish a working relationship and build trust.
Each RFP seeks specific capacities. Every company applying will say that they can fulfill the client's needs. Go beyond the confirmation of the skills needed by providing evidence of your experience. Example projects, performance numbers, references, or other evidence may all be relevant. This information could be integrated into the appropriate section, or the RFP may have a specific area requesting background information. Any "About Us" section needs to be short and compelling—It only highlights the most crucial aspects of your company. As with the entire proposal, you should keep it as short and sweet as possible. Instead of cramming a full history of your company in this section, try to get the crucial points across to prove that you will meet your client's terms.
Speak in the language of your client. The client provided a full document full of their vocabulary and style preferences. However, be careful of using jargon or acronyms unless they are used explicitly in the RFP. If necessary, clarify their meaning when first used in the text. Do not assume that everyone understands industry terms. In the RFP process, your bid may also be reviewed by the procurement or administrative department, where a professional without the niche context might not understand the terminology. Not only can this be confusing, but it can also reflect poorly on your value proposition and your business communication skills.


Step back and review
Once written, the review process begins. The review should include both an editing process and a proofreading process. This work can be undertaken by the writer or by a colleague or supervisor for a fresh perspective. Ensure there is enough time in the document-building process to allow for a comprehensive review process.
A strong edit verifies that the document is cohesive, logical, and persuasive. For an RFP response, the editing will map the RFP requirements and preferences over the text to ensure that it is a complete and compelling response. Proofreading will verify that the document is grammatically correct, eliminates errors like typos, and ensures names and RFP numbers are accurate.


Don't forget the design
An excellent proposal requires excellent formatting. Aesthetic is a valuable communication tool. Use the composition of the document to support your sales pitch.
First, the formatting must adhere to any style guidelines in the RFP. Some requests leave it entirely open, while others define the fine details such as page number, font choice, and margin size. Second, use formatting to produce a sleek, industry-appropriate document. Check out our proposal style guide for a complete overview. Use design tools like white space, visualization, and emphasis to draw in your reader. Similar to the writing process, design the document with your audience in mind.


Write to win with your RFP response
Requests for proposals are a clear insight into your potential client and their needs. Using the guidance of an RFP with a deep understanding of the audience, business needs, and your competition will cultivate a strong position and a compelling pitch. Writing a winning RFP is an investment of time, and by following this guidance, this investment is spent effectively and will result in a response that meets the requirements and sets you apart from your competition.