Proposal Title Pages: Title, Subtitle, & Design
First impressions matter. To put your best foot forward, you need to make sure your proposal has a killer cover page. Title pages can often be overlooked because it becomes as an afterthought once all the hard work of proposal writing has been completed. Yet, this page should be as engaging as the rest of the document.
While each proposal is unique, there are key elements and considerations that apply to all title pages. This article will share the key title page components with examples to help you put the finishing touches on your persuasive proposal.
An informative and intriguing title
Allow me to present the worst proposal title:
Business Proposal to ABC Company
It's surprisingly common but terrible nonetheless. This title is the business equivalent of labeling a book, "Book."
Instead, your title should be both informative and intriguing. Imagine the reader sifting through a tall stack of proposals (or an inbox filled with proposal emails). Your title should catch their eye and want them to turn the page.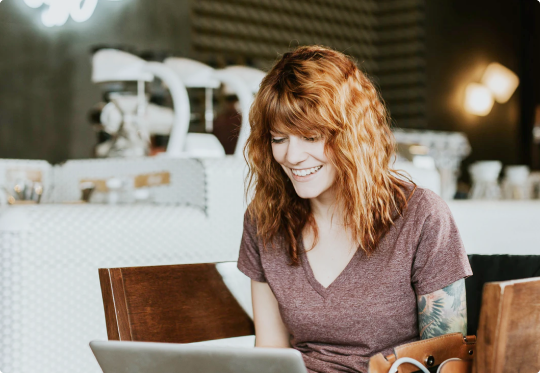 Win More Proposals
Learn how to write better proposals in less time that win more business.
View Course & Outline
An informative title summarizes the entire document in one phrase. It's a big job, but a vital one. The reader should understand, at a high level, the actual benefit the proposal offers once they read it.
An intriguing title pulls the reader in. This brief summary must also appeal to the audience. Take the time to consider your audience. Contextualizing the reader will help you draft a title that would appeal to their interests. The title should ultimately answer the question: "Why should I care?".


Proposal title examples:
Instead of: "Social Media Proposal"

Try: "Brand Awareness Strategy to Support North-Eastern Sales"
Instead of: "Safety Program Offer"

Try: "Employee-centric Workplace Injury Reduction Training"
Instead of "IT Services Proposal"

Consider: "Safeguarding Your Customer's Data with Cloud Services"
A supportive subtitle
The title must do a lot of heavy lifting for your proposal. It can be supported by its sidekick: the subtitle. Like any good sidekick, the subtitle should be clever and creative. This additional line allows you to expand on the relevance of the proposal while also adding specificity.


Proposal subtitle examples:
Pair title: Brand Awareness Strategy to Support North-Eastern Sales

With subtitle: Engaging Top Demographics with Targeted Instagram and Facebook Campaigns
Pair title: Employee-centric Workplace Injury Reduction Training

With subtitle: Implementing a Factory Floor Hazard Identification System
Pair title: Safeguarding Your Customer's Information with Cloud Services

With subtitle: A Six-Month Transition Plan for Data Security

Proposal cover page
The proposal cover page also must play its role in informing the reader of background information. All proposals should have some core details, which can be referred to as 'housekeeping' information. The details allow the reader to have context and allow follow-up. Cover pages should include the client's name, your company's full name, and the submission date.
Additional details may be required based on the type of proposal. Certain corporations or government agencies require the request for the proposal number to be specified. Certain proposals require the summary or abstract to be placed on the title page. Double-check the client communication or request for proposal documents to verify that your title page ticks all the boxes.
Proposal title page design
An appealing title page design can set your proposal apart in a sea of competitors. You can be as creative as you'd like with your proposal cover page as long as it is professional and industry-appropriate. The design should be appealing to the audience, while also being functional by building on the proposal's theme.
To ensure your title page is attractive, follow general design principles and proposal formatting rules. Use lots of white space to draw attention to the key information of the title and housekeeping information. Some proposal tools come with templated designs. The text on the page should always be easy to find and easy to read. Use color schemes that are attractive but not distracting, looking to the industry or the client for preferred color choices. Ensure your design follows your organization's branding.
When your title page is complete, print a physical copy to see if the design translates well off the screen. Your cover page should look great in digital and hard copy. A print version can also be helpful in the ever-important proofreading process.


Keep the proposal title page persuasive
The title page is how you acquaint your client with the valuable business opportunity inside your proposal. This space offers an often-missed opportunity to kick off the proposal with a persuasive introduction. A strong title page allows your proposal to stand out, while also highlighting your attention to detail and strength in communication. Integrate these tips into your proposal title page and it will become a competitive advantage. Learn more about writing an excellent business proposal through our dedicated course.