HoneyBook Proposal Software Review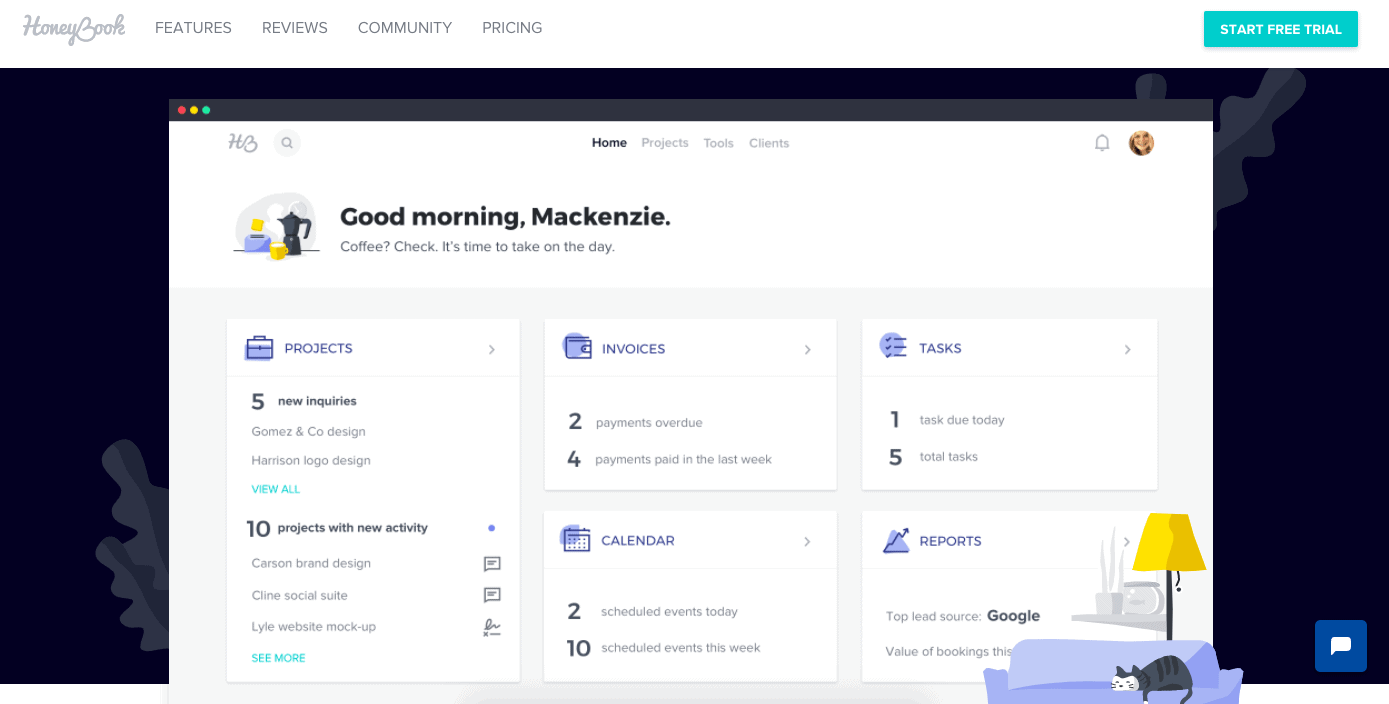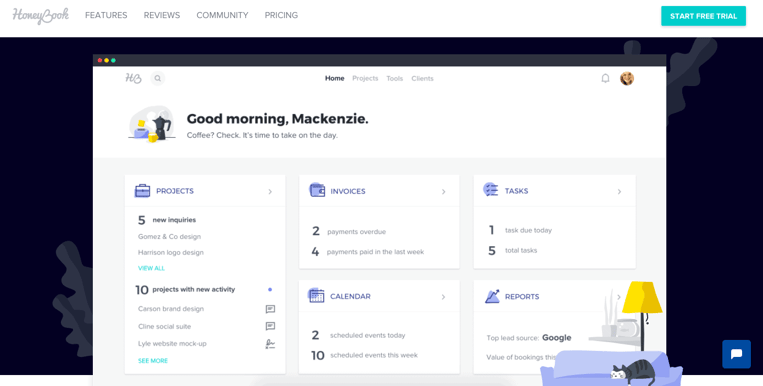 HoneyBook offers useful but basic proposals with the core automation that makes proposal management software valuable. Proposal development is just one feature in the suite of tools built for managing a small business. HoneyBook is the best fit for small business owners or freelancers looking for a broader client management service that includes simple proposals.
Pros:
Proposals are simple with the auto-fill ability for client information, making for quick preparation.
Integration into the client management system allows the system to connect with payments, appointment bookings, etc.
HoneyBook has easy and effective team collaboration capabilities.
Cons:
HoneyBook proposals are brief with limited editing of design and organization.
The system has minimal tracking of client interaction with the proposal.
The best way to find out if HoneyBook will work for your business is to try it out. HoneyBook offers a free 7-day trial of the entire platform. If it's a fit, you can continue using the software $40 per month.
How we tested the software
This proposal software review assesses proposal preparation capabilities. Each tool was tested through the company's free trial offering. New and template-based proposals were built and tested using various design tools and libraries. We tested collaboration capabilities, client experience, tech support, and other features to assess the ease of use, professionalism, and flexibility.
These reviews do not assess other aspects of the software in this category. For some tools, proposal development is just one feature. Platforms may include a range of services such as customer relationship management (CRM), project management, expense tracking, or appointment calendars. These other services may be an essential consideration for your company, but we have focused solely on proposal creation to maintain a direct comparison.
Pricing and sign-up process
HoneyBook offers one plan which provides access to the entire platform. It costs $40 per month or $34 per month if billed annually. This plan allows unlimited clients and collaborators.
HoneyBook's sign-up process was a short online form requesting contact information and four high-level questions about the business. The process was quick and painless, and no credit card was required. The free trial provides 7-day access to the platform.
Proposal creation capabilities
HoneyBook essentially has one basic template for a proposal. The document has a set combination of three sections: the proposal (a list of items or packages and a brief description), payment terms, and the contract (terms and conditions).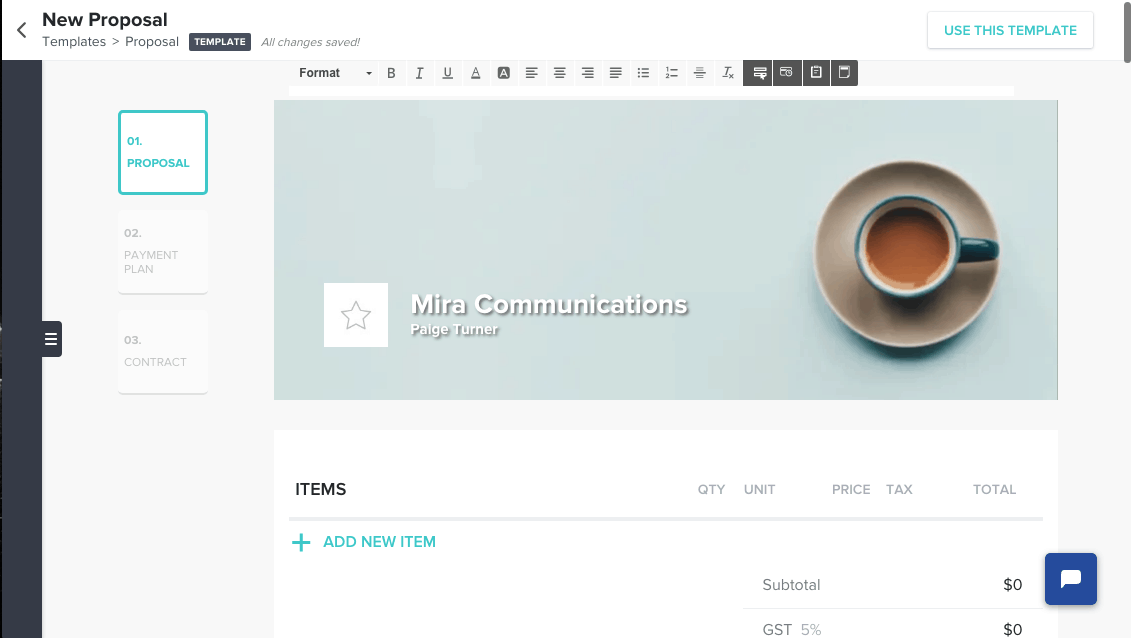 Each of these sections can be tailored to the client. The proposal section consists of the proposed products, description, and pricing. Each product or item's details can be revised for each proposal, or it can be saved as an Item or as a Package (a set combination of Items) that can be dropped in with two clicks. The Pricing Plan sets out the payment schedule for the client. The Contract lays out the terms and conditions, with a useful standard text that can be easily modified. In this section, 'Fields' can be used for client name, contact, and other information that can be automatically populated when assigned to a customer. This section also includes the ability to complete using e-signatures. Each section and the document as a whole can be saved as a template for future re-use.
Formatting and graphics are also restricted. Company branding can be set across the platform and integrates into the proposal via logo and coloring. Proposal graphics are limited to a header image, logo, and a small image for each product.
Having only three sections in the proposal is limiting. There is no ability to add a cover letter, project description, expanded deliverable context, appendices, or other typical sections of more complex proposals. There is little space to tailor the proposal or persuade the client to say yes. HoneyBook indicates that a persuasive pitch can be sent through 'Brochures,' which can also be developed through the platform. Their Proposals are primarily invoicing and contractual documents. So, for products or services where the client is already on board, this proposal is sufficient.
Team collaboration
Collaborating on proposals is straightforward on HoneyBook. The platform allows you to add colleagues to Projects, where the clients and offers are tracked through your sales funnel. Conveniently, you can invite an unlimited number of team members. Roles management allows four categories based on the level of access and approvals: basic, moderator, administrator, and owner.
The client experience
Proposals are primarily intended to be viewed online, with a helpful navigation bar to move through the three sections. Clients can receive a proposal through the platform's email system, or a generated URL can be copied into your regular business email. The contract can be exported as a PDF; however, much of the formatting is removed. The proposal becomes a simplified text document, which is sufficient, but not as sleek.
The client can select products or product quantities if enabled during proposal creation. This feature allows the proposal to be flexible while also making it easy to include an option to up-sell additional products.
Tracking client interaction
HoneyBook's Project view is a customizable sales funnel where all proposals can be viewed at a glance. Leads, meetings, proposals, and payment are all tracked. Within each Project, a Workflow can be developed to automate outreach or follow-up at each stage.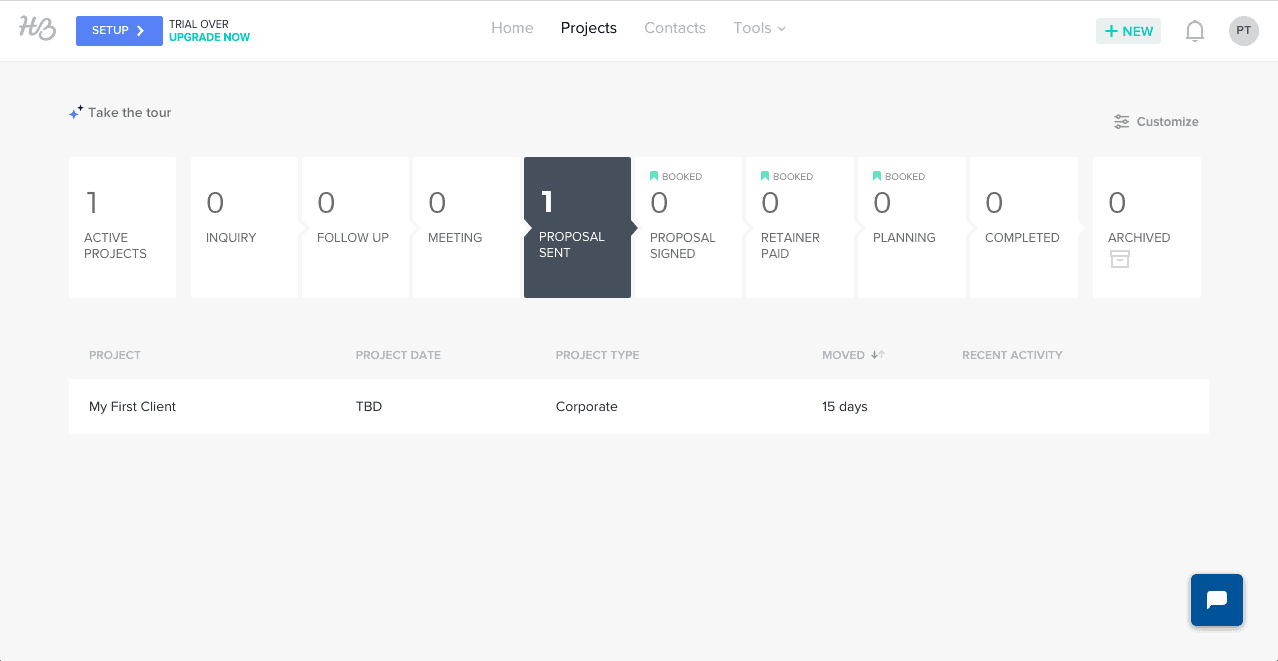 However, there is no feature to verify if a client has opened your proposal, nor how much time they spent reading it. Emails sent through the platform indicate if the message has been read or not, but no other information is provided. Therefore, little data can be gleaned from the client's interaction with the document to assess their interest or priorities.
Integrations and payments
HoneyBook offers an iOS and Android app for easy mobile access, and a Chrome extension to connect HoneyBook files in Gmail.
There is a Zapier integration that can automate tasks and connect HoneyBook to other services. Managing appointments is a service offered within the platform, which matches well with a Calendly integration. There are no external client relationship management (CRM) integrations.
HoneyBook supports payment collection through credit cards or ACH payments (bank transfer) for a fee (3% and 1.5%, respectively). HoneyBooks has a fairly robust money management tool kit, including bookkeeping reporting and QuickBooks integration.
Support and security
Technical support is offered seven days a week during business hours through a live chat. Our questions were answered quickly through a tailored response and sometimes supplemented by a reference article link.
All payments are managed through SSL, so payment information is encrypted between the platform and the client.
Overall review
HoneyBook offers a limited proposal creation that is useful for small business owners that require basic, automated proposals within a larger business service platform. The proposal design fits within a specific framework that enables products and packages to be reviewed and confirmed by a client with little space for a persuasive context. For smaller, more straightforward sales where the proposal is simply for finalization, rather than a comprehensive document, HoneyBook's documents are sufficient. HoneyBook's proposals and wider platform are a great fit for freelancers, appointment-based services, and other small businesses.
The limitation of the proposal can be a benefit for a small business looking for a quick set-up. Other proposal-focused software takes a significant amount of set-up time to tailor and design the initial templates. HoneyBook's simplicity means that owners can quickly make a few adjustments and get a proposal out the door.
HoneyBook's strengths are in its range of services. If you need simple proposals in the context of a business management tool, HoneyBook is a sound choice.
Best for:
Small and micro-business seeking a business management platform and require basic proposals. HoneyBook's suite of services may be a good fit for freelancers, solo-preneurs, appointment-based service providers, and other small businesses.
Reader supported! Our articles are reader-supported via ads and affiliate links on some articles. We earn from qualifying purchases on some links on this page. This helps support the continued publishing of editorial content.