Fiverr Workspace Proposal Software Review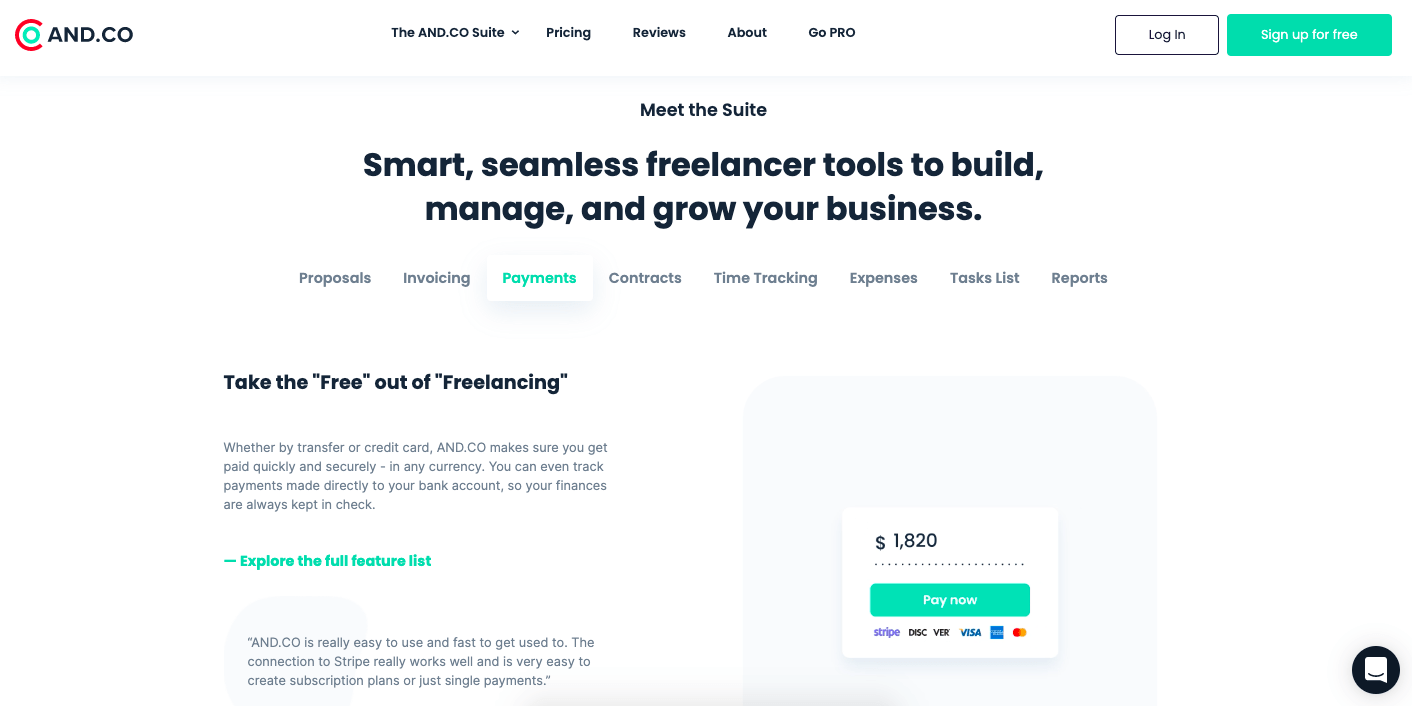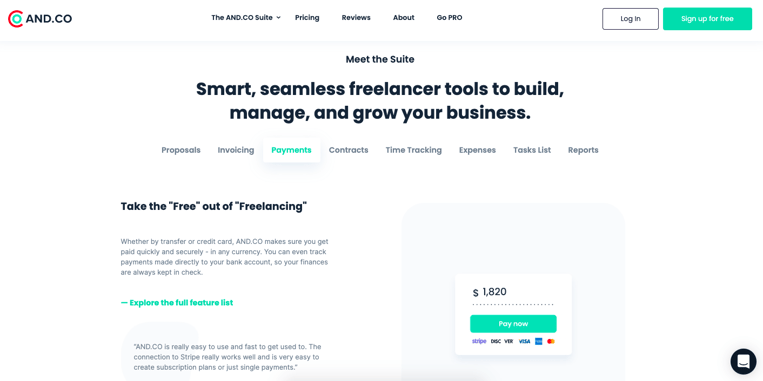 Fiverr Workspace is a freelancer management software that includes a proposal creation tool. This software can produce sleek but basic online proposals. The software has little ability to design or automate a proposal. However, the connectivity to other tools may be a fit for a solopreneur.
Pros:
Affordable solution with straightforward pricing options
Proposals integrate with a suite of freelancer tools
Cons:
No ability to save standard sections of a proposal
Cannot automatically update client information in-text in new proposals
Few design and formatting options
No team collaboration option
How we tested the software
This proposal software review assesses proposal preparation capabilities. Each tool was tested through the company's free trial offering. New and template-based proposals were built and tested using various design tools and libraries. We tested collaboration capabilities, client experience, tech support, and other features to assess the ease of use, professionalism, and flexibility.
These reviews do not assess other aspects of the software in this category. For some tools, proposal development is just one feature. Platforms may include a range of services such as customer relationship management (CRM), project management, expense tracking, or appointment calendars. These other services may be an essential consideration for your company, but we have focused solely on proposal creation to maintain a direct comparison.


Pricing and sign-up process
Fiverr Workspace offers two plans:
The Free Plan allows you to manage one client with standard contracts.
At $24 per month, the Pro Plan allows you to manage unlimited clients, use editable contracts, and apply your own branding.
There is no free trial of the Pro Plan. The Free Plan is offered as the free trial equivalent, and you can choose to upgrade to Pro as desired.


Proposal creation capabilities
Fiverr Workspace offers a suite of tools for freelancers and so the proposal creation tool is, therefore, not the focus of the platform. Proposals are, therefore, fairly simple in design and customization.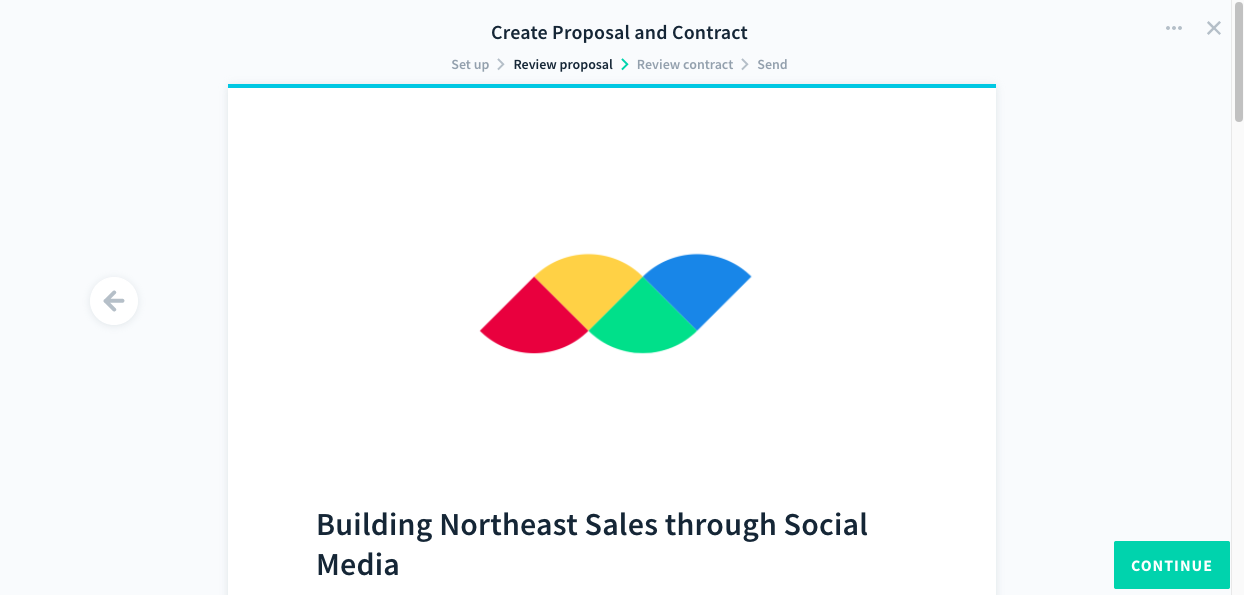 There is essentially one template available. All proposals have the same core design and content. The core sections include:
Contact information
Services Summary
Billing Schedule
Signatures
Contract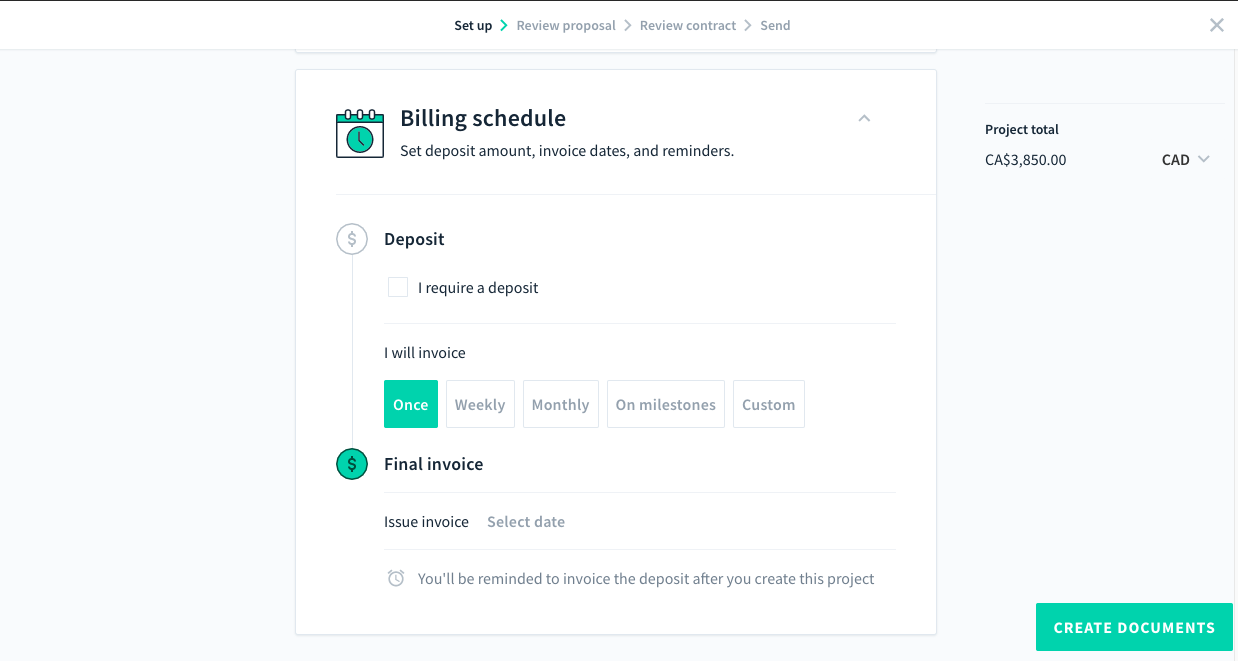 Each of these sections is editable within the template. The Services Summary and Billing Schedule have lots of options on deliverables and payment timelines and structures. Each proposal can be tailored by adding sections of text, images, and other files. However, these can only be added in a linear fashion.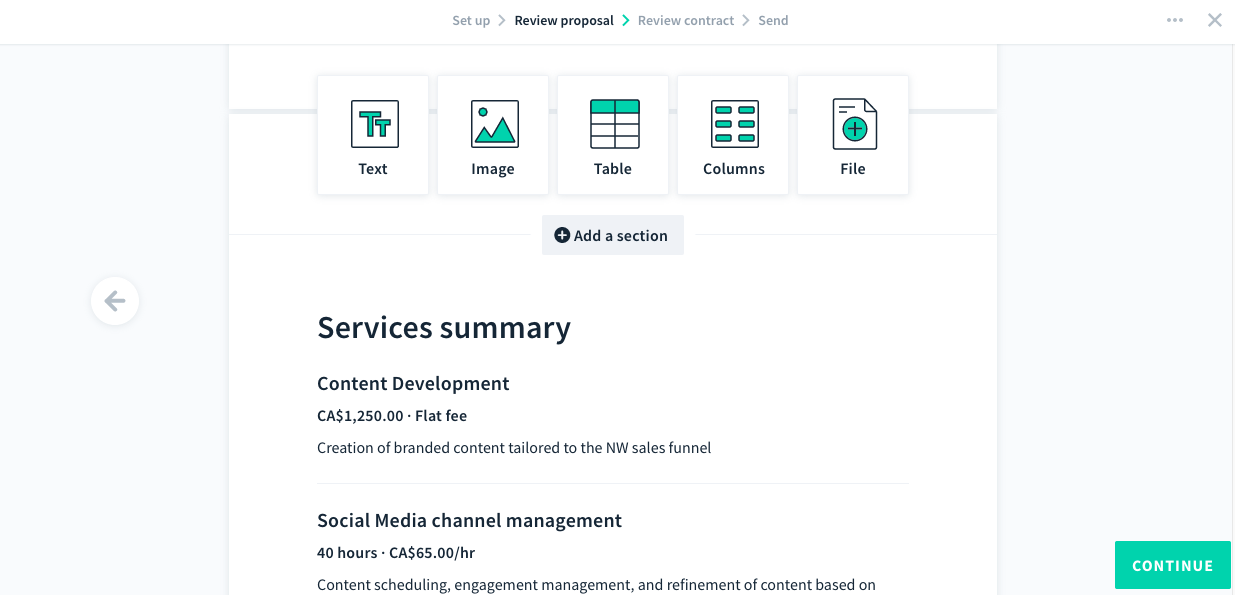 Formatting and aesthetics cannot be significantly tailored. Basic coloring and a logo can be updated; however, it's not possible to adjust the font style or variation in the document's visual organization. These basic templates are missing key sections in a strong proposal, including the opportunity statement and deliverables timeline. Fiverr Workspace's basic format will tell your client what you're offering and when, but it does not provide any context on why and how. For small contracts with warm relationships, this template is sufficient. However, without the persuasive content, a client could skim and be unconvinced by this document.
Fiverr Workspace is missing some of the critical elements that automate proposals. There is no variable tool that allows you to use a placeholder for standard information (e.g., contact's first name, client company name) into the text and automatically fill it with the correct information for the selected client. In addition, there is no content library to save common contract text. Each product or service description and pricing must be entered manually, whereas competing platforms allow descriptions or other content to be saved and added with a few clicks. Existing contracts can be copied for use for a new client, but it will require a fair amount of editing time per proposal.
Any proposal software requires some set-up time. Unfortunately, the time spent customizing the Fiverr Workspace proposal does little to save future preparation time due to the lack of automation features.


Team collaboration
There is no way to invite and collaborate with other team members in the current version of Fiverr Workspace. Their support site indicates that they're accepting feedback on interest in this feature. The only suggestion for allowing multiple people access is to share login credentials, which is not a sound security practice.


The client experience
The client receives an email through the Fiverr Workspace email system. The text in the email can be tailored, but the formatting is automatic. The client is taken to a web version of the contract that makes it helpfully obvious how to approve, sign, and pay the deposit, if applicable.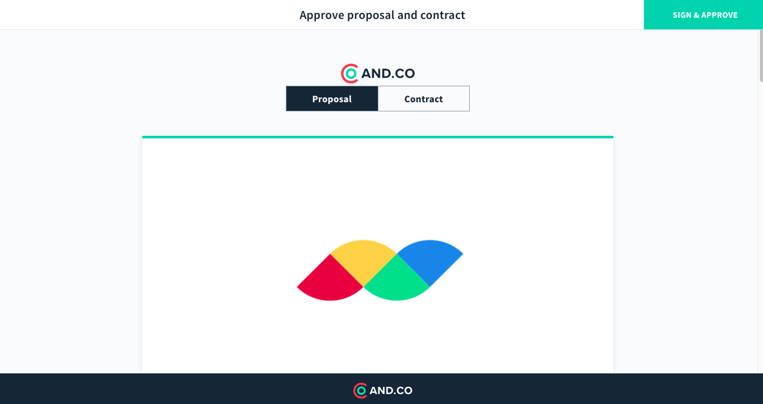 The platform does not offer the option for the client to download the document as a PDF file. This option is only available to the sender within the platform, requiring a request by the client if desired.


Tracking client interaction
Fiverr Workspace client tracking is very basic. The platform provides a notification when the client opens the document. However, there is no information provided on how long the client viewed the bid. It also doesn't track if the client viewed the page at any point after the first time.


Integrations and payments
Fiverr Workspace claims to connect to over 1,000 apps, though the vast majority must be connected via the direct integration with Zapier, the automation software. There is also a direct integration with Slack, Shopify, and Google Calendar. While the direct integrations are fairly limited, Zapier's automation can likely make up for any gaps in your workflow.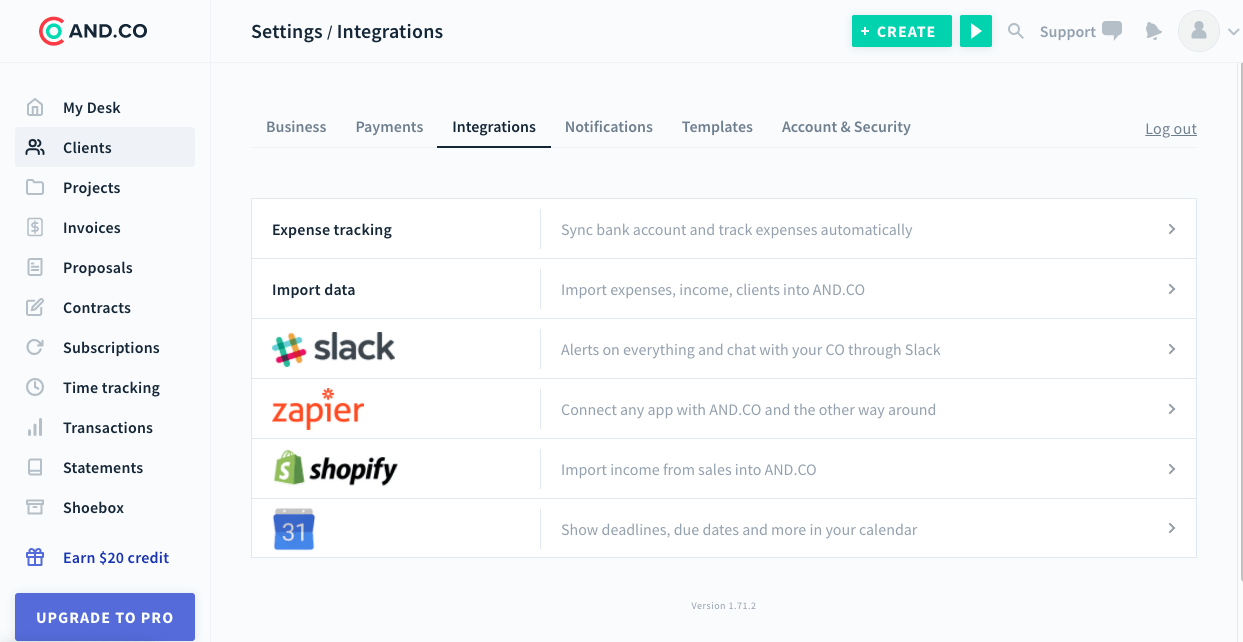 Fiverr Workspace offers a complete invoicing tool that connects to proposals, creating a united payment management system. The invoicing system was not reviewed in full but could be a valuable addition to a small business without an existing one.
Client payments, which can be billed in 200 currencies, can be managed directly through Fiverr Workspace or by third-party payment processors. Fiverr Workspace's payment system can be embedded within invoices and accepts credit cards, ACH, and PayPal payments. Their payment system is powered by Stripe and costs 2.9% + $0.30 per online payment.
There are two third-party payment processing offered within the platform: Stripe (for ACH and credit cards) and PayPal (for credit cards and PayPal). Both processors have their own fees, but Fiverr Workspace does not charge any add-on fee for these payments. WePay is listed as an option on the site, but it's not currently available to new users.
Support and security
The Pro Plan offers a free training session with one of Fiverr Workspace's staff and priority support. Under the Free Plan, the support includes chat support, as well as an FAQ page. Our test support question was responded to early on the first working day after submission. The reply answered the question in a clear and friendly manner.
For security, Fiverr Workspace states that it will "never sell or share your data with any 3rd parties." Their private policy indicates that the data is encrypted and that Fiverr Workspace employs "reasonable, industry-standard precautions. For European companies or clients, the platform is GDPR compliant.
Overall review
Fiverr Workspace provides a whole suite of tools for freelancers to alleviate paperwork pain points. The platform offers many tools outside of this proposal review, including task management, expense tracking, time tracking, financial reporting, and more.
Fiverr Workspace can support basic proposals where their purpose is to define terms and deliverables. However, if a proposal requires more context: if intended to persuade and provide a complete solution, then Fiverr Workspace falls short. Complex proposals are possible on the platform but require significant manipulation within the constraints of its sole template. However, the most limiting feature for proposal development is the content library. There is no way to save standard products, rates, copy, or other content, except by copying a whole proposal. Without this feature, each document will take time to tweak manually. Unfortunately, this critical time-saving feature, standard in all competitive proposal development software, is missing. The lack of automated variables and team collaboration features only adds to the challenge of efficient proposal development.


Best for freelancers/solopreneurs
Fiverr Workspace is specifically designed for freelancers/solopreneurs, and this is the right audience. The suite of tools to make daily business activities easier is likely to balance the limitations of the proposal capacities. If you're looking for a simple tool to create proposals in a team of one,Fiverr Workspace could be the right choice.
Reader supported! Our articles are reader-supported via ads and affiliate links on some articles. We earn from qualifying purchases on some links on this page. This helps support the continued publishing of editorial content.