Better Proposals Review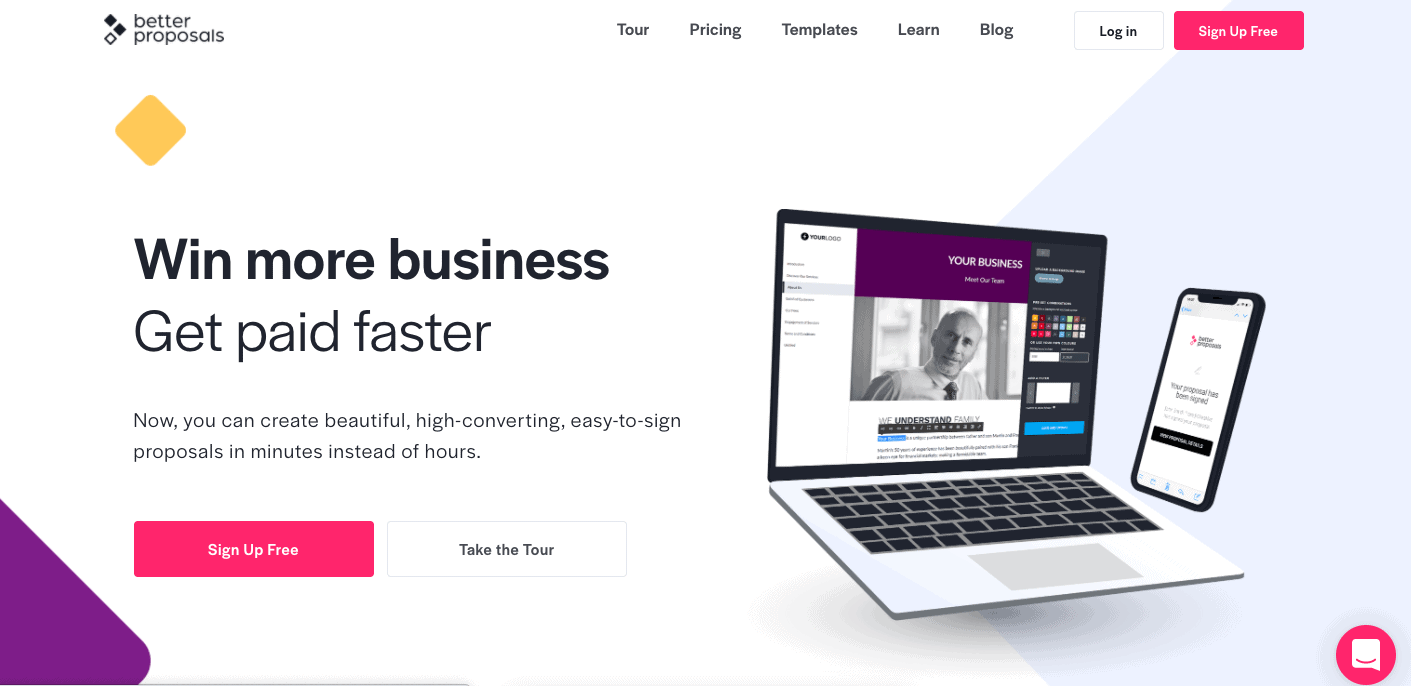 Better Proposals lays out their pitch in the name: their focus is on improving your proposals. The emphasis on bid development means that the platform has useful automation, tracking, and integrations to build and tailor proposals to meet your clients' needs. The non-continuous web proposal design and editor user experience are unique compared to similar platforms. Therefore, you need to play around with the editor to determine if Better Proposals is delightful or disruptive for you.
Pros:
Extensive proposal template catalog with industry-specific starter templates.
Unique and useful pricing plans in comparison to industry alternatives.
Dozens of integrations to tailor and increase the utility of the platform.
Cons:
Cover page and pages layout require additional navigation by the client.
The multi-menu editor interface can be clunky to navigate.
Proposal AI feature holds promise but under-delivers.
The 14-day free trial is critical to determine if the platform experience will work for your team. If it is a fit, there are two great introductory pricing options. The Starter subscription plan is $19 per month, and the Pay-as-You-Go plan is $99 for ten proposals with no expiration date. For a deeper dive, this article reviews how Better Proposals delivers in key proposal creation tool areas.
How we tested the software
This proposal software review assesses proposal preparation capabilities. Each tool was tested through the company's free trial offering. New and template-based proposals were built and tested using various design tools and libraries. We tested collaboration capabilities, client experience, tech support, and other features to assess the ease of use, professionalism, and flexibility.
These reviews do not assess other aspects of the software in this category. For some tools, proposal development is just one feature. Platforms may include a range of services such as customer relationship management (CRM), project management, expense tracking, or appointment calendars. These other services may be an essential consideration for your company, but we have focused solely on proposal creation to maintain a direct comparison.
Pricing and sign-up process
Better Proposals offers a pay-by-user option with three subscription plans.
Their three subscription plans are:
Starter costs $19 per month (or $13 per month if billed annually) and includes ten proposals each month.
Premium costs $29 per month (or $21 per month if billed annually) and includes 50 proposals each month, Zapier and project management integrations, and an API.
Enterprise costs $49 per month (or $42 per month if billed annually) and includes unlimited proposals, one-on-one training, the services of Premium, plus more control over teams, approvals, and access.
The free trial includes access to the Starter plan for 14-days, with no credit card required.
Proposal creation capabilities
Creating a proposal begins with either one of the dozens of proposal templates or created from scratch. The diversity of designs and industries make these boilerplates an excellent place to begin. However, the order of information and tailoring of the text and images or your typical client will require a significant time investment. These templates, while visually pleasing, are just starting points.
To edit the proposal, Better Proposals has three main editor menus in the proposal creation tool. The main 'Add to this Page' menu adds content such as new blocks of text, images, videos, color, or saved items from your content library. A second menu allows you to add content within a section, including text, images, tables, or lists. The third menu edits the design of the content, including color, font, and sizing. This interface can feel a little clunky as the multiple menus take some time to become familiar. This user experience issue is exacerbated when hovering to select one of the secondary menus, and other, undesired menu opens. This navigation issue is minor but notable as this interface is the heart of the tool.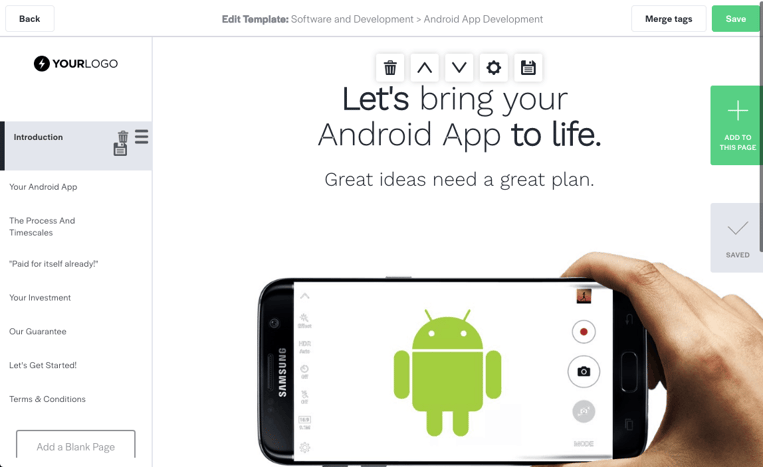 The user interface redeems itself with some key automation. The 'Merge Tags' button presents a list of tags that represent names and contact information for your client and your company. You can copy and paste tags from this menu into the proposal, and when the document is finalized, they are automatically filled with the selected client's information. In addition, there is an e-signature tool that allows clients to sign on to the web version directly.
During a major revision, it can be critical to reorganize the order of information quickly. The editor makes it easy to move blocks of content or full pages up or down within the document with one or two clicks. If more granular editing is needed, there is an option to view and edit the source code of each section.
In the pricing table, products can be added with specific prices, with the option to set a payment term as a one-off or by a period (e.g., monthly, quarterly, annually). Products can be set as optional, and so can be framed as (the very valuable) add-on.
Better Proposals offers a unique tool called 'Proposal AI.' This automated review is integrated into the proposal preparation process. The concept is good but limited, as it seems to provide only three pieces of guidance per proposal. The advice our proposals received was around using a cover image, a custom domain, and avoiding the use of "we" and "us" early in the document (which we highly agree with - the bid is about your client, not you!). However, the Proposal AI feature is a bit of a last-minute catch, which should be replaced with thoughtful planning in the initial stages of proposal development. This feature holds promise but does not yet deliver earth-shattering 'AI' results.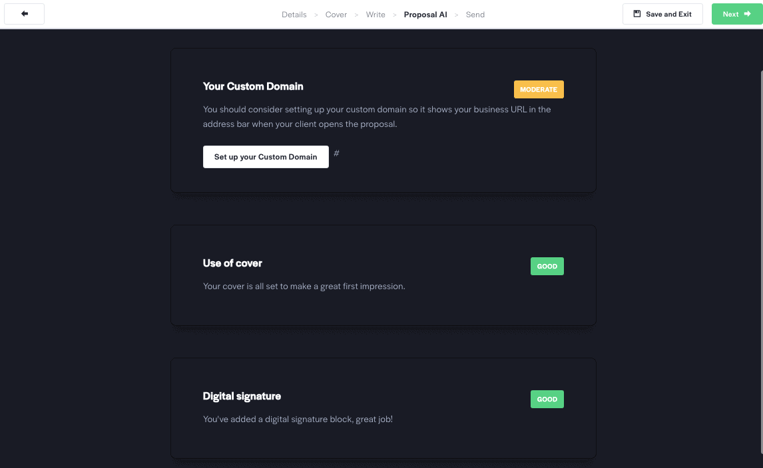 Team collaboration
The team collaboration tools are useful and adjustable. Permissions can be defined for each user with settings like allowing editing without sending or setting the type of proposal or report access. Team functionality arrives with the Enterprise plan, which is worthwhile for defined sales teams or brands.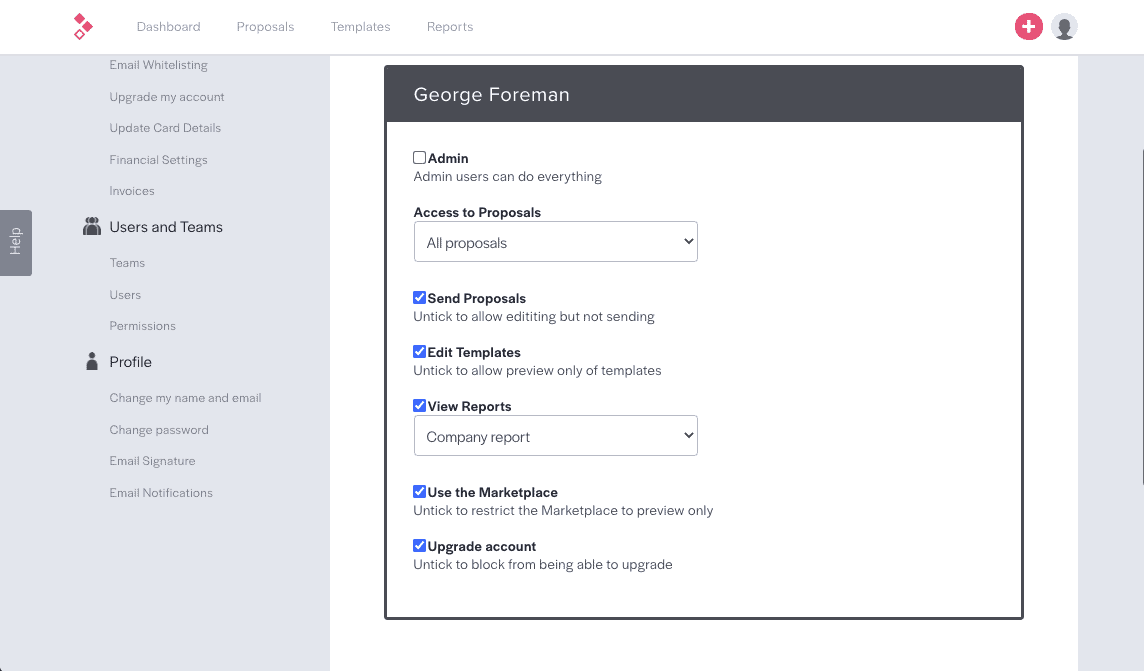 The overall activity can be monitored on the Dashboard for a current view or in the User or Company reports, tracking sales, conversion rates, and team performance.
The client experience
The client experience is smooth and relatively accessible. Each proposal has a cover page that acts as a landing page. The reader clicks through to the full submission, built as a series of pages that must be 'flipped' between. Clicking through pages is relatively easy to do with a handy sidebar and arrows at each page's bottom. However, this design organization does not allow a continuous scroll and requires additional clicks and navigation from the reader. This design may be a benefit to more traditional clients who prefer the feel of a multi-page proposal. Or, it may be a drawback for a client who does not like having to click around between the work plan and the pricing sections. This preference of a single, long page or multiple pages should be considered during the original design.
There is no client communication chat or comment system native to the platform, but 16 external chat tools can be integrated within Better Proposals. Further, there is no pop-up arrow or other indicators that make it evident to the client where to sign. Clear headers and design may accomplish the same pointer, but it is a common feature in similar software that is missing here.
For clients who prefer a PDF or print version of the contract, the proposal can be downloaded by you or the client with the sleek formatting maintained.
Tracking client interaction
Knowing when and how long your client spends on your proposal is incredibly valuable information. The analytics service with Better Proposals does a great job of tracking client interaction for each proposal in the submitted proposal Overview page.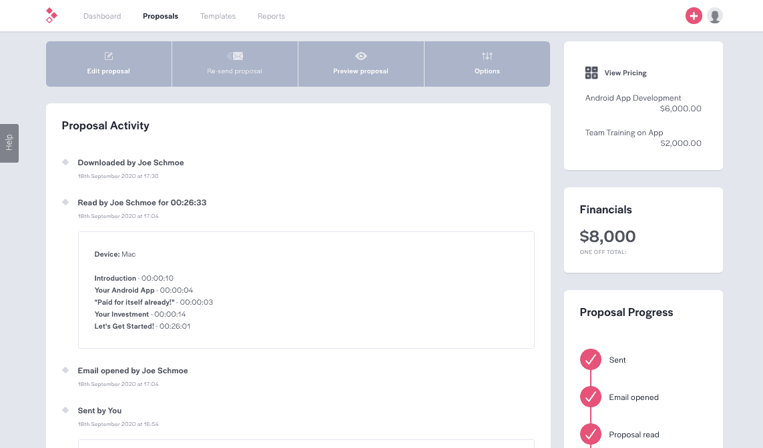 This information is valuable to indicate where client priorities are and when follow-up is needed. There is no automatic follow-up email tool within the software, but an integration could resolve this limitation, as well.
Integrations and payments
Better Proposals offers a robust selection of integrations. There are 16 customer relationship management (CRM) integrations, including Salesforce, HubSpot, Zoho, Pipedrive, and more. Notably, Salesforce integration is not limited to a higher-paid plan, as is common in proposal creation tools. There is also a lot of choice for live chat integrations (zendesk, LifeChat, BoldChat, and more), as well as a few other handy tools for fonts and advertising. In the Premium and Enterprise plans, integration with Zapier, project management tools (Asana, Basecamp, Trello, and more), and the Better Proposals API.
Payments can be managed through the platform using Stripe, PayPal, or GoCardless integrations. Each service offers slightly different options and terms, but these options enable payment to be accepted by credit card, wallets, direct debit, bank transfers, etc. The diversity of options is highly valuable, however, you must ensure that these integrations fit with your company's invoicing system, and the processing fees are manageable.
Support and security
All plans have access to live chat support, as well as the online training support and help library. Their Pricing page indicates chat support is available 20 hours per day, which should be clarified as weekdays, as weekend support is available by spotty. Enterprise clients have a dedicated account manager to manage technical issues. When we tested the support chat, we received a through and helpful text response. Our question was sent after-hours, and the chat-bot indicated when the team would be available again, and the answer arrived promptly at that time.
As for data security, Better Proposals uses 256bit SSL security, a standard and trusted encryption method to protect data while in transit.
Overall review
Better Proposals have all the core elements of a strong proposal creation software: sleek templates, good automation, interaction tracking, team collaboration, and tons of integrations.
Significant time investment is required to tailor each template to your client; however, this time input is common for proposal creation tools. This interface takes some getting used to and therefore the 14-day trial is very important to determine if this platform will work well for you.
The overall design choices for each proposal of a cover page and 'flippable' pages in the proposal require additional clicks and navigation on the behalf of the client. This additional 'work' could be a barrier for some clients as the world moves towards 'single-click' pay. However, some clients may love this format, so an understanding of your client should inform whether Better Proposals is a fit for your company.
The payment plans are particularly strong in the market. The Pay-As-You-Go plan is relevant for freelance clients looking to send proposals without being tied to a subscription service. Plus, for medium-sized companies who use Salesforce CRM but do not need all the bells and whistles of the Enterprise plan, this premium integration is included.
Best for
Small businesses with infrequent proposal needs that can take advantage of the Pay-As-You-Go Plan, or companies with clients who prefer a web proposal with a 'pages' layout rather than a continuous scroll design.
Reader supported! Our articles are reader-supported via ads and affiliate links on some articles. We earn from qualifying purchases on some links on this page. This helps support the continued publishing of editorial content.