Bonsai Proposal Software Review
Bonsai offers freelancers a suite of small business products, which includes a proposal creation tool. The proposal development is user-friendly and professional but has limited automation. For shorter documents, this tool creates professional, online bids with useful connectivity to the other Bonsai tools.
Pros:
An intuitive and clean user interface and experience.
Accessible client experience.
One tool in a broader small business toolbox.
Cons:
Limited automation to reduce proposal development time.
Templates are limited and only modify the text, not the design.
Limited tracking of client interaction with the proposal.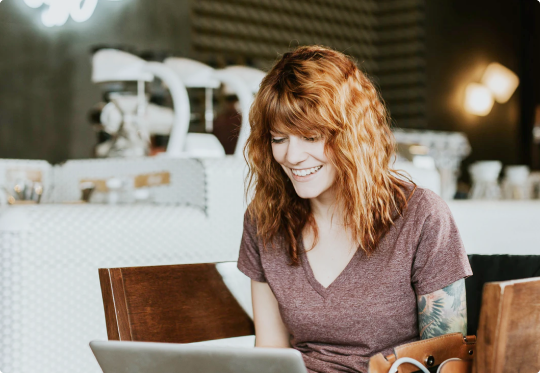 Improve your proposal writing
skills in our online self-paced course.
Available for individuals and groups.
View Course & Outline
How we tested the software
This proposal software review assesses proposal preparation capabilities. Each tool was tested through the company's free trial offering. New and template-based proposals were built and tested using various design tools and libraries. We tested collaboration capabilities, client experience, tech support, and other features to assess the ease of use, professionalism, and flexibility.
These reviews do not assess other aspects of the software in this category. For some tools, proposal development is just one feature. Platforms may include a range of services such as customer relationship management (CRM), project management, expense tracking, or appointment calendars. These other services may be an essential consideration for your company, but we have focused solely on proposal creation to maintain a direct comparison.
Pricing and sign-up process
Bonsai offers two paid plans:
The Workflow Plan costs $19 per month (or $16 per month if paid annually). It includes unlimited clients and projects and access to all tools.
The Workflow Plus Plan costs $29 per month (or $24 per month if paid annually). It includes Workflow plan access as well as white-labeling, workflow automation, client forms and questionnaires, and a client portal.
You can test it out with a 14-day free trial of either plan, though credit card details are required. The platform is targeted at freelancers, and that includes its payment terms. You can pause your subscription at any time and re-start it when your project workflow picks back up.
Proposal creation capabilities
Bonsai proposals can be started from scratch or built from one of their industry-targeted templates. All pre-designed templates have the same sections and general design, with a modified text. These sections include contact information, Context and Objectives, Timeline, Fees, and Why Me. Contracts can be developed on the Bonsai platform, but they are prepared separately from the proposal.
The font and coloring can be edited for the overall document or in each section. New sections can be added, though the options are limited to text, images, and links to file attachments. While there are limited design options, the overall design is sleek, and the user interface makes customization smooth.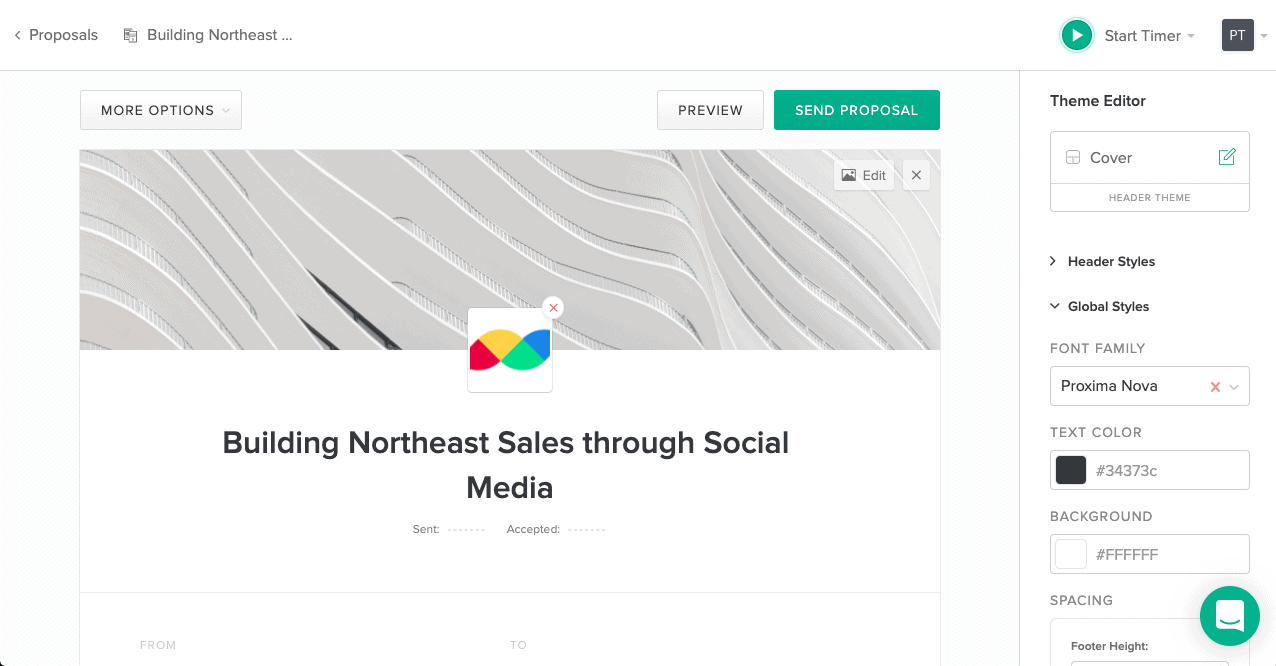 The proposal offers three fee structures: single-option, packages, and multi-select. Each structure allows for a description of the item and basic fee design. Unfortunately, it is a clunky way to offer fee structure flexibility. There are not many options regarding payment timing or indicating the unit description. Further, if you change the fee structure category, all payment structure information is deleted.
Bonsai's proposal developer lacks automation, a trait that is common in freelancer-focused suites. Leading proposal development software has a variable tool that allows proposal templates to be automatically populated with standard information like client names and addresses. In addition, content libraries are standard tools to save commonly used blocks of content or fee structures. This lack of automation can be worked around by copying previously developed proposals and modifying them for a new client. This strategy requires significant development time for longer, more complex proposals. For shorter documents that don't vary much between clients, this lack of automation may not be a burden. But, don't forget to include the key components of any brief bid.
Team collaboration
Bonsai is somewhat unique in that it offers two options for collaboration - one paid and one free. However, only the paid option allows proposal access.
You can invite a colleague as a Collaborator to a project at no cost, and the colleague can add tasks, track time, and chat. Collaborators can't change or manage any project details, and they cannot see most project financial details, including the proposal.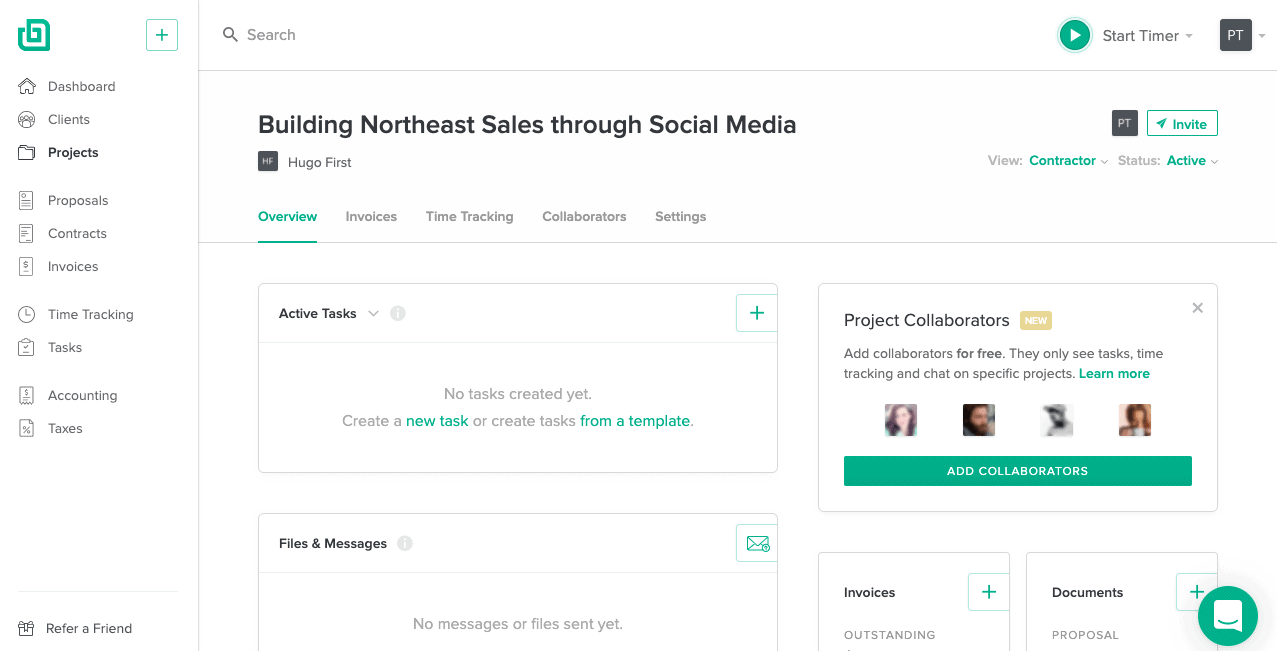 For colleagues who need more access, you can invite them as a Partner for $9 per month. Partners have access to all projects and create new projects and documents. This paid access is required to collaborate on proposals. This feature wasn't directly tested, but the Files and Messages communication system within each project would be useful for tracking proposal changes and updates.
The client experience
Proposals can be sent through the Bonsai platform, or a direct URL can be copied and sent using your regular company email for additional personalization.
The client's display of the proposal is a professional-looking landing page that is easy to navigate. It has clear buttons to guide the client to click 'yes' the proposal. Once the client has accepted, there is an option to download the document as a PDF.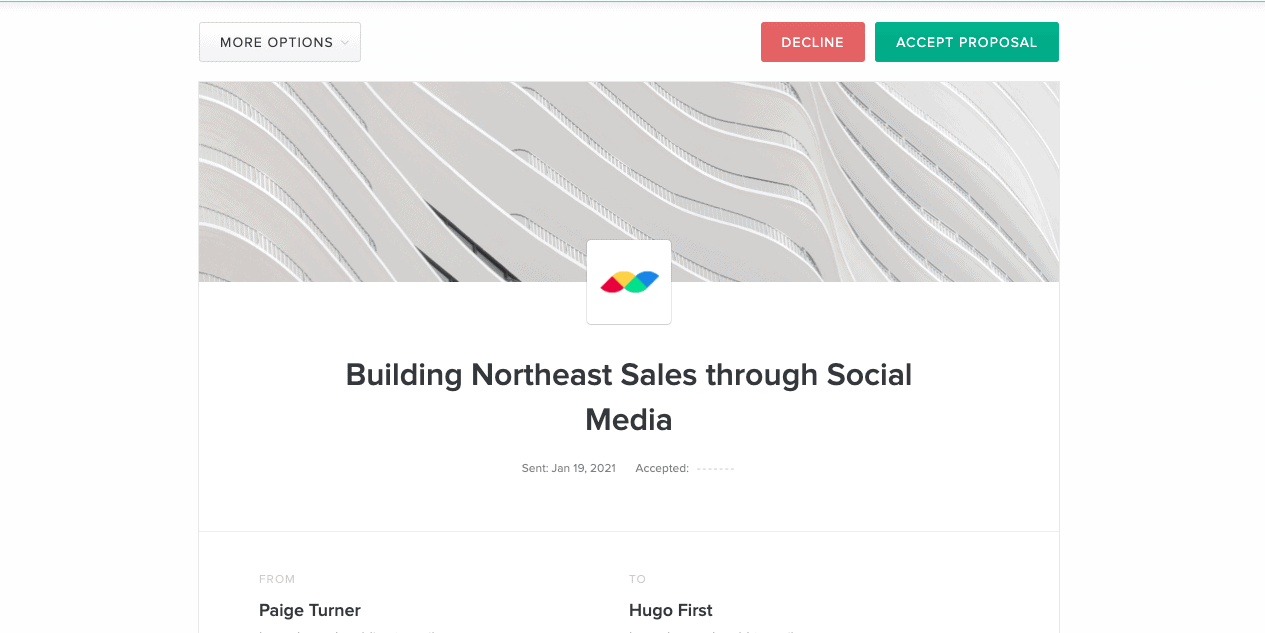 Tracking client interaction
Client interaction with the proposal is tracked in the Activity section of the Bonsai Dashboard and associated Project pages. Bonsai shows when the client has viewed the document or accepted the proposal. Unfortunately, there is no additional information on the number of views or length of time spent viewing. For shorter proposals with familiar clients, this level of tracking may be sufficient.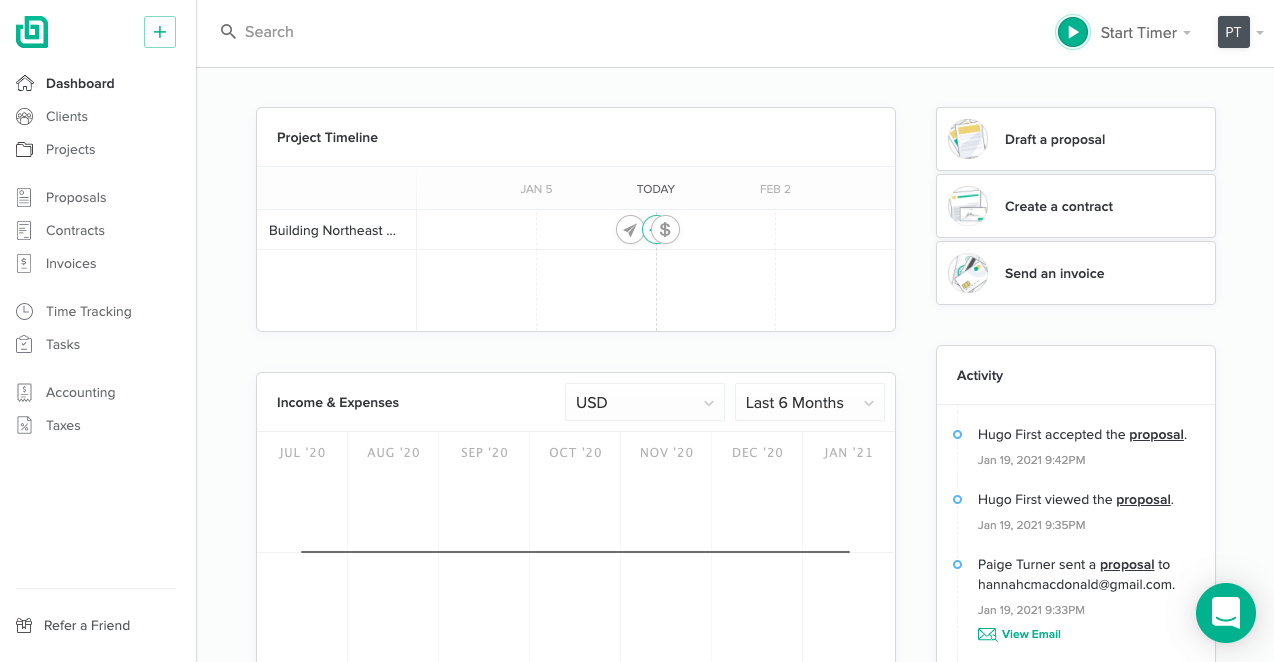 Integrations and payments
There are a limited number of integrations with Bonsai. The Workflow plan offers connections to Google Calendar and Zapier, the automation tool that connects to literally thousands of other tools. Workflow Plus offers additional integrations to Calendly and Slack.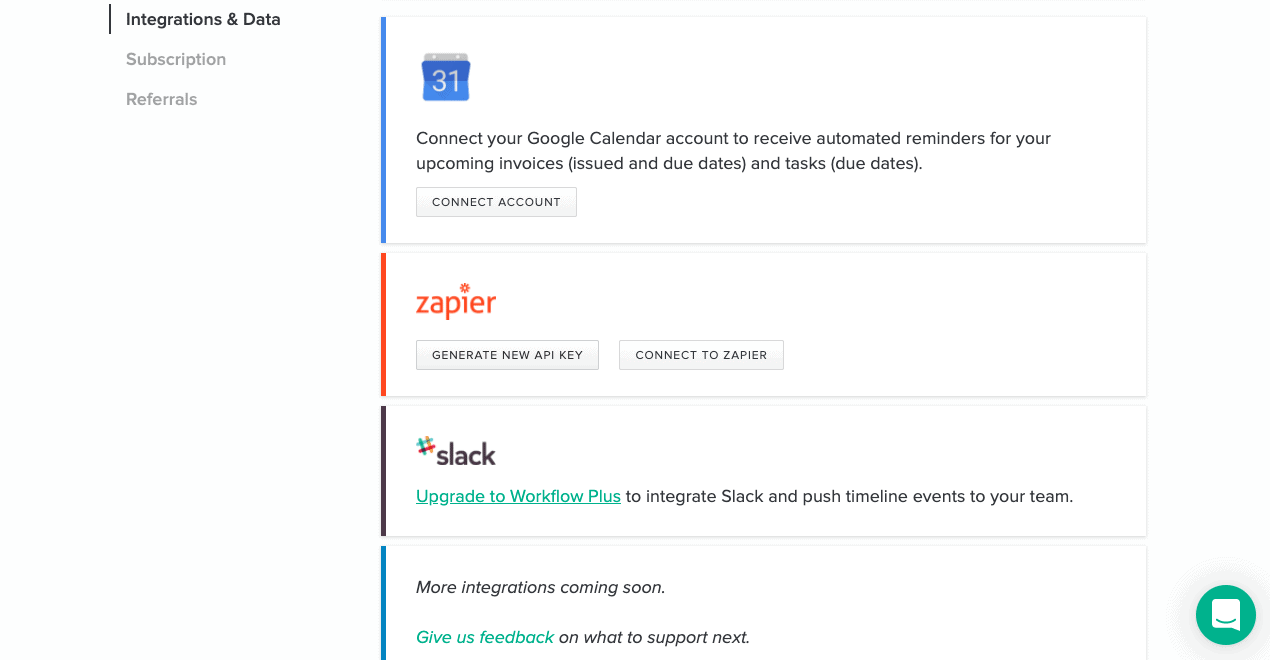 Bonsai offers its own payment system, Bonsai Payments, for credit card, debit card, and ACH. To process client charges, Bonsai bills 2.9% + $0.30 for Visa or Mastercard, 3.25% + $0.30 for AMEX, and 1.0% with a $1 minimum for ACH. Alternatively, Bonsai connects with three external payment providers: Stripe, PayPal, and Plaid, each with their own service fees. There is an additional 1% platform fee by Bonsai for Stripe payments. These processing systems are integrated and tracked in the invoices generated on the platform.
Support and security
Bonsai support includes a chatbot within the platform and a well-populated FAQ support page. Workflow Plus offers priority support, though it's unclear what differentiates that additional support. We tested the support chatbot service and our off-hours question was answered promptly and helpfully when the support was back online, the time conveniently indicated in the chatbox.
Overall review
Bonsai offers sleek, customizable proposals with an accessible user interface. It lacks the automation of more proposal-focused software, which means that additional preparation time is required per bid. Bonsai is a freelancer product suite, and the proposal functionality is only one tool in its toolbox. The connectivity to other freelancer tools like invoicing and time tracking is likely valuable and will outweigh the proposal development limitations. While it would be time-consuming to develop complex and compelling proposals, Bonsai is user-friendly for both the freelancer and the client in straightforward proposals.
Best for freelancers/solopreneurs
Freelancers or small businesses looking to build brief but sleek proposals with connectivity to a more extensive suite of business tools.
As a Bonsai affiliates partner, we earn from qualifying subscriptions.