Bidsketch Proposal Software Review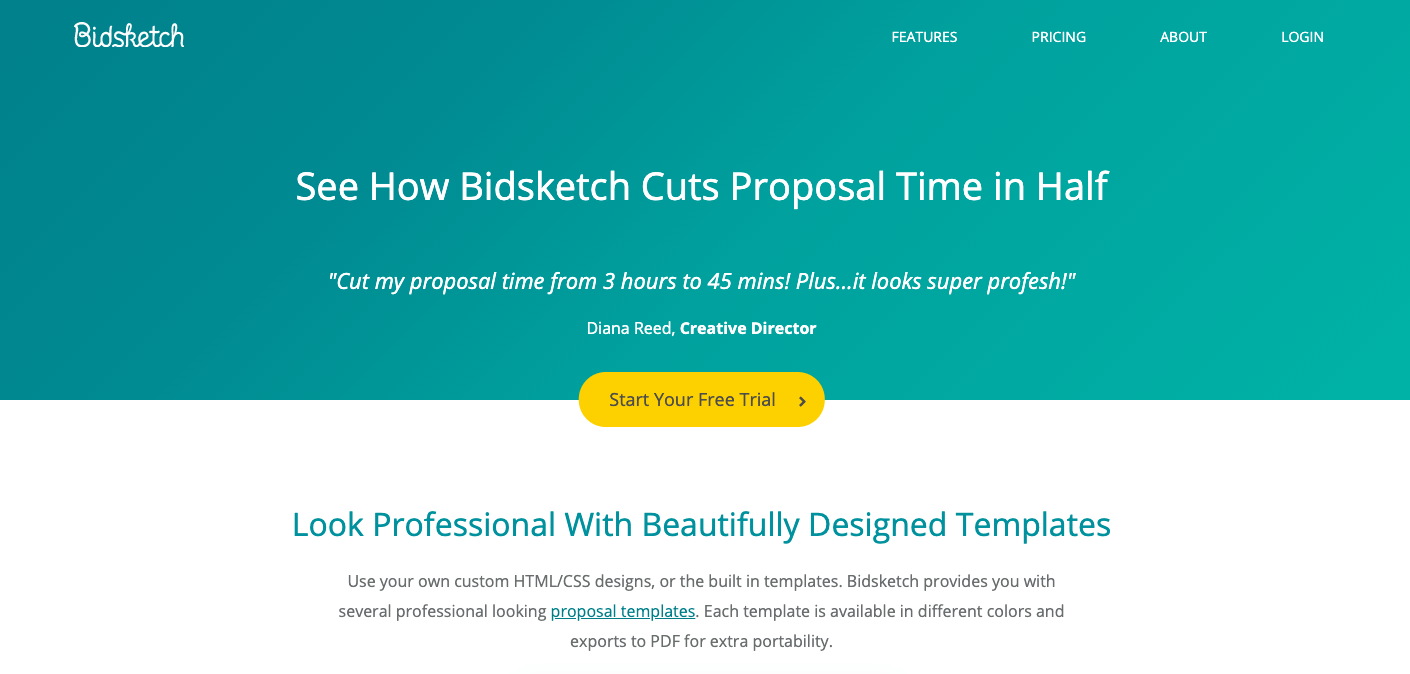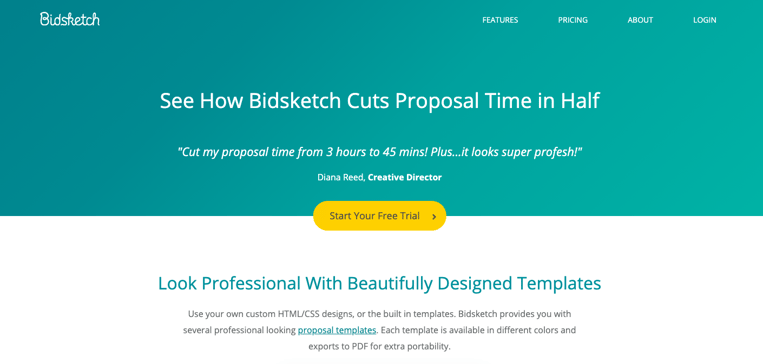 Bidsketch offers the core elements of a useful proposal development software, including automation, templates, and basic client engagement tracking. However, for the price tag, the platform is lacking in additional features like enhanced document design, a range of integrations and payment processing tools, and larger teams and collaboration controls. Bidsketch could be a good fit if your workflow aligns with the current integrations, or if you're seeking a basic but affordable Salesforce integration.
Pros:
Simple but effective client viewing experience
All integrations are included in all plans, even a basic Salesforce integration
Cons:
One of the more expensive proposal creation software platforms with fewer features than competitors
Restricted document design options
Limited client tracking and details on encryption for data protection


How we tested the software
This proposal software review assesses proposal preparation capabilities. Each tool was tested through the company's free trial offering. New and template-based proposals were built and tested using various design tools and libraries. We tested collaboration capabilities, client experience, tech support, and other features to assess the ease of use, professionalism, and flexibility.
These reviews do not assess other aspects of the software in this category. For some tools, proposal development is just one feature. Platforms may include a range of services such as customer relationship management (CRM), project management, expense tracking, or appointment calendars. These other services may be an essential consideration for your company, but we have focused solely on proposal creation to maintain a direct comparison.
Pricing and sign-up process
Bidsketch offers three plans:
The Solo Plan: $29 per month (or $23 per month if billed annually), which comes with one user and unlimited proposals. Additional users cost $20 per month.
The Team Plan: $79 per month (or $47 per month if billed annually) with up to 3 users and unlimited proposals.
The Business Plan: $149 per month (or $119 per month if billed annually) with up to 8 users and unlimited proposals.
The free trial comes with 14 days of the Team Plan. Credit card information is required for the free trial, which is an uncommon request in the proposal software world. Interestingly, Bidsketch offers the service free for non-profits or for a year for anyone who writes an honest review in a blog post.
Proposal creation capabilities
The Bidsketch proposal creation process is separated into three divisions: Opening, Fees, Closing. In each division, there are sections that can be edited, reordered, and saved to a library (called 'Sections') for future use.
Your proposal can be created from scratch or through one of over 30 templates. However, there is no easy way to preview proposals except by selecting it as the desired template. The proposals are very tailored in their text for specific industries, so a comparison may not be necessary, but the platform would be helped by a template 'preview' function.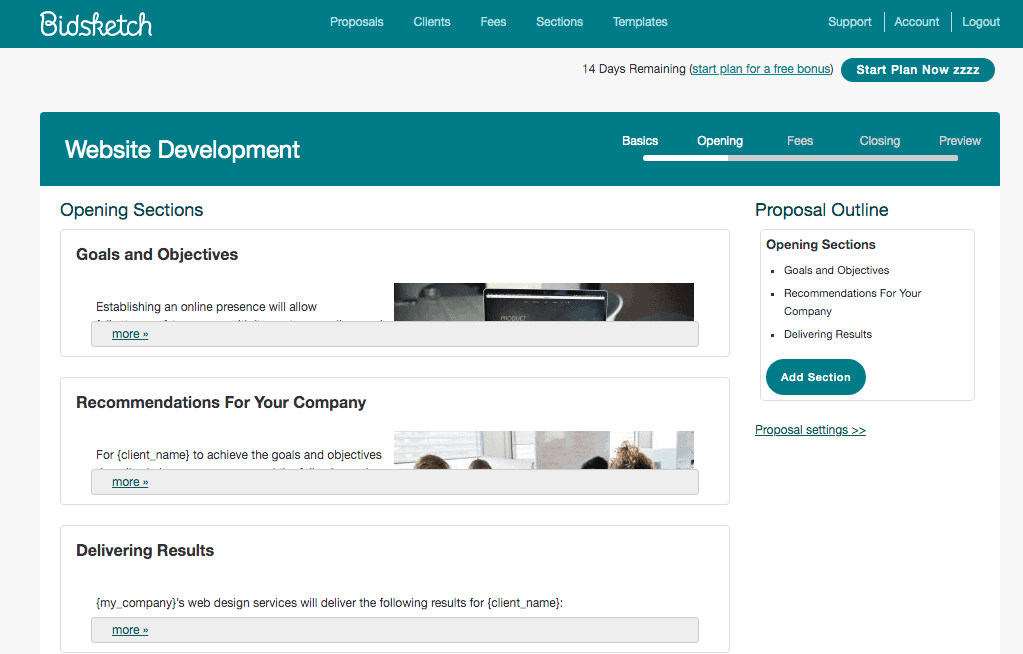 From a proposal design perspective, the three divisions with the fees in the middle are a bit of a strange design, but it is flexible enough to ensure that the narrative matches the client's needs. Any proposal template requires a clear review to ensure that it is persuasive to the audience. The templates have useful sections (such as Goals and Objective and Project Timeline), and logical order (the About Us section near the end of the document). The Fees section offers lots of flexibility of included and optional items (which are important for up-selling), fee timelines, and currencies.
Bitsketch has the all-important 'variable' feature, where company and client information such as names and addresses can be inserted into the text with a variable that is automatically updated to the correct client when the proposal document is generated. This automation enables content to be repeated while still being tailored, cutting down the proposal preparation time.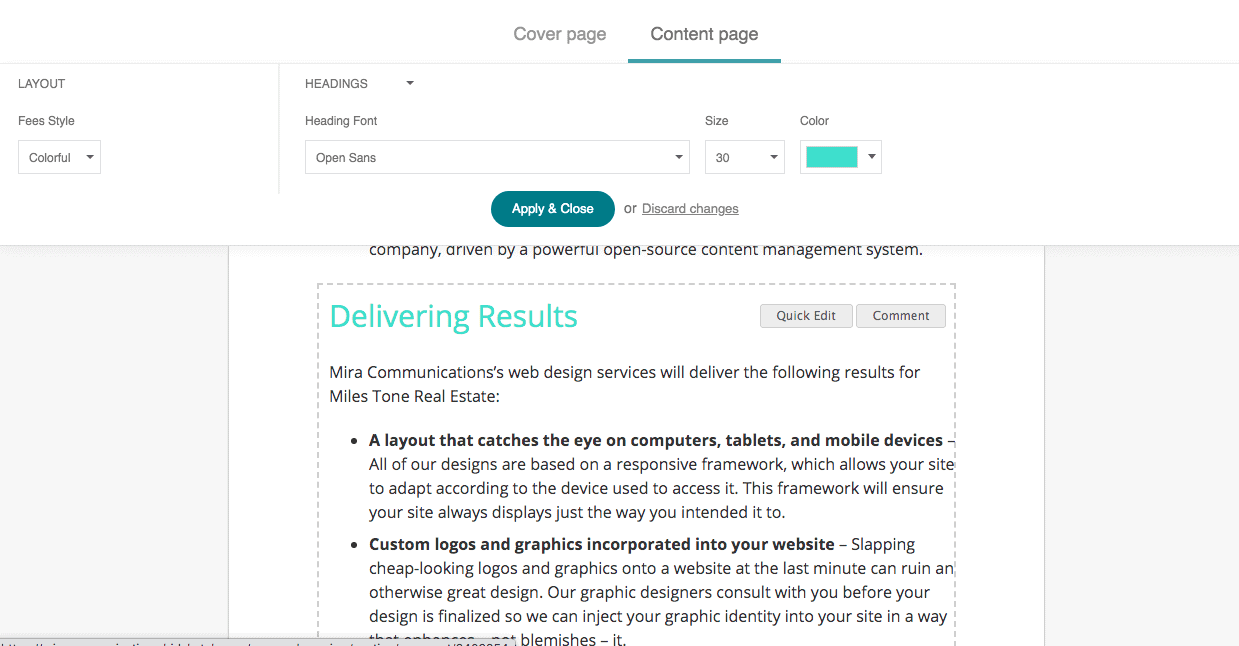 The design tools are relatively simple. The standard text editor features and the ability to insert images and videos are available within each section. However, the overall document design edits that can be made are on the cover page and the header text font choices. This lack of general document customization is limiting.
Team collaboration
Under the Team and Business plans, other users can be invited to collaborate on proposals. There are two user types:
Power Users: can see and edit all proposals
Normal Users: can see and edit only assigned proposals
Edits can be made in real-time. Users can provide comments on each section, which are automatically emailed to all collaborators.
The client experience
Clients can be emailed directly from the Bidsketch platform, or you can get an encrypted link to send in your company's email.
When the client clicks on the link, they are directed to the proposal website with a digital version of the document. The browser view is clean with a prominent 'Accept' button and an accessible navigation bar at the bottom. The client also has the ability to comment on the proposal.
The proposal can be exported as a PDF, though the PDF must be checked before sending the digital version because small changes in formatting can cause awkward page breaks in the PDF version. Correct page breaks can be easily inserted in the design process but cannot be forgotten.
Tracking client interaction
Bidsketch tracks when a client opens the proposal, whether they download the PDF version, and how long they spend viewing the online version. These items are valuable to monitor engagement. However, the platform is missing the more granular tracking of the specific sections viewed by the client and time spent per section, which is available in similar platforms.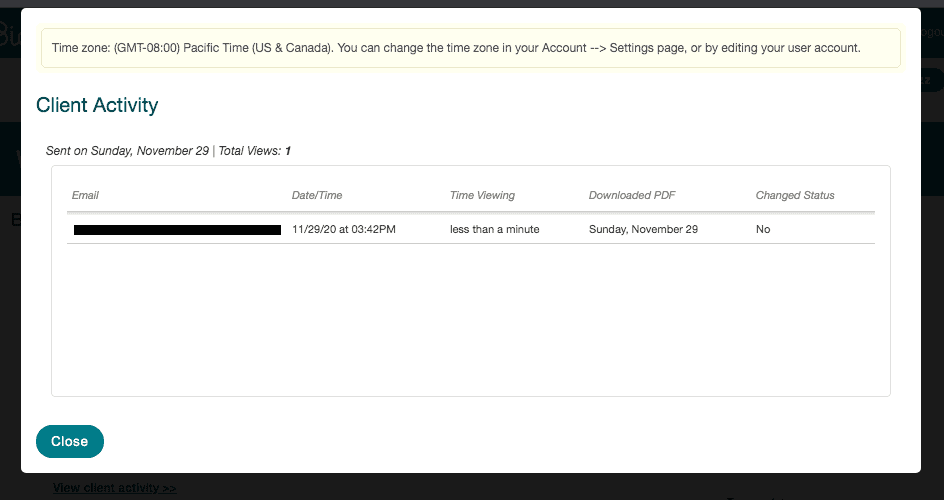 Integrations and payments
Bidsketch has integrations for CRM (Salesforce, Highrise), accounting (FreshBooks, HARVEST), project management (BaseCamp), and e-signatures (Docsketch). It also has a Zapier integration, enabling its broader connectivity.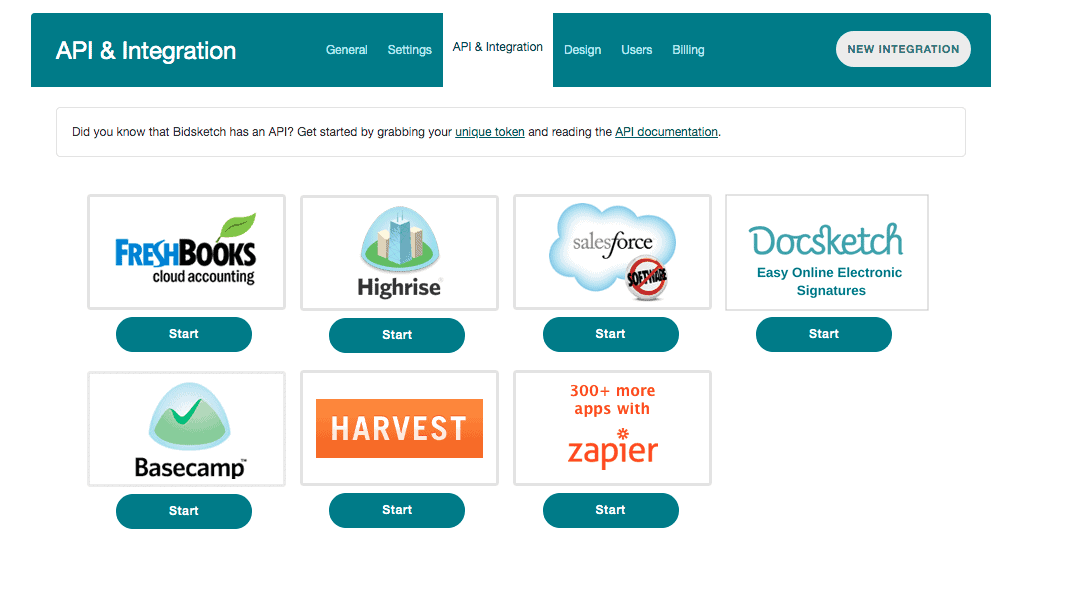 These integrations are limited compared to some competitors, but the limitation is not a problem if they align with your company's current workflow. Bidsketch is one of the few platforms where Salesforce connectivity is enabled in any plan. The integration is limited to contracts and Salesforce Deals, not the full software suite, but could be valuable.
This limited list also limits payment options. Invoices can be generated through FreshBooks integration.
Support and security
Bidsketch's primary support system is through its support documentation site. There is no live chat feature, but there is a web-form to send direct questions. The email response we tested came in under 24 hours and provided a tailored and helpful answer.
The platform says that the client links are encrypted for security, but there is no additional information on the encryption process to clarify how client information is protected.
There is an option within the account settings to ensure client communication complies with EU Compliance Consent (GDPR).
Overall review
Bidsketch offers many proposal software key features, such as automatically inserting client information, enabling a content library, and flexibility in fees. However, the design options, client tracking, integrations, and support options are limited for the price. The core elements and outline of each proposal is reasonable, but there are none of the bells and whistles that would enhance the user and client experience.
Best for
Small business customers with small teams seeking an affordable way to make a basic integration between an existing Salesforce account into their proposal process and don't mind a basic proposal design.
Reader supported! Our articles are reader-supported via ads and affiliate links on some articles. We earn from qualifying purchases on some links on this page. This helps support the continued publishing of editorial content.