Proposify Full Software Review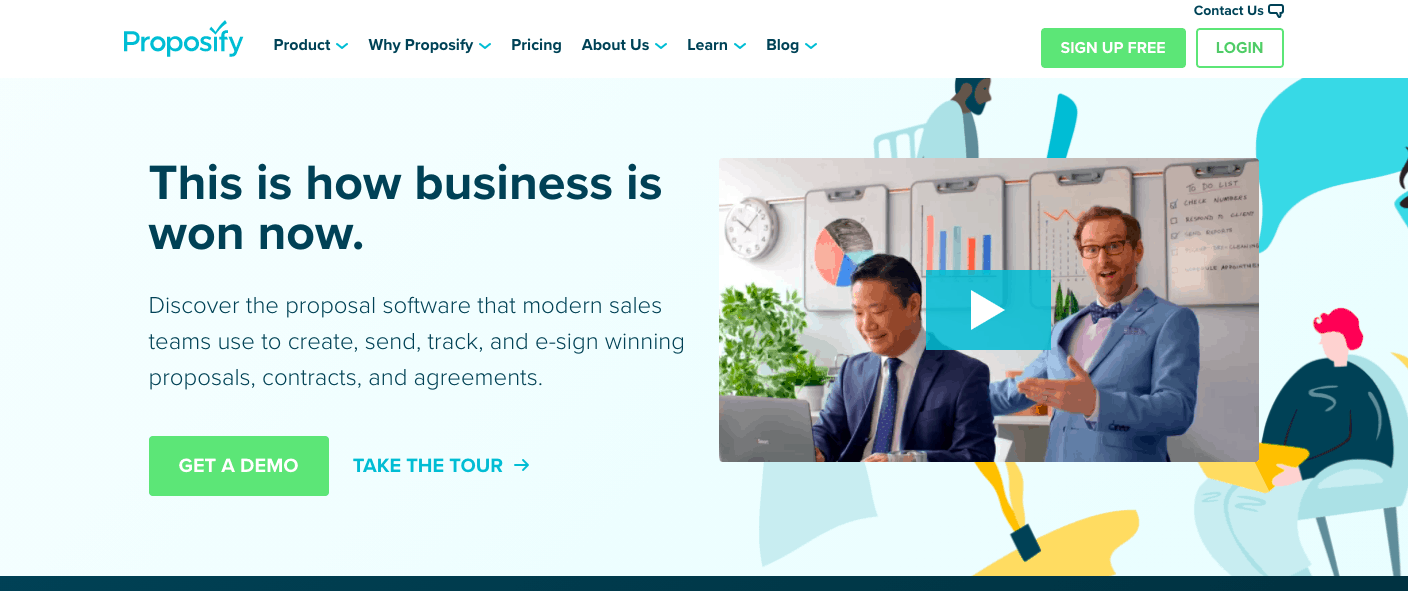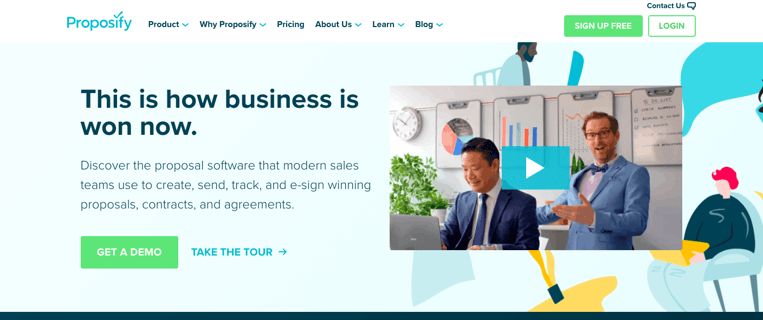 Proposal creation is a critical process for any business. The once lengthy, paper-based process has been revitalized in recent years through a series of online software programs that automate and beautify proposals. These tools can be highly valuable for companies when used in combination with proposal best practices.
Choosing the right tool for your company is critical, but the choice is not always obvious. This series of review articles will help you navigate the range of options, understand their pros and cons, and select the best fit for your company's needs.
We are starting this series with a review of Proposify, which is the tool we opted to use after a deep review. It works very well for us, but upcoming articles in this review series will outline other proposal creation software tools to help you determine which option is best for you.
How we tested the software
This proposal software review assesses proposal preparation capabilities. Each tool was tested through the company's free trial offering. New and template-based proposals were built and tested using various design tools and libraries. We tested collaboration capabilities, client experience, tech support, and other features to assess the ease of use, professionalism, and flexibility.
These reviews do not assess other aspects of the software in this category. For some tools, proposal development is just one feature. Platforms may include a range of services such as customer relationship management (CRM), project management, expense tracking, or appointment calendars. These other services may be an essential consideration for your company, but we have focused solely on proposal creation to maintain a direct comparison.
Write better proposals in less time.
Get two full months of access when you enroll in our online self-paced Proposal Writing course and receive feedback from your instructor as you write an actual proposal throughout the course.
The course finishes with a live one-on-one coaching session with your instructor.
View Course & Outline
Proposify
This article reviews Proposify, an online proposal management software. Proposify focuses solely on proposal development and offers limited additional business services, primarily through other software integrations.
Proposify is the tool we use. Therefore, this review includes insights from the broader testing process and our experience using the software for the past year. This direct knowledge allows for an in-depth review while also recognizing limitations.
Sign-up process
Creating an account is a straightforward process. The registration requires a few pieces of basic information about your company's contact information, size, and CRM tool. The free trial comes with 14 days of the Team Plan. No credit card is required.
Proposal creation capabilities
Building a proposal can be done from scratch or from a template in Proposify's extensive library. Existing templates range by industry, content flow, and design aesthetic. They are a helpful starting point if you find a suitable design. However, all the content must be tailored to your client. Designing your proposal with your client in mind is necessary whether the proposal is created in a Microsoft Word document or automated software. For example, some templates place the 'About Us' section immediately following the cover letter. This flow is rarely appropriate. Clients want to know how you will solve their corporate challenge, not how your company was established.
Proposify offers several automatic functions that simplify the proposal development process. Client information is set as an editable field called a Variable. These Variables are placeholders for names, addresses, websites, and other information that can be automatically pulled in from Client information. These variables enable an existing template to be quickly tailored to a new client's information. This automation eliminates the need to scan a previous proposal for recent mentions of an earlier client when reused and the embarrassment of referring to your new client True North Real Estate as past client Funky Duck Party Supplies.
The second critical automation aspect is the Content Library. Sections, images, phrasing, or pricing that you use again and again can be saved for easy re-use. This content can be collected from an existing proposal or developed fresh in the Library. The content can then be easily added to any other new bid. For example, terms and conditions are critical, but typically vary little from customer to customer. The latest terms can be maintained in the Content Library and pulled into a new proposal with two clicks.
Proposify makes it easy to modify each aspect of the proposal. The design toolbar allows for images, videos, shapes, tables, and sections to be easily dragged and dropped. Signatures and initials that are assigned to your client and the sales team are clearly identified and can be signed digitally. Pricing tables can be set in different currencies and with varying discounts and taxes. Fillable forms for client input can be added.
Customer contacts can be added as a Company or an Individual or uploaded in bulk on the Client page. Clients are assigned to a proposal from the existing list, or new clients can be added from the design page.
The proposal can be edited after it has been shared with the clients. This allows for live revisions based on client requests, a minor correction of a typo, or other quick updates that paper contracts do not allow.
Each proposal has a navigation bar listing the sections. This feature makes for smoother navigation during design as well as when viewed by the client. Surprisingly, it is not found in some similar software tools.
Team collaboration
Proposify's payment plans are on a per-user basis. Therefore, adding new users to the account may be a strategic decision. Proposify offers a lot of flexibility in its user categories for collaborators. New classes can be named and defined by the account owner. Unlike other platforms that have predefined users, Proposify provides a lengthy list of permissions for editing or viewing access to all aspects of the platform. This flexibility allows for user classes to be tailored to any team's needs.
Expanded collaboration tools are available in the Business Plan. Proposal approval can be set up within the user settings. This process ensures that no proposal is sent to the client without the proper review, avoiding costly mistakes. Workspaces, which are different accounts under the same company, allow different teams and brands to create proposals in their own space, with the capacity to track all projects in one Pipeline.
The client experience
Proposify allows proposals to be sent to clients in three ways that allow clients to receive the proposals that best suit them. Proposals can be sent to clients through Proposify's integrated email system. They can be offered through regular company email by pasting the Proposify-generated URL into a regular email text. Both these options include digital signature capability and tracking of client review times. Alternatively, the proposal can be downloaded as a PDF for clients who prefer a PDF or print copy, while maintaining all the formatting.
The PDF download is an exact copy of the online proposal version. Surprisingly, the PDF distorted the proposal format with other tools. For us, the availability of a clean PDF download was a standout feature of Proposify since we know that many of our clients like having both a PDF and web version of proposals.
The client-facing view mirrors the sales view, with a few additional features. Each page has a comment box that allows clients to leave questions or comments on the proposal which are sent as notifications to the sales team. Client-editable options like unit quantities or add-on items can easily be modified with automatic cost updates, and the browser page makes it very clear how to share and sign the proposal.
International clients can navigate the platform in their preferred language. Fifteen languages can be selected so that the client can browse in the language that matches the text of the document.
Tracking client interaction
Proposify summarizes all proposals in the Pipeline. This dashboard provides an overview of active offers, their value, and their status.
Once a proposal is started, the Snapshot page summarizes its current status from draft through to close. Client views, downloads, and total time spent on the document are all indicated. Reminder emails and follow-ups can be tailored and sent either manually or on an automatic schedule.
Integrations and payments
Proposify offers a range of integrations starting from the Team Plan level. For mobile access, there is an iOS and an Android app. The software connects to Zapier, enabling a wide range of other automation and connectivity. There are a variety of CRM integrations, including Salesforce (with Business Plan), HubSpot, Pipedrive, Zoho, Copper, among others. Plus, Proposify integrates with other business tools, with a few examples being project management (e.g., Basecamp), chat (Slack), and storage (Google Drive).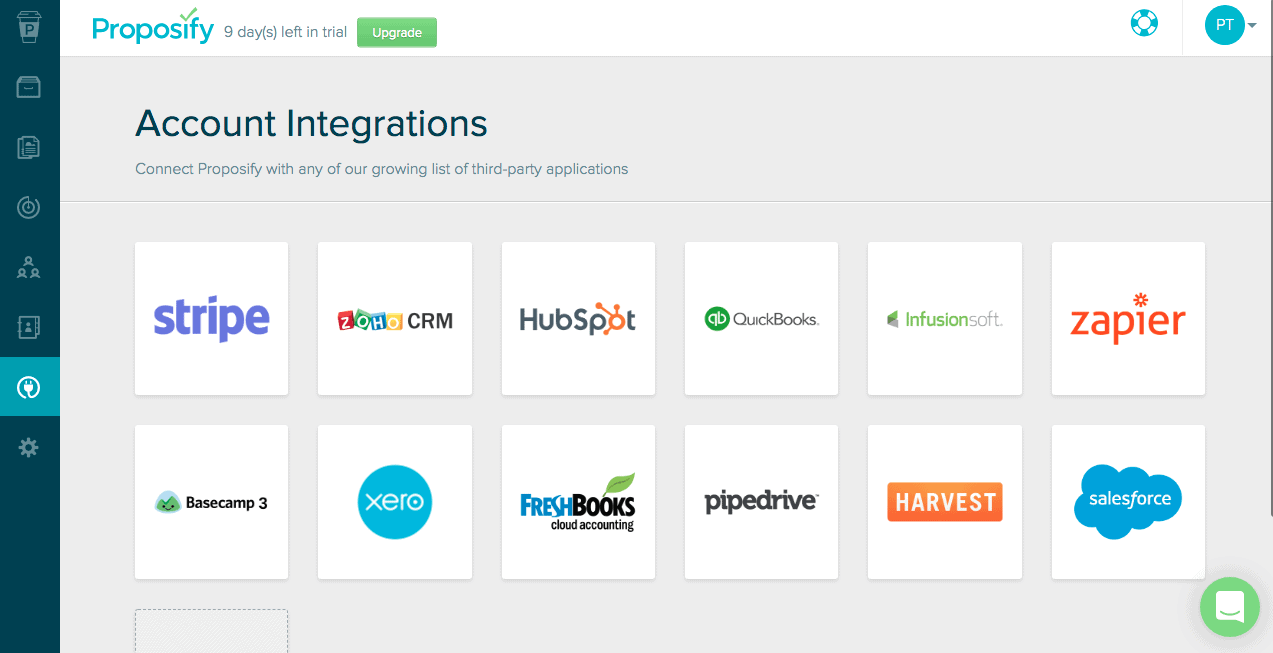 Stripe is the only option for payment integration with Proposify. Stripe accepts all major credit cards and a diversity of local payment types, so it can likely cover payment needs. Suppose your company requires other payment systems, such as PayPal or an independent invoicing system. In that case, the external payment system can be included in the proposal text, but it is not directly integrated.
Since we send a separate invoice after a proposal is accepted, this was not an issue for us. If your proposal also functions as an invoice, review this capability carefully.
Support and security
Proposify's technical support is not offered in the Free Plan. With the Team Plan, support is provided only through online chat. The Business Plan extends a full suite of premium support including, onboarding services, chat, email, phone, and an account manager. Assistance is offered Monday to Thursday, 8 AM to 8 PM EST, and Fridays from 8 AM to 4 PM EST.
When we tested the support in the 14-day trial, it was helpful and targeted. The question and Proposify response were both sent outside of listed support hours. The problem was answered in the support chat with a screen-share explanatory video tailored to the issue. Overall, it was a very satisfactory support experience.
Proposify is built on Amazon Web Services. Its data is protected by 128-bit SSL encryption (which is called "logically unbreakable") and daily backups.
Pricing
Proposify offers three pricing options:
The Free Plan is intended for solo-preneurs or small businesses where only one person manages proposal development. This plan has a cap of one user and five proposals. This plan comes with no integrations and no support.
The Team Plan is intended for sales teams in small- to medium-sized businesses that have multiple users and many ongoing proposals. This plan costs $49/month per user (or roughly $42/month if billed annually) and allows unlimited proposals. All integrations are included except Salesforce CRM.
One frustration we encountered is that anyone who is involved in the proposal writing process requires their own account -- even the proofreader needs an account. This can become costly. There are workarounds to this, such as providing a PDF to the proofreader, but it's inefficient. An improvement would be a discount for accounts with limited functionality.
The Business Plan is intended for large, enterprise customers with large teams and various departments or brands. At $590/month, you get 10+ users, Salesforce integration, onboarding services, and more.
Overall review
We highly recommend Proposify. It is the proposal development software we use in-house. The suite of options has grown since we first selected this tool, and Proposify still holds up.
The primary benefit of this software is its focus. Proposify is solely a proposal writing tool and does this very, very well.
If you are looking for software that includes a strong project management component or an appointment scheduling tool, Proposify is not the right choice. Our need was to produce professional, tailored proposals, but with the benefit of automation. Proposify provides sleek proposals and the Content Library enables new documents to be built quickly and accurately. Once set up, Propsify's user-friendly interface can save hours in preparation time in just one proposal.
However, there is a significant set-up time required in order to achieve these efficiencies. While there is a diversity of templates, we found that initial boilerplates needed to be thoughtfully developed and designed. The prepared designs are beautiful, but the order of content was not appropriate for our clients and the aesthetic was not on-brand. We invested a significant amount of time and hired a company that specifically develops Proposify templates to build the right series of templates that we could then easily modify. Company graphics, design, client appropriate sections, and flow needed to be developed and placed on the platform. This preparation time is required to ensure that your proposals are right for your customers.
This effort also means there is a high switching cost to another software, making the proposal development software choice even more critical to get right. To note, this initial preparation work is not unique to Proposify -- it is typical in the set-up for any proposal creation software.
From the client's point of view, they receive a professional and accessible proposal. We have had good feedback on the ease of review, modifications, and signing. The successful close is the most useful indicator of the software working well. Being able to track active proposals, as well as how much interaction the client has with the document, has been very useful for managing and winning sales.
The variety of integrations is helpful, though it's worthwhile to verify that your preferred tools are able to be connected. While not necessary, the smooth integration of your company's business software will reap the fullest benefit from Proposify.
Technical support is limited in the Free and Team Plans, which may be limiting for some companies. The software is user-friendly, and the tools are fairly obvious. However, lack of support and chat-only support (while very strong) may not be enough for companies who want a lot of back and forth while using these products.
Overall, Proposify is a user-friendly, highly flexible proposal creation software that has proven to reduce proposal preparation time and increase close rates.
Best for
Proposify is best for medium- to large-sized businesses with multi-person sales and marketing teams sending enough proposals that it warrants investing in a tool to streamline your process. It actually is a fine tool for small businesses, also, but according to conversations with Proposify's Sales Director and Affiliate Program Manager, Proposify's business focus is now firmly on enterprise clients.
Its additional features and expanded support likely make it a high-value enterprise tool, though the Business Plan was not tested in this review.
Reader supported! Our articles are reader-supported via ads and affiliate links on some articles. We earn from qualifying purchases on some links on this page. This helps support the continued publishing of editorial content.