Qwilr Proposal Software Review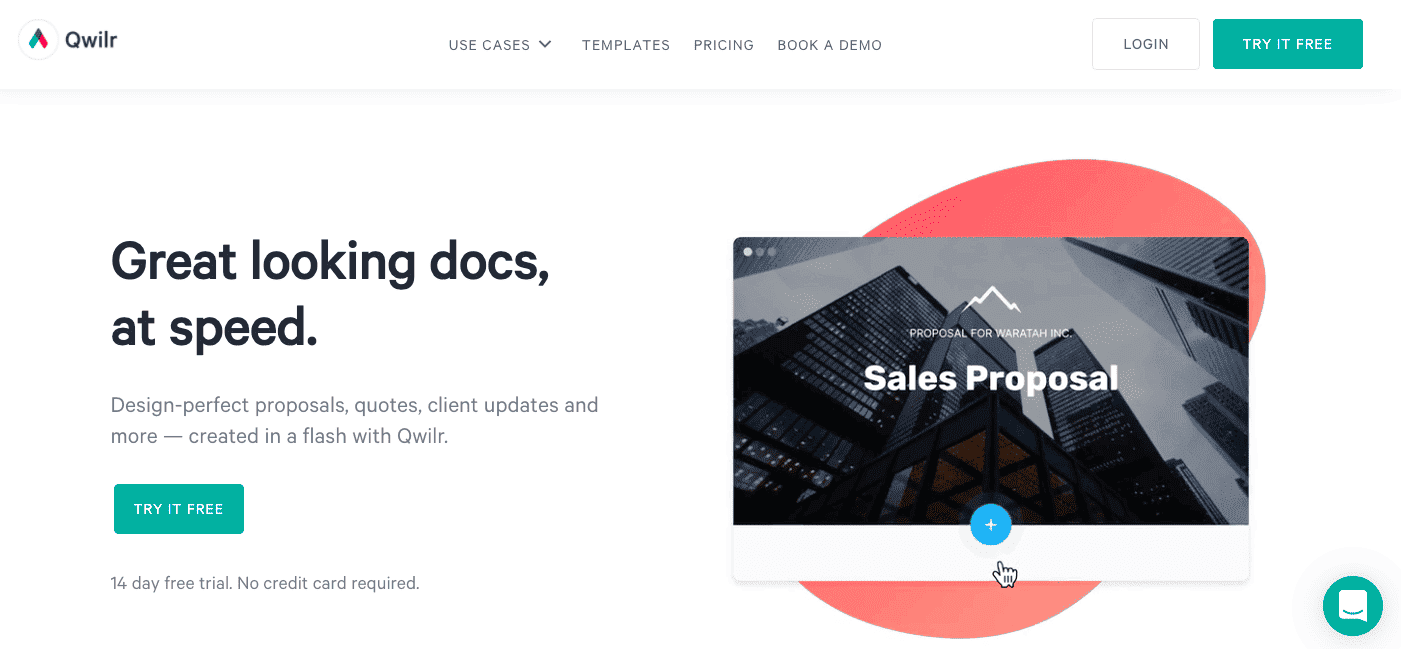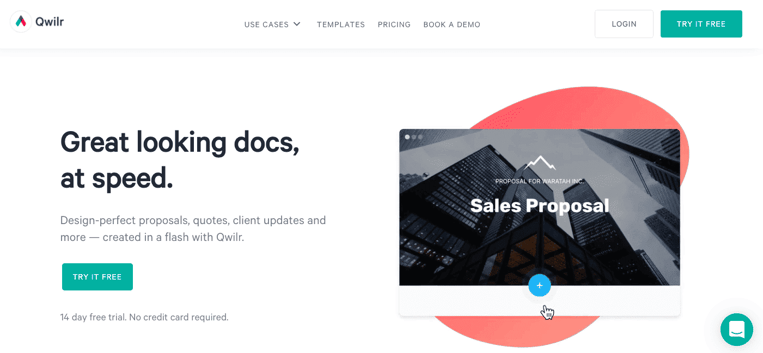 Qwilr offers a sleek platform that produces beautiful proposals that can craft a compelling story for your client. The user-friendly platform helps you make the right design decisions and supports a library of building blocks of successful proposals.
Pros:
Delightful visual proposals that will impress clients.
Robust client interaction analytics tracking.
Diversity of integrations to enhance the limitations of the platform.
Beautiful video integration.
Cons:
No auto-fill capacity for client information native to Qwilr.
Limited collaboration and communication tools for colleagues and clients.
PDF download does not maintain the format of the web view.
Qwilr's visual strengths needed to be weighed against its limited automation. Thoughtful, persuasive proposals are critical in any business. For industries where aesthetics are paramount, Qwilr offers a valuable proposal creation option. This review touches on the key strengths and limitations of this polished platform. There is no free plan to use Qwilr, so it's worth testing their 14-day free trial. The sign-up is quick, and no credit card is required.
How we tested the software
This proposal software review assesses proposal preparation capabilities. Each tool was tested through the company's free trial offering. New and template-based proposals were built and tested using various design tools and libraries. We tested collaboration capabilities, client experience, tech support, and other features to assess the ease of use, professionalism, and flexibility.
These reviews do not assess other aspects of the software in this category. For some tools, proposal development is just one feature. Platforms may include a range of services such as customer relationship management (CRM), project management, expense tracking, or appointment calendars. These other services may be an essential consideration for your company, but we have focused solely on proposal creation to maintain a direct comparison.
Pricing and sign-up process
There are two plans for Qwilr. The Business plan costs $75 per month (or $66 per month if paid annually), which includes three users. All additional users cost $22 per month each. The Enterprise plan costs $490 per month, which allows ten users, with additional users at $49 each.
Both plans allow access to the Qwilr platform and a suite of integrations. The Enterprise plan key differentiators are the ability to create and manage teams, to fully custom domains for each proposal, and a Salesforce integration.
Proposal creation capabilities
Qwilr produces beautiful proposals. The design choices and user experience is built to ensure that any content can look great while being reasonably simple to build. The editing tool is simple and takes up minimal screen space. This simplicity allows for the draft document to very closely mimic the final viewer experience.
Proposals or any other documents are referred to as 'Pages', which can begin as a Blank Page or as one of their 35 proposal templates. Each 'Page' is composed of a series of 'Blocks', which are each the width of the screen. These Blocks are the proposal's building blocks and include text, large image, embedded image, video, pricing, and acceptance. The Block design is flexible because most can have columns or other embedded items like images or Google Maps. The Pricing blocks provide lots of flexibility in terms of levels of detail and discounts. Items can also have variable amounts so that the client can specify their desired quantity.
Each block can be saved for re-use in future proposals, enabling ease of proposal generation. This feature is useful; however, Qwilr is missing one of the leading automations of similar proposal software - variable fields for client information. In each document, you need to write in the client information in each location where it is found. This process can be time-consuming, and if one spot is missed, it can be an embarrassing mistake for a client to discover. A workaround is to use the integrations with HubSpot, Pipedrive, or Zapier, where a 'token' can be used to represent client information or to use the BluePrint API to produce bulk Qwilr Pages.
Similar to other proposal creation tools we've tested, Qwilr requires significant set-up time. Whether starting from a template or a blank page, creating a branded and client-tailored proposal takes preparation and design time. Qwilr makes the process smooth and has lots of design options, but the sections' order and the existing design will likely need to be refined to be persuasive to your particular industry.
Team collaboration
Bringing team members on board is straightforward. Colleagues can be added by email and assigned one of two roles. Team members can be either Admin (able to view and edit all Pages), or Creator (able to view and edit their Pages and any others to which they've been invited). Having only two predefined roles limits the flexibility of role management because there are no view-only or Workspace options. There is more flexibility in the Enterprise plan where a team can be organized within Qwilr with access management within the department.
Qwilr allows for simultaneous viewing and editing with a pop-up highlighting whoever else is active on a Page. It also includes a handy Lock feature to restrict edits on a particular Block to avoid double-edits. To share editorial comments, it is easy to highlight and add a comment to the text. This feature doesn't apply to Blocks or images.
The client experience
The client's view in a browser is sleek and impressive. The proposal can be image-rich but still scrolls smoothly. There is an option to include a navigation bar, which allows the client to quickly click around to different sections. If your clients prefer a PDF version, the page can be downloaded, and the Blocks adjust to document pages nicely. However, some formatting and text can become blurry or jumbled when downloaded. It would be wise to review the PDF version of the proposal prior to sending the browser version to the client.
There is no live chat feature native to Qwilr to allow clients to comment or communicate directly from the page. However, it can Integrate with customer service platforms such as Olark, Intercom, Crisp, Drift, or Slaask.
Tracking client interaction
There is a useful Analytics page for each document that tracks the number of views, the total viewing time per block, clicks, and more. This data is vital to understand client interests and priorities, and the data are accessibly presented.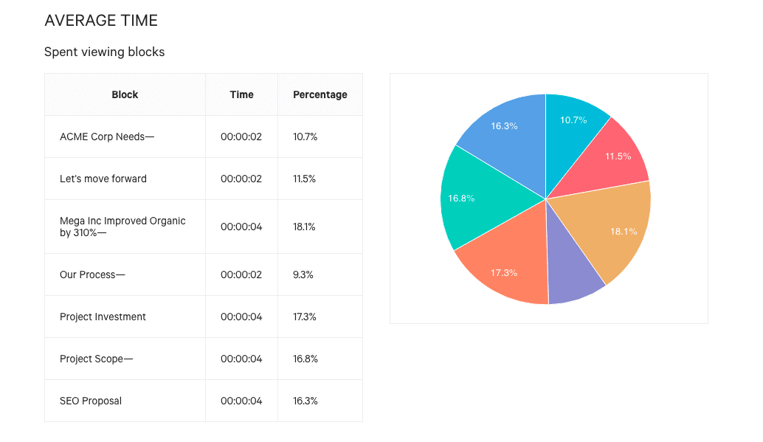 If the native analytics aren't enough, Qwilr integrates with tracking tools like Hotjar, FullStory, and CrazyEgg that dive deeper into how visitors engage with the proposal.
Integrations and payments
There is a long list of integrations already discussed for Qwilr. Of course, there are the customer relationship management (CRM) tools, including HubSpot, Pipedrive, and, for the Enterprise plan, Salesforce. For managing ads and analytics, Qwilr connects with Facebook, Google Ads, AdRoll, Google Analytics, Mixpanel, and Heap Analytics. For other connectivity and communication, there is Zapier and Slack.
Qwilr has one option to accept payments on your behalf: Stripe. Stripe accepts all major credit cards and a diversity of local payment types to likely cover payment needs. Suppose your company requires other payment systems, such as PayPal or an independent invoicing system. In that case, the external payment system can be included in the proposal text, but it is not directly integrated. For invoicing and bookkeeping, Qwilr connects with Quickbooks and Xero.
Support and security
Both plans offer email support, which is conveniently managed within the Qwilr platform's chat-bot. We tested the platform, including a late-night email, which was responded to in under the 30 minutes indicated at the time. The text response included clear and thorough guidance and a link to a relevant help article.
Qwilr offers various security features to limit access to proposals (or other documents), through password protection, authentication, and other protections. Data security seems to be predominately managed through the integrations because very little client information is kept within the platform itself.
Overall review
Qwilr produces beautiful proposals. Their platform makes it easy to build sleek documents that can be tailored relatively quickly. This smooth aesthetic is achieved through the ease of integration images and videos with smart default choices relating to design.
The platform can be used for a diversity of documents, and so Qwilr does not have as many specific tools for automating proposals. Pages offer various pricing schemes, bid acceptance, and payment processing. The Blocks enables content to be saved for re-use. However, the auto-generation of client information throughout the proposal is not native to the platform. Client information must be manually entered, increasing the time required per bid and allowing potentially embarrassing errors.
Overall, Qwilr is a powerful visual tool that is very useful for impressing clients who love strong visuals. There are some limitations to its proposal automation, but wise use of integrations could solve this issue.
Best for
Qwilr is best for design-based small- to medium-sized businesses where visual excellence is a competitive advantage.
Reader supported! Our articles are reader-supported via ads and affiliate links on some articles. We earn from qualifying purchases on some links on this page. This helps support the continued publishing of editorial content.