Nusii Proposal Software Review
Nusii's main advantage is the ability to help you automate proposals. The Nusii platform offers a user-friendly interface with key automation and section libraries to quickly build complex and customized proposals. The templates are relatively similar and will require time to tailor to your company's needs, but this set-up time is typical for similar platforms and is time well-spent upfront for future time savings.
Pros:
Easy to use platform with lots of formatting options.
Variable and Reusable Section features allow for quick but tailored documents.
Robust selection of app integrations.
Cons:
Nusii offers only one option for payment processing.
The client engagement tracking is minimal.
There is only one type of collaborator on the platform.

How we tested the software
This proposal software review assesses proposal preparation capabilities. We tested each tool using the company's free or paid trial offering. New and template-based proposals were built and tested using various design tools and libraries. We tested collaboration capabilities, client experience, tech support, and other features to assess the ease of use, professionalism, and flexibility.
These reviews do not assess other aspects of the software in this category. For some tools, proposal development is just one feature. Platforms may include a range of services such as customer relationship management (CRM), project management, expense tracking, or appointment calendars. These other services may be an essential consideration for your company, but we have focused solely on proposal creation to maintain a direct comparison.
Pricing and Sign-up Process
Nusii offers three paid plans:
The Freelancer Plan costs $29 per month (or $24.17 per month if billed annually). It accommodates one user with up to 5 active proposals.
The Agency Plan costs $49 per month (or $40.83 if billed annually). It allows unlimited users and up to 20 active proposals.
The Business Plan

costs $129 per month (or $107.50 if billed annually). It allows unlimited users and up to 50 active proposals.
You can trial any plan for 14 days for free; however, it does require credit card details.
Proposal creation capabilities
You can create proposals from a blank template or from one of Nusii's nine templates (see other proposal examples). Each template has been developed with sections and content tailored for sectors, such as web design and video production.
The proposal editor is reasonably intuitive. The editor is based on sections, which can be edited, moved, and saved as a Reusable Section for future use. Each section has standard rich text options and can be enhanced by inserting images and videos. The Pricing section offers a lot of flexibility in terms of fee type and unit description. This design allows pricing packages or optional times, which helps for up-selling.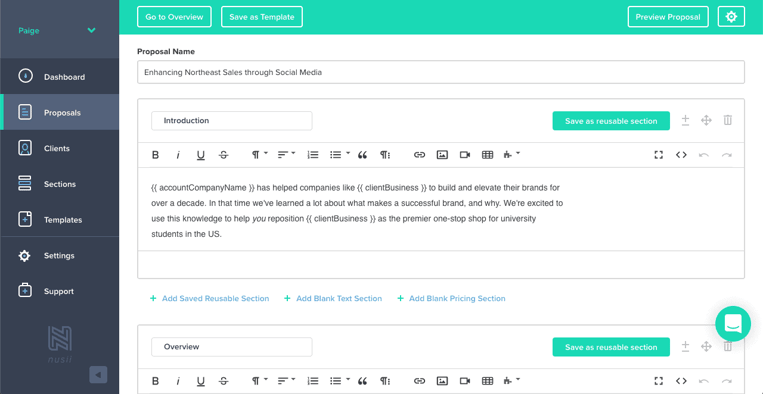 Nusii offers an interesting feature where they show proposal design insights from their platform when moving through the site. For example, a loading screen said,
"You don't need to write War and Peace to win that next project. Over 80% of all accepted proposals contain just 3 to 5 sections! Be succinct, state your value, and don't make your client think... much :)". We encountered a few interesting facts, which provide helpful, data-based advice. We agree that being succinct is a crucial proposal quality.
The editor does not provide a real-time preview of the document, so it requires the Preview function to see the client's version. This preview does not match the final PDF format, so previewing both the online and PDF version is essential to ensure proper formatting.
The templates provided may be useful for inspiration, but the text should not be used as-is for your company's proposals. Strong proposals are thoughtfully developed and tailored to your audience. Language that could work for any company is too generic to attract your specific client's attention. When initially setting up the platform, you will need to spend a fair amount of time developing text and visuals to attract your clients. This time investment is common for any proposal software - it is not unique to Nusii.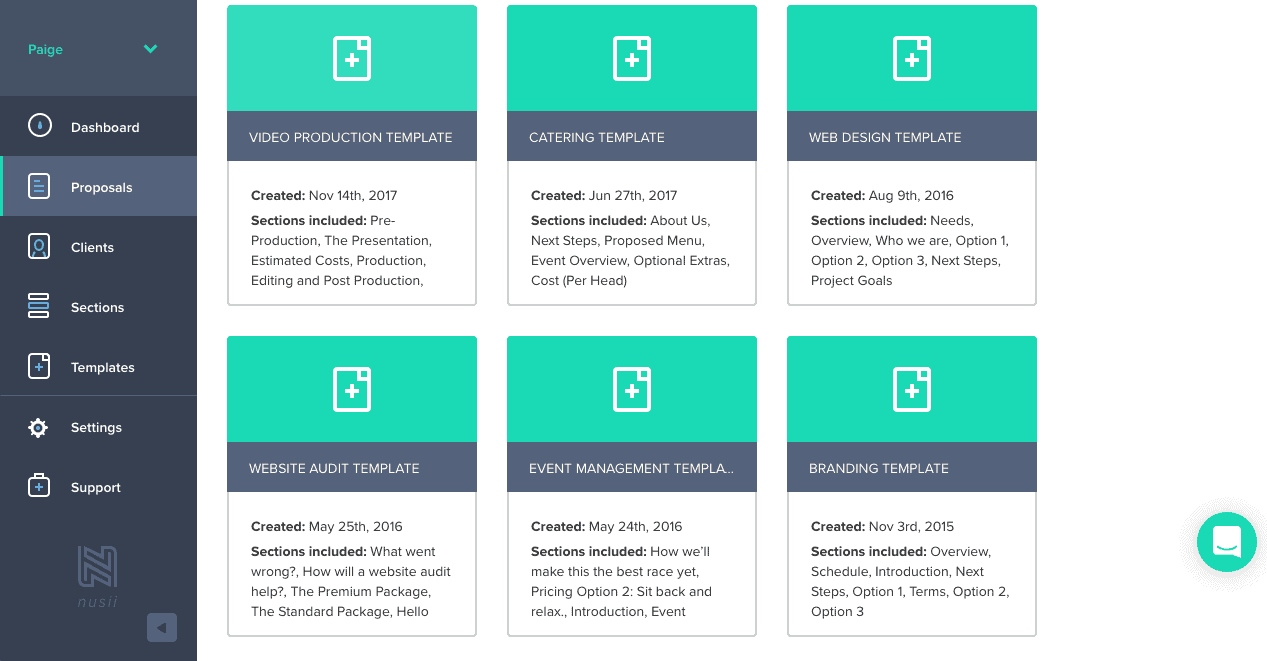 Nusii's value, which is similar to other leading proposal development tools, is the automation of future proposals. The Reusable Section feature allows content that works well for a certain client type can be saved and pulled into a future proposal with a couple of clicks. Similarly, Pricing Sections that are standard to your business can be easily saved and added to future proposals.
Also, Nusii offers Variables to simplify proposal generation. These Variables act as placeholders for core client information, such as company name or address and your contact's name. When a proposal is published, these placeholders are replaced with the correct client information.
The initial set-up of Nusii will take some time to ensure it's persuasive to your clients. However, the automation and Reusable Sections will make up for that time investment.
Team collaboration
You can invite team members to join the Nusii platform in the Agency and Business Plans. The account owner can add and delete members. Unfortunately, there is no ability to control access to different projects or data within the account. All added users have the same level of access: the entire account. Also, there is no easy way to communicate between team members on the platform.
The client experience
The client's view of the proposal is professional and accessible. The Accept Proposal button is clearly visible with a big red button to make the required action clear. The client can also reject the proposal with a message, request more information through a comment box, or download it as a PDF.
Tracking client interaction
Nusii includes basic client engagement information. When a client opens the proposal, sends a comment, accepts or rejects the offer, you are notified via email. There is no additional information on how often the client viewed the document or which section the client spent the most time reading. This additional tracking information is not critical but can provide valuable insight into longer proposals or engagement processes.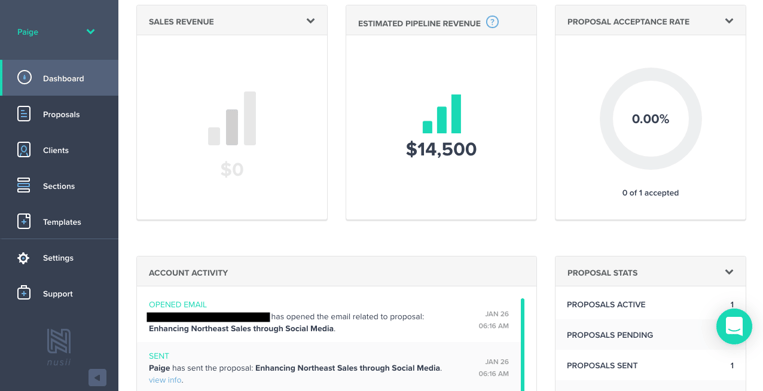 Integrations and payments
Nusii offers a range of integrations for project management (including Basecamp and Slack), CRM (including PipeDrive and HubSpot), client engagement (including Intercom and Continually), Zapier, and more. They also offer an API if you prefer to build your own custom integrations.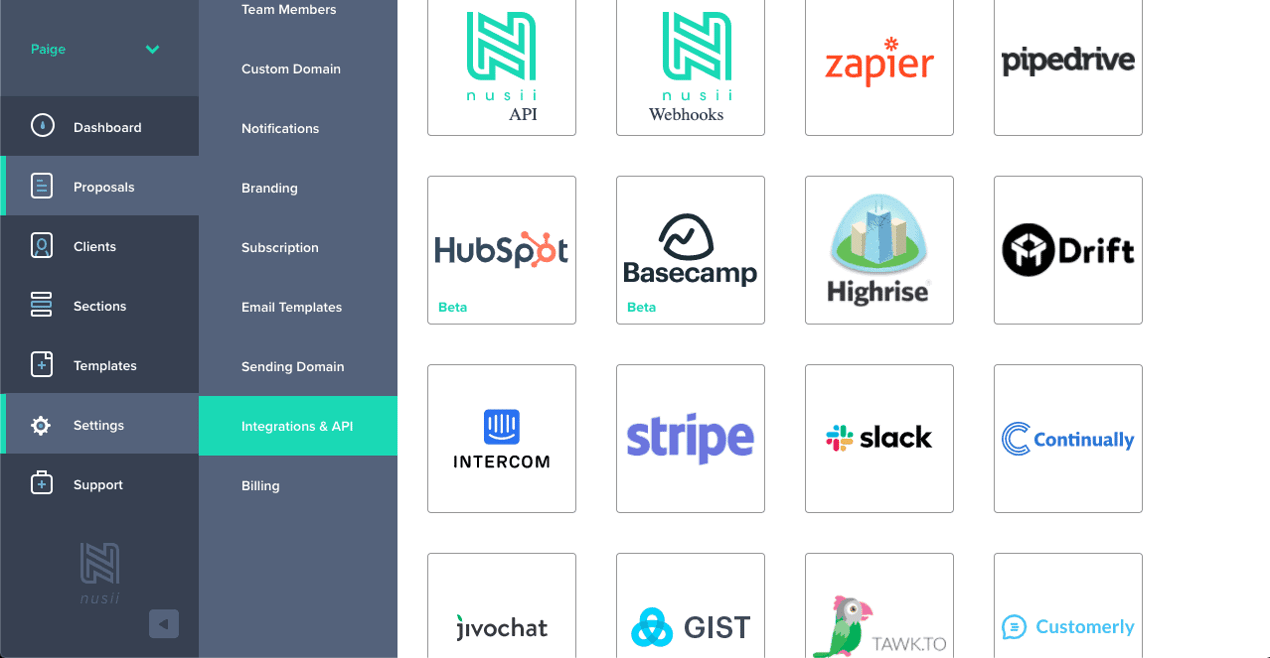 The payment options are fairly limited in Nusii. The only payment processor on the platform is Stripe. Also, there is no billing or invoicing system within Nusii. You can bill for a deposit within the proposal process, but there does not seem to be a way to collect additional fees through the platform.
Support and security
All plans come with the same level of support, offered through a chatbox on the platform. Our support system test came with a brief but helpful answer that came shortly after the support team came back online. This live support is backed up with a well-populated knowledge base site.
All accounts are stored on a secure 128-bit SSL connection for security, and no data is shared with third parties.
Overall review
Nusii makes it easy to prepare professional proposals. The platform interface is easy to use and makes it easy to save useful sections, fees, or overall templates to tailor new proposals quickly. The Variables function is critical to ensure bids are tailored to client information without the painful process of manually typing in contact information in each occurrence.
The client experience is smooth, with a clear path to accept the proposal or communicate with you. There are limited payment options, so you should verify how your current invoicing system would mesh with Nusii. Similarly, check out the integrations list and see how your current workflow can connect with the apps on offer. If Nusii's tools match your current company's toolkit, it could be a good fit to improve your proposal development process.
Best for small and medium-sized businesses with multiple collaborators on proposals
Nusii offers the key automation but not all the bells and whistles of similar platforms at similar price points. However, the Agency plan allows for unlimited users, making it easy to collaborate with many team members on multiple proposals for a competitive price.
As a Nusii affiliates partner, we earn from qualifying subscriptions.