PandaDoc Review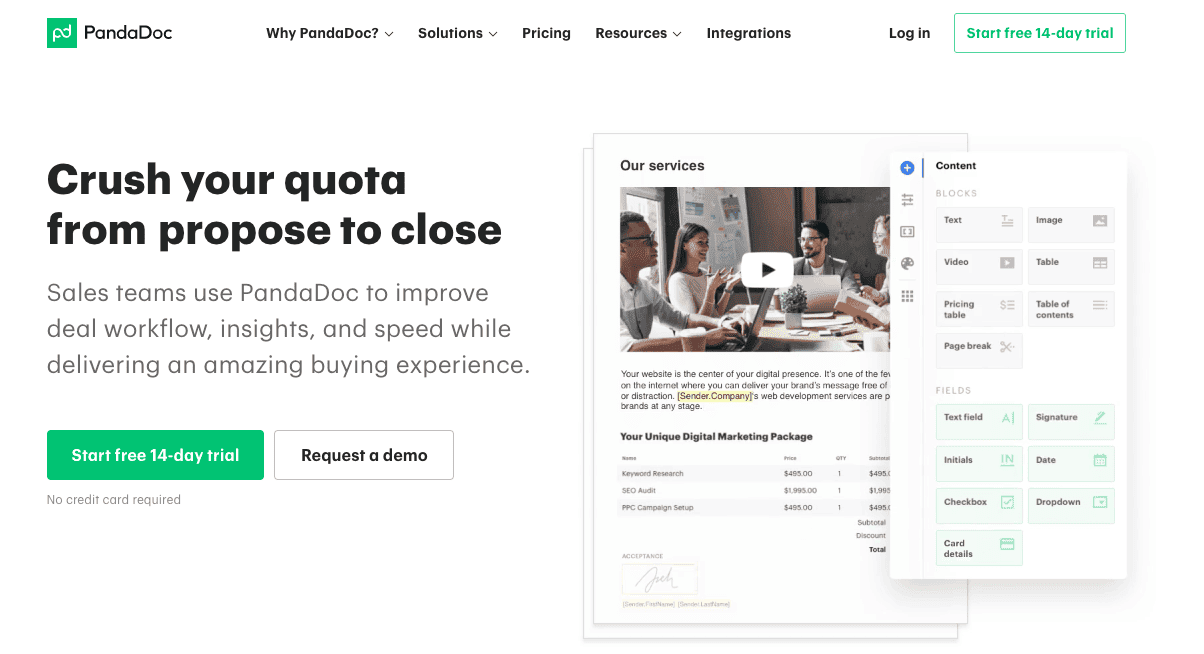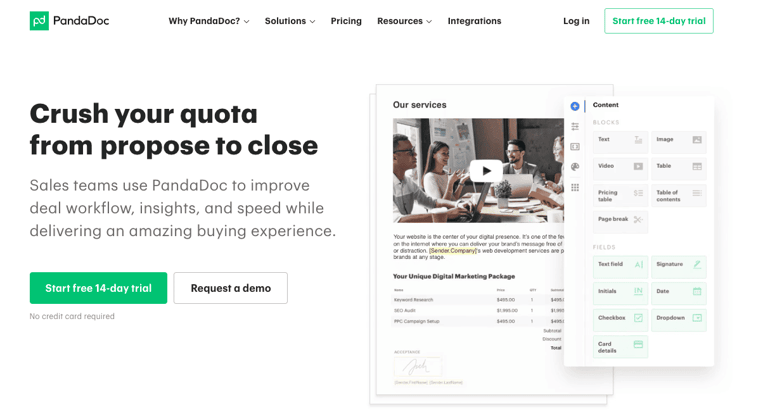 PandaDoc is an online proposal management tool that is a leader in the category. The sleek, effective platform that can cut hours off of proposal development. It has strong proposal creation and tracking features built for multi-person sales teams who send a significant volume of proposals. The sole focus on proposals creates unique benefits and challenges:
Pros:
User-friendly interface and content library that allows for proposals to be quickly prepared and updated.
Strong client proposal interaction tracking and communication features.
Diverse integrations and payment options to support connectivity to existing systems.
Cons:
Time investment in developing company-specific proposals. While the PandaDoc templates are beautiful, they must be tailored to your typical client.
Limited other business services. Companies looking for an all-in-one platform to manage clients, appointments, and other management will find it challenging.
PandaDoc paid plans start at $25 per month for the Essentials Plan. You can test out the platform with a 14-day trial of the Business Plan.
We understand the importance of getting proposals right, and so we did a deep dive into PandaDoc in our review of proposal creation tools. This article will examine PandaDoc's proposal creation capabilities, client engagement services, and other key features so you can determine if PandaDoc is the right fit.
How we tested the software
This proposal software review assesses proposal preparation capabilities. Each tool was tested through the company's free trial offering. New and template-based proposals were built and tested using various design tools and libraries. We tested collaboration capabilities, client experience, tech support, and other features to assess the ease of use, professionalism, and flexibility.
These reviews do not assess other aspects of the software in this category. For some tools, proposal development is just one feature. Platforms may include a range of services such as customer relationship management (CRM), project management, expense tracking, or appointment calendars. These other services may be an essential consideration for your company, but we have focused solely on proposal creation to maintain a direct comparison.
Pricing and sign-up process
There are four pricing plans available, and all levels allow an unlimited number of proposals.
Pandadoc offers a handy service called Free eSign that allows users to send proposals to be signed electronically. Payments can also be collected by credit card, PayPal, or ACH. This limited service may provide all the electronic processing needed for some solopreneurs.
The Essentials Plan is intended for smaller companies or teams looking to create proposals with tracking capabilities but who do not use a CRM system. This service costs $25/month per user or $19/month per user if billed annually.
The Business Plan would fit larger teams that need CRM integration. This plan connects to a wide range of CRM services, except Salesforce. This plan costs $59/month per user or $49/month per user if billed annually.
The Enterprise is intended for larger companies with various departments or brands, which can each be separated into their own Workspace. This plan includes Salesforce integration as well as user role management. Pricing for this plan is arranged through PandaDoc's sales team based on the range of users, features, and services needed.
Signing up for PandaDoc is very straightforward. The registration form asks a handful of questions on contact and company information. The free trial offers 14 days of the Business Plan, and no credit card is required.
Proposal creation capabilities
Proposals can be developed from scratch or a pre-designed template. PandaDoc offers over 450 templates, so you'll likely be able to find one that is a suitable base for your document. Each boilerplate has some variation in the organization of the sections, and unique design.
Templates are highly useful but must be prepared carefully. The content and its order were not prepared with your exact client in mind. Whether starting fresh or from a PandaDoc design, a strong understanding of your client and their priorities is required. For example, some clients want a cover letter or executive summary introducing a lengthy bid, while others want only a couple of key sections and no other details. Be careful not to rely on beautiful designs alone, and build a tailored, persuasive document.
PandaDoc offers automation that makes new proposal development quick and easy. You do not need to type client information into the proposal. Instead, a 'Variable' is set for names, addresses, and other contact information. When the client is added to a document, this information is automatically populated in each Variable. Another key automation is the ability to pull commonly reused sections, text, or costs into a proposal. Text, pages, images, or other content can be saved into the 'Content Library,' whereas pricing, items, and discounts can be held in the 'Catalog.' Then, the content can be added to a draft proposal with two clicks.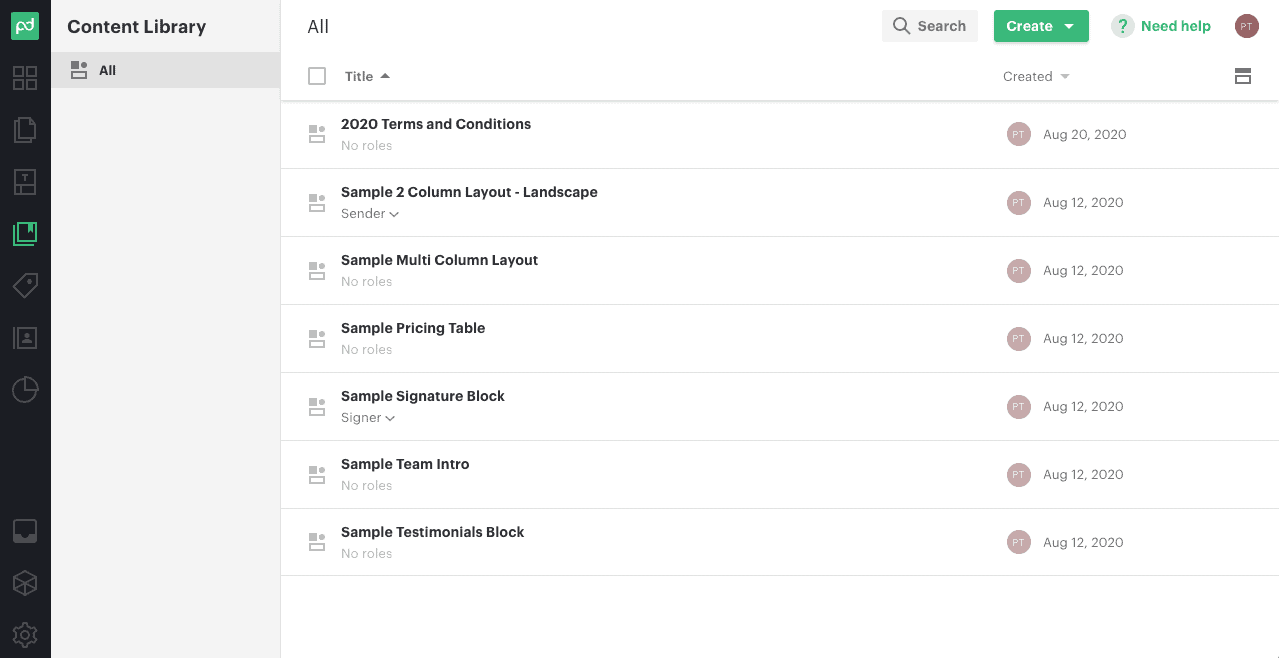 This automation can save hours or days in proposal preparation and review time. However, this efficiency is only achieved once the appropriate templates, the Content Library, and the Catalog items have been determined, designed, and saved on the platform. This process will take you and your team a fair bit of time. This time must be put in at the beginning of the process to ensure that the right content can be reused, and all the content aligns with your brand and messaging. However, this time investment will be recouped once the first few proposals have been closed through the platform.
The design panel in the Proposal editing page has an accessible interface with a smooth drag and drop system to add design elements. These are divided into set 'Blocks' (images, text, tables) and client-editable 'Fields' (drop-down menus, dates, and signatures). This panel allows for quick additions and edits that look great. It also has advanced settings that allow for items like margin and padding to be adjusted. There are a variety of thoughtful design features, such as a 'Merge with page above' button that nicely moves all the content from two pages onto one with one click.
Team collaboration
PandaDoc enables multiple users to collaborate on proposals, which aligns with the per-user pricing scheme. Colleagues can be easily invited by email to edit or have other signing responsibilities in a submission. Plus, there is a useful 'Version History' view to check modifications by person and time.
The best collaboration tools, however, are only available in the Enterprise Plan. Workspaces to separate the account by brand or department are available in this top plan. 'Roles Management,' with its four predefined user types, is also only available for Enterprise users. These pre-set roles reduce the flexibility of permissions for any one user, unlike some other platforms. However, one user can be part of multiple workspaces, and their role can be set by workspace, enabling a bit more tailoring.
The client experience
Clients, the most important audience, receive a sleek, professional proposal. The proposal can be sent through PandaDoc's email system, or you can use a unique link to paste into your corporate email. If a client prefers a PDF or print copy, the downloadable document maintains all the beautiful formatting.
When received electronically, the client can quickly skim through the whole document, but PandaDoc indicates how many places the client needs to complete with a handy 'Jump-to' button. Clients may be required to fill in only the signature and date fields, or they can have the ability to adjust the number of items and select add-on products. Clients can also leave comments or questions in a chat box next to the proposal, allowing for rapid replies from your sales team. Proposal navigation could be improved with a table of contents or a navigation bar, as there is no easy way to click back and forth between specific sections.
Tracking client interaction
Proposal status is tracked in the Dashboard overview. In the Business and Enterprise plans, each proposal moves through a series of lifecycle stages: draft, for approval, sent, viewed, completed, expired, waiting for payment, paid, declined. These stages can be customized based on your company's typical workflow. This overview is handy to see the number of outstanding proposals, quickly find-out where follow-up is needed, and move successful offers forward. By clicking on each stage, you see a list of the proposals, the owner, the approvers, and the contract value.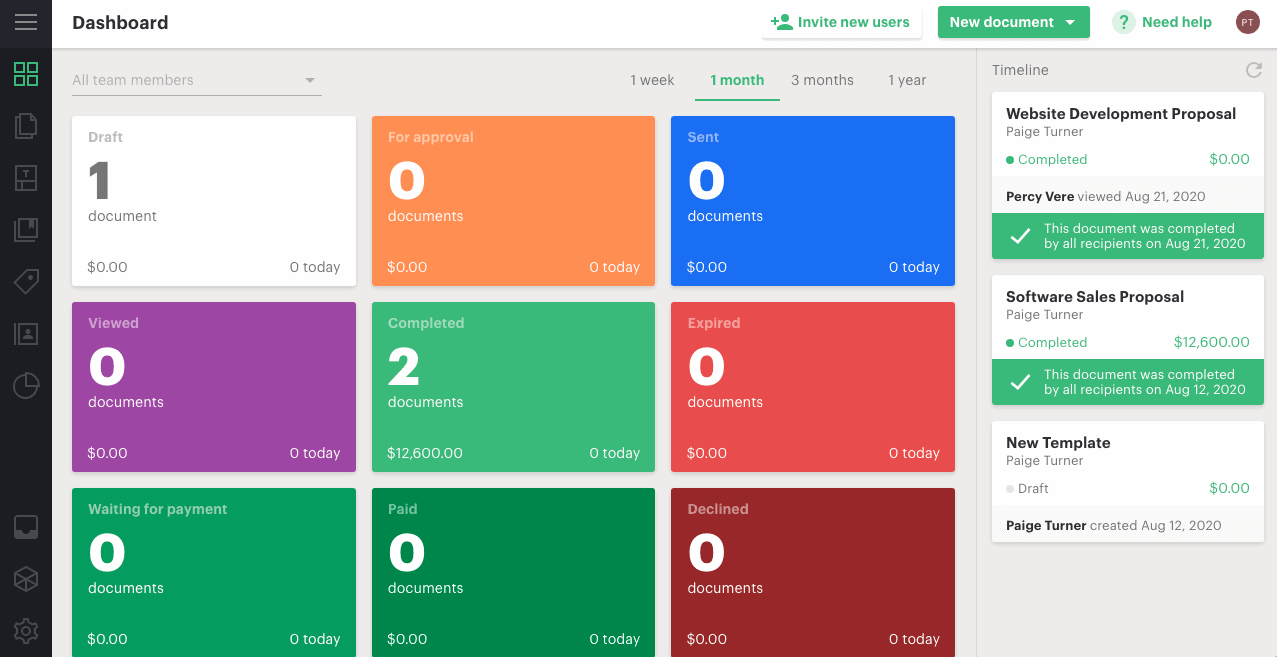 PandaDoc offers instructive viewing statistics. Once sent to a client, the Proposal view will show 'Recipient's analytics,' indicating the number of views, total view time, and the time spent on each page. These statistics provide valuable insight into the most important sections to the client, which can inform the present and future sales.
Integrations and payments
PandaDoc offers both an iOS and Android app to allow for easy mobile access. There are also over 25 integrations with a variety of business tools starting at the Business Plan. The software connects to Zapier, enabling a wide range of other automation and connectivity to apps like Slack, FreshBooks New, and Microsoft OneDrive. There are a variety of CRM integrations, including Salesforce (with Enterprise Plan), HubSpot, Pipedrive, Zoho, Copper, among others.
Client payments can be processed and tracked through PandaDoc using a range of tools. Stripe, PayPal, Authorize.net, Square, and Quickbooks Payments can all be integrated, enabling the system to manage invoices as well. Credit card, bank transfer, Automatic Clearing House (ACH) payments, and various other payment methods can be accepted through one of these integrations.
Support and security
All paid plans come with 24/7 tech support via live chat and email. We submitted questions through the live chat, and they were replied to quickly. The support answers were helpful, including a guiding screenshot, a reference article, or both.
PandaDoc encrypts their data in transit and during storage and is stored in a SOC, FISMA, and PCI DSS Level 1 compliant cloud. The organization is SOC 2 Type 2 compliant, meaning that their data safeguarding processes have been independently audited.
Overall review
PandaDoc platform is honed to quickly produce sleek proposals, move them through the sales process, and better understand how clients interact with proposals. This focus is beneficial because the tool is intuitive and includes a range of tools and features that make proposal development a breeze. However, the focus comes at the detriment of other business services that are limited to integrations or require separate programs.
The drag-and-drop interface for building proposals is straightforward to use, whether building on your own or from a PandaDoc template. However, setting up the first few proposals will take a fair bit of time. While the existing templates are valuable, the version with the right aesthetic might not include the proper sections or a suitable flow for your typical client. For example, some templates do not include a cover letter, and others place the project summary mid-way through the document. PandaDoc makes it easy to adjust the proposal, but you will still need to invest the time to understand your client and design a persuasive bid. This time requirement is not unique to PandaDoc, as it is common in similar software platforms.
The client experience is smooth and effective. The range of payment options means that your preferred invoicing tool could be easily integrated into the proposals for smoother payment management.
PandaDoc offers strong pricing options. Unlimited proposals with every plan and 24/7 tech support with all paid plans are valuable offerings. Their Free eSign plan that allows for unlimited documents, e-signatures, and payment processing may be sufficient for some small businesses that need basic proposal management as they grow. The three paid plans offer fairly standard options with increasing CRM services. Role management is only available at the Enterprise level, which might be limiting to a smaller company looking to control user access within the platform.
Overall, PandaDoc is a thoughtfully designed, user-friendly proposal creation software. CRM and collaboration preferences may determine if this software is a fit for your company.
Best for
Medium- to large-sized companies that see a high proposal volume and are looking to invest in a proposal software to take advantage of higher levels of the software. Integrations and collaboration management seem to be most cost-effective at the Business and Enterprise level.
Reader supported! Our articles are reader-supported via ads and affiliate links on some articles. We earn from qualifying purchases on some links on this page. This helps support the continued publishing of editorial content.