How to Write a Linkedin Summary [Plus 4 Examples]
This article will review the core components of a compelling LinkedIn Summary, with some of our favorite real-life examples.
LinkedIn is a powerful tool to build your professional network. It should not be underestimated as a high-value sales channel. Social media is becoming more integrated into the sales process. IDC's Social Buying Study discovered that 84% of C-suite and VP executives use social media, including LinkedIn, in company purchasing decisions.
If you're in sales, your LinkedIn About section summary should not be targeted at recruiters and colleagues, but at potential buyers.
First, Hook Them
LinkedIn is overflowing with content and connections. It is easy to scroll past bland or jargon-filled profiles. In order to draw viewers in and have them spend that extra time getting to know you, you need a great hook.
Your opener should draw the reader in with something surprising or intriguing. Personal anecdotes, statistics, or novel facts can all be framed in an accessible and interesting way. Avoid buzzwords or fluff in all parts of the summary, but it's especially important in the hook. People can detect, and are deterred by, inauthenticity.
Add any relevant significant social proof. For example, "Forbes 40 under 40."
Example: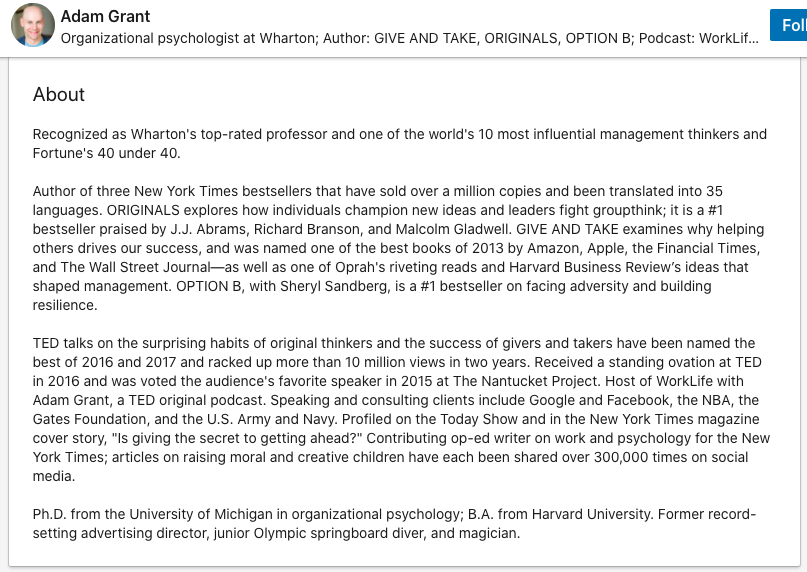 What Problem Are You Solving?
The sales pitch on LinkedIn is more subtle than the direct pitch. The summary offers an opportunity to build a narrative that connects your experience, your client, and their problem. The problem you're solving should be clearly delineated so the client can easily relate.
LinkedIn offers a creative space to phrase it in engaging ways. You could describe why your personal experience has made you passionate about solving this problem, what aspect of this problem most motivates you, or why the company you work for has a particularly elegant solution that you are keen to share.
Example of a clear problem: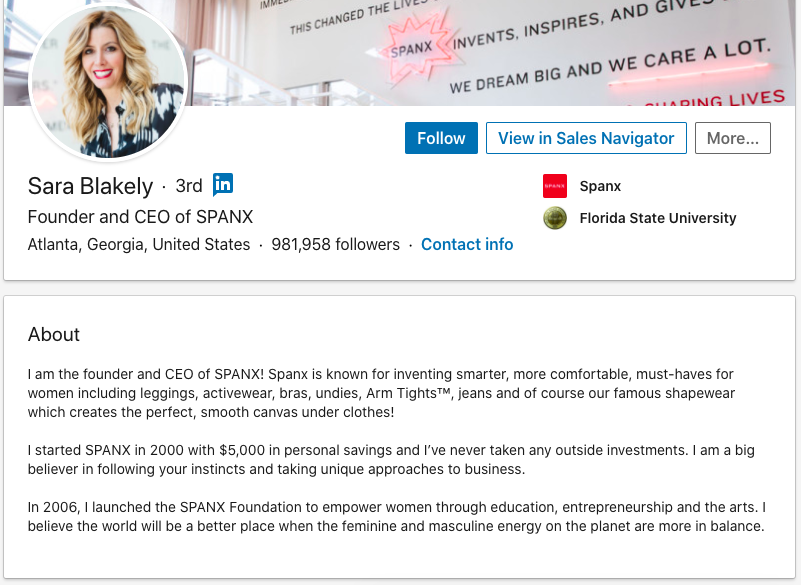 Your Career Path
LinkedIn is "the world's largest professional network," and so people are interested in your career path experience. How has your experience made you a trustworthy source on the product you're pitching? Roles directly in the relevant industry will win the most points. Framing relevant skills or traits from indirect experience can still position you as a credible salesperson in the field.
Example: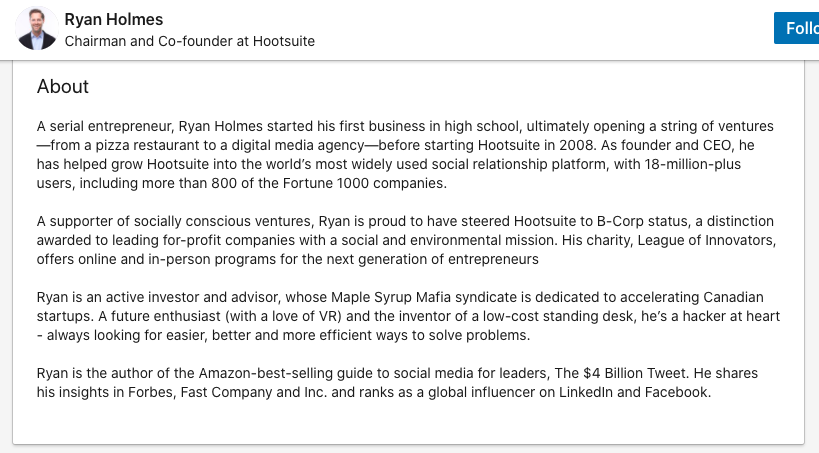 Call to Action
Great business writing seeks to elicit a response. On LinkedIn, your summary should have a clear call to action that is relevant. Most likely, your call to action would be to make a connection with a potential customer. No matter the goal, provide obvious and easy directions in the close of your Summary. Clearly state what you would like a reader to do, and how you would like them to do so.
Example (found via LI list):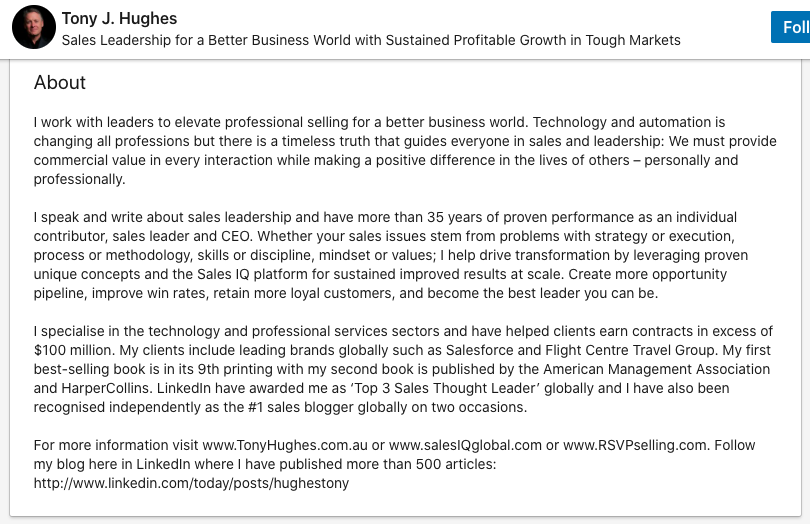 LinkedIn as a Sales Channel
Social media has been traditionally used for its direct advertising. However, professional connections via LinkedIn offer a unique and personal opportunity to build client relationships. As a public forum, it is essential to put your best foot forward with a strong summary.
Consider the audience, the narrative, and even the formatting. A compelling summary will ensure you make a good 'first impression' whether you are connecting with warm introductions or cold contacts.