How to Improve Your Business English Writing Skills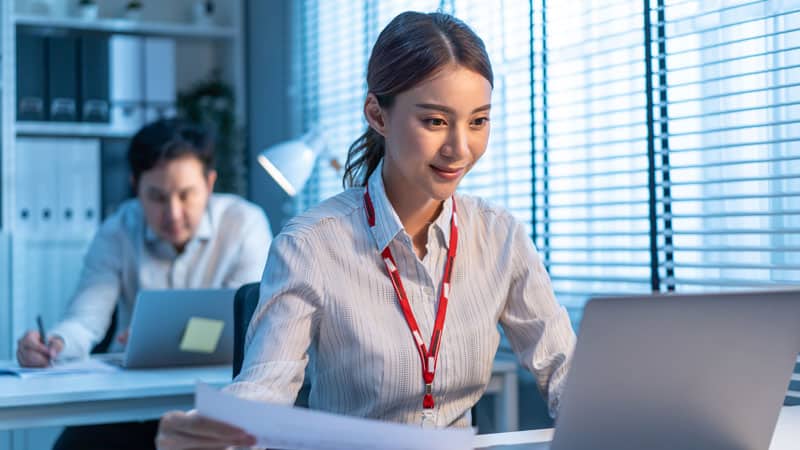 The advice to improve your business English writing skills is no different for a native speaker versus a non-native. But the guidance here stems from the belief that immersion into the culture will lead to more evolved thoughts on paper.
By reading, listening, and gaining lots of practice, you can level up your business English writing skills in a matter of weeks (and improve your overall business communication skills). Here's how:


Tip #1: Read and listen to good writing in English
Go back to the basics. Improve your business English skills by reading and listening to good writing.
I'll never forget the news story of an immigrant who came to New York City years ago speaking little English. He worked tirelessly and built a successful business. He shared that, absent of higher education, he acquired his business smarts by reading the NY Times every morning.
Here are two authors we recommend to help you read strong writing:
Andre Dubus Sr.'s short essays are often used in writing programs for gorgeous verb use. Many clients don't love to read, so his essays are accessible.
Also, there are so many ways to "read." You can read on your phone when you have 15 minutes to spare before an appointment. Or waiting for your child to come out the door for a pickup. In traffic and on long drives, my favorite method of reading is via audiobook. I never waste time when I can listen to a podcast or any genre of a book from my car. Audible stands as my favorite birthday gift to myself. For the non-native English speaker, it delivers more than flexibility.
Here, you gain exposure to accents and dialects from all over the US. Authors tend to use the same words. It's important to vary your selection. Just by listening, you will pick up new vocabulary and expressions. When you sharpen your listening skills and cultivate a more sophisticated ear, your writing will follow suit. Reading and writing go hand in hand.
Related: 5 Types of Business English


Tip #2: Check out resources within your organization and beyond
Your company or organization likely offers or provides support for different resources and programs you can use to improve your business writing skills. Here are just a few:


Join a writing exchange
With globalization, more and more companies are offering opportunities for employees from different countries to connect. For example, a recent company I worked for, insightsoftware, put forth a progressive outreach program in support of its employee base. They promote networking to bring connectedness to its growing number of internationals.
It takes me back to my days in Spain as a student when it was commonplace to set up an "intercambio" or "exchange" with a native speaker. It allows each the opportunity to practice a foreign language or learn about another culture.
But these exchanges don't need to be confined to conversation. You can form an exchange in writing as well. You can ask another colleague who, like you, is also looking to improve their writing. Be creative in your approach. There is nothing better than having a native speaker edit your writing.


Research clubs
Another great way to glean new insight into writing is by joining a club that is widely known and offered at companies all over the nation. It is called the Toastmasters Club. This is a non-profit organization established in 1924 to help business people advance their public speaking (and leadership) skills.
With this program, you get to build on two important skills. You can practice writing your speech, and then what better way to reinforce your business writing than to present? The best part is that you will be networking in an informal setting amongst others looking to get feedback from their peers.


Ask about company-paid training
Some companies are dedicated to helping their non-native employees with English language training. Mcdonald's English Under The Arches program is a great example. McDonald's is committed to leveling up the English of its employees. They aim to bolster the education of their people.
Many enterprises today also boast top-notch educational benefits for their employee base. Ask your HR manager today. Some companies offer what's referred to as "tuition reimbursement." This may cover the cost of online courses like Instructional Solution's business writing course. The lure of this type of training is that it offers know-how and one-on-one critiques from academics and professional business writers.
Related: How to Write in Business English in 4 Steps


Tip #3: Use business English resources
Take advantage of all the helpful tools at your fingertips. Native and non-native speakers alike, everyone wants to sound better in their writing. Use the digital helpers that are widely used today. These are some of the best:
Grammarly

- The very good English grammar checker program. It catches more grammar errors than Microsoft's program. For example, it will suggest when an active voice might be more appropriate. Correct grammar is vital for business professionalism.

Hemingwayapp.com

-

This is the site that helps you to write like Hemingway! Short, clear, direct sentence structures.

Read Aloud

-

This tool is built right into your Microsoft word document. Press the button, and the passage that you just constructed can be read right back to you.

If you don't have Microsoft 365, then use this

text-to-speech

tool instead.
These are some of our favorites, but others include the Readability Assessment in Word and Outlook (this tool assesses language complexity and passive voice. It will not assess content). You can also check out Word Tune, which is a fantastic Chrome extension to help re-work sentences. It's especially helpful for non-native writers.
We also recommend checking out Purdue OWL, the best English grammar resource on the Internet, and the Instructional Solutions' Blog Grammar Category.
Related: 11 Grammar Exercises for Business English


Improve your business English writing skills
As you can see from the above list, there are all kinds of tools and tactics that you can apply to improve your English writing skills. Find what best fits into your schedule and your learning style.
We highly recommend taking an online business writing course. At Instructional Solutions, we offer online courses that train you in a specific writing process (perfect for non-native speakers). You'll learn ways to improve your writing style, tips for persuasive writing, formatting, and more. You'll also gain writing practice as you complete assignments and receive critiques from our expert instructors. It will help you take your business writing skills to the next level and learn effective writing.